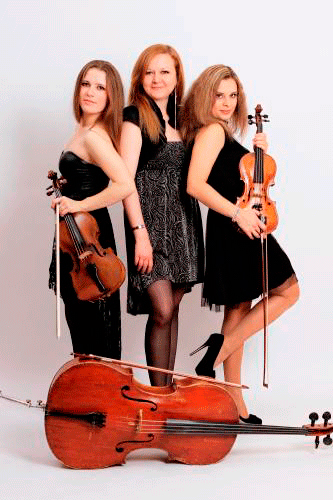 Trio-Quartet

Quartet is a group of professional musicians from Ukraine. We start our carrier few years ago at different ships and different company. From 2014 we decided to make our own group with people who enjoy music and have the same interest in music.
They have a big repertoire with different tunes in different styles.

Female:
Was born 12.25.1980 in Dnipropetrovsk,Ukraine.
Started musical education at 7 years old. During all years took part in different competitions.
In 1996 finished musical school and start study in Musical College in Dnipropetrovsk. And at 2001 entered to National Musical Academy of Ukraine, which finished at 2006. During this years was working at National Orchestra of Ukraine,Orchestra of National Radio of Ukraine.
At 2006 start working at Kyiv Municipal House of Opera and Ballet. At 2007 an american project in China. And from 2011 started ship life (2011 and 2012 in Oceania and 2011,2012 and 2014 in Princess)

Female:
Was born on February, 1989.
The musical education began at 8 years old.
In 2002 entered the Musical school like violinist. In 1995 began to study on viola. In 2004 finished Music school and during 2004-2008 was study in Music College by Revutsky in Chernigov.
At this time also took part in different competitions.
In 2008 removed in Kyiv and entered the National Musical Academy by Tchaikovsky and got lessons at the famous and great musician.
From 2012 worked on the ships (2012-in the Holland America Line, 2013-in the Princess Cruises).

Female:
was born May 5, 1986.
After school she entered the Chernigov Musical College.At her last year study she was arranged to work in the national team songs and
dance.She was worked there a year and decided to change the place of work to Akademic simpfony orkestra (where she work to this day) graduated from the Kharkov National University has also worked on the ship Crystal Serenity in the years 2010,2011

Female:
was born in June 21, 1987.
She was study in Kherson Music College and in Donetsk Music Academy. At 2010-2011 she worked in Donetsk Philharmonic Hall.
In 2011 she start her work in Music Center of Concert Programs and Festivals ,Chernigov.
In 2012 she moved to Bila Cerkva and start her work in Drama Theatre. And since 2014 she start to work on the cruise ships ( Holland America).