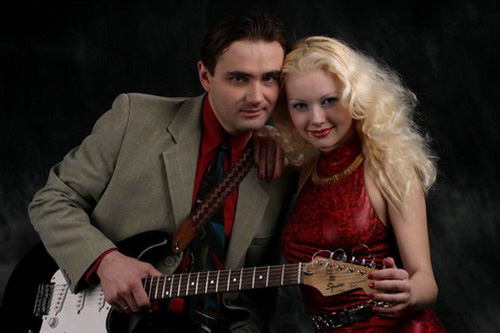 She is a professional singer that performs in tandem with Jazz guitarist. They have performed aboard cruise ships and five star hotels in; Germany, Austria, Switzerland, Holland, Russia, Ukraine, U.A.E., Turkey and India.

With 800 songs in their repertoire the musical styling's are vast; pop music, jazz, Bossa Nova, Swing, Ballads, Blues, Salsa, Samba, Cool, Funk, Acid Jazz, Fusions, Soul, Latina, Rock, Dance and Disco music, Rock'n'Roll, Classical, Romance, Retro and modern music.

Songs are sung in English, Dutch, French, Italian, Russian, Ukrainian, Arabic, Turkish and Hindi. Victoria & Dmitriy can set any tone, from a slow, soft, gentle program for lobbies, restaurants, and lounges to a dance, action show and can provide their own sound equipment.

Female
Date of Birth: 9-9-1981
Nationality: Ukraine
Graduate of State Chernigov musical college (1997- 2001).
Diploma in piano & vocal faculty from the National Kiev University of Culture & Art. Faculty: musical art.
Qualification: vocalist & soloist of ensembles.
Specialty: popular-jazz singer & teacher of musical grammar.

She took first place in many international festivals & contests: 1996 Germany (Rechlin, Rebel) International festival Song-life. 1997 Bulgaria (Albena) in the Festival "We are 21 century". Grand Prix in the television contest "Fant - lotto Golden Hope", Kiev. 1998 International competition of singers "Our Earth is Ukraine". 1999 Red Rose, Ukraine, Kiev.

Her parents were professional musicians who encouraged her singing, as well as her grandfather - a famous conductor of a symphonic orchestra & director of a musical school.

She has experience working with professional musicians in large groups, big bands, duets, and trio's. She was a teacher of music at the musical college "Stezenko jazz School". Has 11 diplomas of laureate from festivals & concerts.

Male
Date of birth: 8-18-1974
Nationality: Russian
Graduate of State Kiev musical college, & National University (1994-1999).
Specialty: jazz & classical guitar, artist of ensembles, big bands.
Faculty: musical art, jazz faculty.
Qualification: higher education, bacalavrat.

He plays the electrical, classical, acoustical guitar, and bass guitar and composes music. He has pedagogical experience to play solo, in duet, trio, quartet, big bands, and large groups. He has played in two jazz orchestras and likes to innovate though knows many international hits, jazz standards, folk songs (Russian & Ukrainian, English), and pop music.

Male has taken part in jazz festivals & pop- concerts (with many diplomas of laureate in Kiev, Kharkov, Dnepropetrovsk, Uzgorod, and Moscow). In 1998 Dmitriy won the first prize in the Ukrainian jazz festival Pop-jazz-fest in Uzgorod city. His quintet presented jazz standards, pop songs, and international hits in a modern jazz style.

In 2000 he with his band Night & Day, won the international musical competition "Autumn Jazz Marathon". It was a 10-jubilee international festival of the best jazz music. Male performed his own music & best jazz songs & instrumental music. He won the diploma of laureate in 1st place from the international jazz festival. Then he took part in many musical competitions & concerts; he got many diplomas of the laureate.

Male comes from a family of musicians. His mother was a professional singer, actress of the Operetta while his father was a national artist of Drama Theatre. His grandfather was a professional accordionist, and grandmother sung in Opera Theatre.