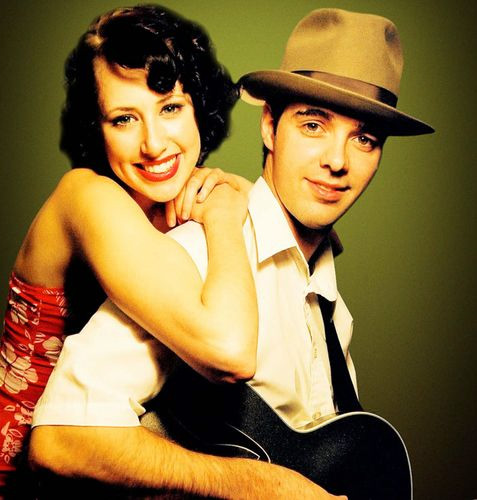 The Duo provide quality musical entertainment, catering to the musical and dancing tastes of your audience.

Education

1997-2001 Wilfrid Laurier University - Waterloo - Honours Arts and Music.
2000-2003 Sheridan College - Oakville - Music Theatre Performance Graduate.

Work Experience and Achievements (Individual and Group)

2006 - Celebrity Cruise Lines MV Mercury Ship - Seattle - Highest rated duo in history of Celebrity Fleet
2006 - The Ruby Room - Tokyo - Entertained, increased bar revenue
2005 - Lutherwood Village - Waterloo - Entertained guests in the Grand Hall
2004 - The Sunshine Festival - Orillia - Entertained in the Opera House
2004 - Disney Cruise Lines - Caribbean - Performed on the main stage of the Disney Wonder

Biography

The Duo is comprised of singer-pianist, and guitarist-vocalist. They perform a wide repertoire that includes Latin, international, oldies, ballroom dancing, easily listening, jazz standard, and pop music. The Duo has performed at resorts corporate events, and most recently, on board the Celebrity Mercury Cruise Ship, where they were rated the best duo in the history of the fleet.

Female is an award-winning vocalist who is comfortable singing in wide range of styles, as well as accompanying herself on piano. She has worked as a production singer and toured internationally. Her magnetic stage-presence has garnered praise throughout North America, Japan and the Caribbean.

Guitarist-vocalist is a trained jazz and classical guitarist, as well as an excellent singer in his own right. This engaging pair has known for its energetic and addictive sound.

The duo is capable of playing an extensive range of material, which includes audience requests. They draw their material from an ever-growing list, over 300 of the best songs in popular music history.

The Duo is available to perform with sequences (bass and percussion), acoustically or as a quartet (with bass and drums). The Duo evokes romance and perfectly sets the mood by feeling the pulse of the audience and crafting the appropriate ambiance for any function.