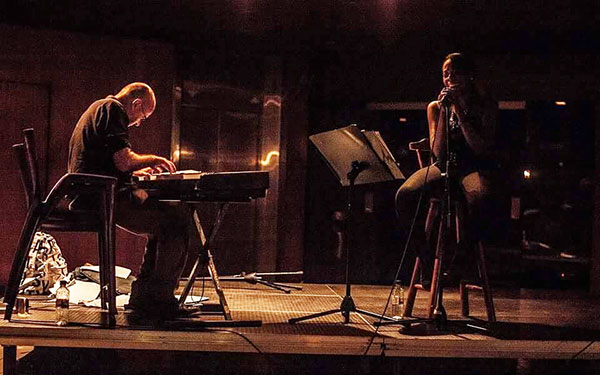 Maria
DOB-1990

Education
High school: Liceo "Santiago Marino" (2007)
Instituto Canzion Venezuela (ICZ)/ Canto Popular (2013)
Instituto Universitario de Tecnologia Industrial "Rodolfo Loero Arismendi"/ Audiovisual Production (2013)
Instituto Ars Nova (Teory of music- basic)

Work Experience
2015-2017
Some concerts publics and privates with the Musician.
Proyecto Gratitud/Guest Singer
Musical Recording with the Maestro Pablo Gil
Participation with grouping "Majarete Sound Machine" In an event titled "Somos Mas"
Interview in the popular Chanel on Venezuela: Globovision, in the program "Entre Noticias"
2014-2016 "Conservatorio Simon Bolivar" (Simon Bolivar Big Band Jazz)/ Singer
Participation with The "Big Band Jazz" of Caracas on the Tourn of France (2015)




LAURENT
DOB-1970

Musical education:
Ten years of studies of academic piano in local Conservatory in REZE.
Private classes with many jazz pianists in Paris, Laurent Fikelson, Gilles malvezzi
Jazz studies in Ars Nova (jazz and arrangement)Diploma certificate , mention excellent, Paris 1992.

Jobs:
Teacher of jazz piano in UNEARTE for ten years (national university of arts of Venezuela) Caracas.
Teacher of musical education in the French school of Caracas for twenty years.
Teacher in the universitary institut of musical studies of Caracas Venezuela ( IUDEM 2000-2005)
Teacher of musical theory and piano in Jazz institut ARS NOVA ( Paris 1993- 1995).

Musical experience:
More than 50 CD recorded, With many record companies (Sony, latin World, Fuzeau, Musical Mind, etc) Participation in many international festivals in France, Mexico, Colombia, Panama and Venezuela.Production of music for video games ( Ageod, Matrix Games,Argonauts interactive, etc) for films and TV spots.