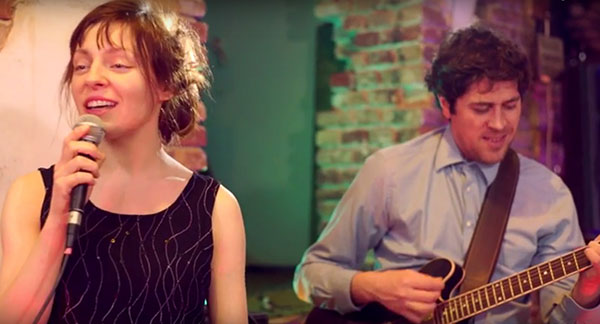 JAZZ, ROCK, POP MUSIC
Guitar & Vocals

Female: (vocals) was born in Poland in 1983.
At the age of 11, she took place at a music competition at the cultural institution in Bromberg (Poland) and won a scholarshiop for vocal and music training.

Afterwards, she worked as a professional singer in Poland. She sang on Festivals and worked on various music workshops.
Since 2006, she lives in Berlin. Since then she is an active member of the Berlin Jazz Scene and takes place on a variety of events in Berlin and Germany as well as abroad (e.g. the Netherlands). Also, she sang in different and well-known Berlin Clubs such as Bebop, Oxident, A-trane, b-Flat, Badehaus or Badescherhoff, to just name a few.
in 2015 the Duo to perform Jazz, Rock and Pop Music.

Male: (guitar) was born in Neuquen, Argentina.
In 1992, he started playing the guitar and toured with an orchestra playing different styles of music through Argentina.
As of 2002, Gustavo Trifonoff moved over to Spain where he played as the lead guitarist in the Band seven days a week for three years and toured through Spain, Canary Islands, Germany and the Netherlands.
During this time, he performed in around 2.000 concerts throughout Europe.
In 2010, he moved over to Germany and studied Jazz guitar at the University for Jazz Music in Cologne, Germany, one of the world's foremost and largest music institutions for higher education
in Europe.
Since 2015 back in Berlin, he is an active member of the Berlin Jazz scene. He performs in the Duo, besides other (Jazz) projects within professional trios and quartets all over Germany.