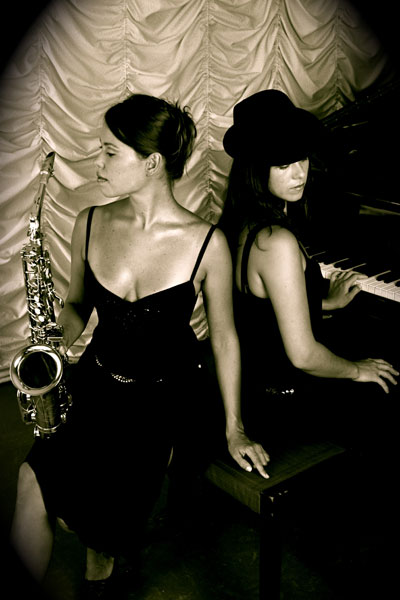 Sisters both play piano and singing. Also presents the repertoire of saxophone player.

O
Speciality: saxophone, piano, vocals
Languages: Russian, Ukraine, English
Date of Birth: 4.04.1982

Education:
1989-1997 - music school. Speciality: piano
1997-2001 - Kruvuj Rig music college. Two specialities: piano, saxophone
2001-2007 - Lvov Music Academy. Qualification:saxophone
2207-2008 - Lvov Music Academy, magistracy

Experience:
She worked like a solo saxophonist and vocalist with acoustic instruments players (pianist, accordionist), with a life jazz,pop bands. Also played saxophone in Lvov Symphony Orchestra and in Philharmonic Chamber Orchestra "Leopolis".
Poland -Centrum "Inter-Art"
U.A.E. Millennium Hotel - Sharjah
Marco Polo Hotel -Dubai
Al Bustan Rotana Hotel- Dubai
Malaysia - Show "Dreamz"
France -Royal Palace - Show "Jalousie"


U
Date of Birth: 25.02.1985
Speciality: Piano
Languages: Russian,Ukraine,English

Education:
1992-1999 - music school. Speciality: piano
1999-2003 - Pedagogical College
2003-2008- Pedagogical University
2007-2010- Art college.Speciality: classic vocal
Ulia has performed in Ukrainian festivals and concerts as soloist.

Don't Let Me Be Lonely Tonight
The Pink Panther Theme
I'm Fool To Want You
In the Mood
Take Five
Sway
Round Midnight Sunny
La Fiesta
Tequilla
Englishman in New York
This Masquerade
Bessame Mucho
Just The Way You Are
Moonlight Serenade
Wonderful World
Cantaloupe Island
Only You
Caravan
Don't Know Why
Theme from New York,York
Killing Me Softly
My Funny Valentine
Hello, Dolly
Go Down, Mouses
Misty
Fly Me To The Moon
At Last
Je T'aime
Woman In Love
I Will Always Love You
Thank you
Wonderful Tonight
Hello
Roxanne
Blue Moon
Memory
The Man I Love
Sorry Seems To Be
Smooth Operator
Careless Whispers
Chattanooga Choo-Choo The Lady In Red
Cry Me A River
My Heart Will Go On
Smoke Gets In Your Eyes
Imagine
I Wanna Be Loved By You
Yesterday
Autumn Leaves
Hey,Jude
Summertime
And I Love Her
Tea For Two
Ochi Chornue
All Of Me
I Just Called
Sweet Georgia Brown
Love Story
Lullaby Of Birdland
My Way
Stardast
The Phantom Of The Opera
Laura
Strangers In The Night
Georgia On My Mind
Saxophone Thoughts
You Give Me Fever
Can't Help Falling In Love
Softly As A Morning Sunrise
On the Sunny Side of the Street
Love Me Or Leave Me
Tears In Heaven
Meck The Knife
A Toi
When a Saints Go Marching In
Belle
I Got Rhythm
Je Suis Malade
Black Orpheus
Jezebel
The Girl From Ipanema
La Bamba
S Wonderful
Shape Of My Heart
Agua de beber
Thank You For The Music
La Belle Dame Sans Regrets
Les Champs-Elysees
Someday My Prince Will Come
L'autre valse d'Amelie
Padam
A Comme Amour
Au Bord De La Riviere
Essential Film Themes(about 50 songs)...
Great Piano Solos(about 150 songs)...