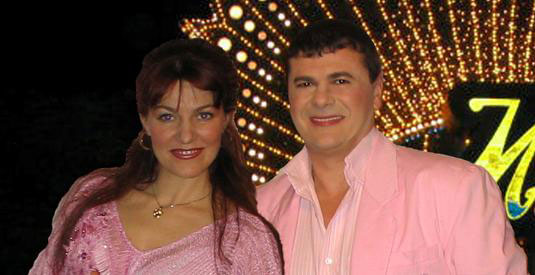 The duet is made up of Valentina: vocals, keyboard, dance. And Krasimir: vocals, keyboards, guitar, composer. They are fluent in English, Russian, Greek, and Bulgarian and have college-level musical training.

The duo are energetic, professional musicians with experience playing aboard cruise ships, at large venues, small clubs, and elite hotels throughout Europe and Asia.

Their extensive repertoire is flexible for all tastes and occasions: Evergreen, Dance, Country, Latino, R&B, Rock & Roll, New Hits, and more.

They have performed in Spain, Portugal, the Canary Islands, Cyprus, Israel, Egypt, Thailand, South Korea, Switzerland, Kuwait, and India. With engagements at the following Four and Five Star Hotels:

Canary Islands: Lanzarote - Gran Melia Salinas/GL-Costa Teguise, Sands Beach Costa Teguise, Occidental Allegro Oasis/Costa Teguise, Princesa Yaiza/L-Playa Blanca, Hesperia Playa Dorada/Playa Blanca. Fuerteventura - Jandia Princess/Playa deJandia, Fuerteventura Playa/Costa Calma, Rio Calma/Costa Calma, Riu Calipso/ Morro Jable. Portugal: Algarve, Riu Falesia, Riu Palace Algarve. Spain: Andalusia - Riu Canela/ Isla Canela, Riu Atlantico/Isla Canela. Cyprus: Louis Cruise Lines. South Korea: Everland Phoenix Park. Switzerland: Winterur - Bar Arabela. Kuwait: Shuwaikh Free Trade Zone - Hotel Moevenpick. India: Uttar Pradesh - Taj Krishna Hotel.




ASJERJEHE /Las Ketchup/
ACHY BREAKY HEART /Billy Ray Cyrus/
AMERICAN PIE /Don McLean/
AND I LOVE HER /The Beatles/
ANTON AUS TIROL /VerlagFechter/
ANOTHER BRICK IN THE WALL /Pink Floyd/
ANOTHER DAY IN PARADISE /Phill Colins/
AS LONG AS YOU LOVE ME /Backstreet Boys/
BAILAMOS /E.Iglesias/
BABY COME BACK /Equals/
BAD MOON RISING /Creedence/
BAMBOLEO /Gipsy King/
BAILANDO /Paradiso/
BAILA ME /Gipsy King/
BESAME MUCHO /Luis Miguel/
BLACK MAGIK WOMAN /C.Santana/
BLUE SUEDE SHOES /E.Presley/
BLUE HAWAI /Wikingarna/
BLUE SPANISH EYES /E.Humperdinck/
BUONA SERA /Louis Prima/
BUONA SERA CIAO /Mauro/
BYE BYE LOVE /The Every Brothers/
CALIFORNIA BLUE /Roy Orbison/
CANSION DEL MARIACHI /A.Banderas&Los Logos/
CAN'T TAKE MY EYES OFF OF YOU /Frankie Vali/
CAN'T GET YOU OUT OF MY HEAD /Kylie Minogue/
CELITOLINDO /Maria Jose Quintanilla/
COPA DE LA VITA /R.Martin/
CORASON ESPINADO /C.Santana/
CONGRATULATION /Cliff Richard/
COTTON FIELDS /Credence/
CRAZY /Patsy Clayn/
DANCANDO LAMBADA /Kaoma/
DADDY COOL /Boney"M"/
DARLIN` /Frankie Miller/
DELILAH /Tom Jones/
DIE KLEINE KNEIPE /Peter Alexander/
DIE HENDE ZUM HIMMEL /Kolibris /
DON`T KNOW MUCH /Honey Boel/
DON'T WORY BE HAPY /Boby Mc Ferrin/
DRAGOSTEA DIN TEI /Haiduchii-O-Zone/
EL TALISMAN /Rosana/
EL POROMPOMPERO /Enrico Macias /
ETERNAL FLAME /The Bangles/
ES WARNUNG EINE NACHT /Andrea Berg/
FEELINGS /Albert Morris/
GREEN GREEN GRASS OF HOME /Tom.Jones/
GIMME SOME LONIN` /The Spenser Davis Groop/
GUANTANAMERA /Sandpipers/
GAMES PEOPLE PLAY /Sammin Band/
GIMME HOPE JO`ANNA /Eddy Grand/
GANZ IN WEIS /Andie Burg/




HANDS UP /Ottawan/
HAVE YOU EVER SEEN THE RAIN /Creedence/
HAVANAGILA / Let Us Rejoice& Be Glad/
HELLO /Lionel Richie/
HELLO MARY LOU /Ricky Nelson/
HERO / E.Iglesias /
HEY BABY /Bruce Channel/DJ-OTZI
HELP ME MAKE IT THROUGH THE NIGHT /Olivia Newton John/
HEY JUDE /The Beatles/
HOTEL CALIFORNIA /Eagles/
HOW DEEP IS YOUR LOVE /Bee Gees/
I NEED MORE OF YOU /Bellamy Brothers/
I CAN'T STOP LOVIN' YOU /Ray Charles/
I JUST CALLED TO SAY /St.Wonder/
I FEEL GOOD /James Brown/
IF TOMORROW NEVER COMES /Ronan Keating/I'M SO EXCITED /The Pointer Sisters/
ITSY BITSY TEENIE WEENIE /Brian Kontini/
IT`S RAINING MAN /Geri Halliwell/
IT`S NOW OR NEVER /Elvis Presley/
IT'S A HARDAKE /Bonny Tylor/
JOHNNY B.GOOD /Chuck Berry/
JAMBULAJA /Carpenters/
KILLING ME SOFTLY /The Fugees/
LADY /Mojo/
LAY DOWN SALLY /Eric Clapton/
LA BAMBA /Los Lobos/
LA ISLA BONITA /Madonna/
LA COLEGIALA /Tipica Rodolfo/
LA PALOMA /Freddy Quinn/
LET`S TWIST AGAIN /Chubby Checker/
LET IT BE /The Beatles/
LET ME BE THERE /Olivia Newton John/
LIVIN`LA VIDA LOCA /Riki Martin/
L`ITALIANO /Toto Cotunio/
LIVING NEXT DOOR TO ALICE /Smoky/
LIMBO ROCK /Chubby Checker/
LOVE ME TENDER /E.Presley/
LOVE IS ALL AROUND /Troggs/
LYING EYES /Eagles/
LOVE SHINE A LIGHT /Katrina And The Waves/MAMA MIA /ABBA/
MARINA /R.Granata/
MASSACHUSETTS /The Bee Gees/
MEET ME IN STOCHOLM /Sir Douglas Quintet/
MOVING ON UP /M People/
MY HEART WILL GO ON /Celine Dion/
OH CAROL /Neil Sedaka/
ON THE ROAD AGAIN /Willie Nelson/
ONE WAY TICKET /Iruption/
OB-LA-DI, OB-LA-DA /The Beatles/
PALOMA BLANKA /George Baker Selection/
PROUD MARY /Credence/
PARLA PIU PIANO /Roko Granata/
PRETTY WOMAN /Roy Orbison/




QUE SERA SERA /Doris Day/
QUANDO, QUANDO /E.Humperdinck/
RIVERS OF BABYLON /Boney M/
RASPUTIN /Boney M/
RELEASE ME /E.Humperdinck/
ROCK&ROLL IS KING /Electric Light Orchestra/
ROSE GARDEN /Lynn Anderson/
RED,RED WINE /UB40/
SOLIDIER OF FORTUNE /Deep Purple/
STRANGERS IN THE NIGHT /F.Sinatra/
STOP THAT TRAIN /Clint Eastwood&General Saint/
SHENK MIR DIESE /Brunner Brunner/
SIERA MADRE Andie Burg/
SINTURA /Latin Band/
SHA-LA-LA /Vengaboys/
STUMBLIN`IN /K.Norman&Susie-Q/
SUNSHINE REGGAE /Laid Back/
SEX BOMB /Tom Jones/
SAVE YOUR KISSIS FOR ME /The Brotherhood of Man/
SUGAR, SUGAR /The Archies/
SEE YOU LATER ALLIGATOR /Bill Halley/
SOMMER SONNE /Eric Walser/
SEALED WITH A KISS /Jason Donovan/
SAY YOU SAY ME /Lionel Richie/
SOME BROKEN HEARTS NEVER MEND /Audrey Landers/ SWEET HOME ALABAMA /Lynyrd Skynyrd/
TAKE ME HOME COUNTRY ROAD /John Denver/ TEDDY BEER /E.Presley/
TEQUILA /The Champs/
THE HOUSE OF THE RISING SUN /Animals/
THE BEST /Tina Turner/
THE LAST WALTS /Engelbert Humperdinck /
THE LOCOMOTION /Kylie Minogue/
THIS LOVE /Maroon 5/
TIAMO /Gina G/
TOP OF THE WORLD /Carpenters/
TO LOVE SOMEBODY /UB40/
TU ES FOUTU /In Grid/
TUTTI FRUTTI /Little Richard/
TULSA TIME /Eric Clapton/
UH LA LA LA /Alexia/
VOLARE /Gipsy King/
WAIT FOR ME
WALK OF LIFE /Dire Straits/
WHAT A FEELING /Irene Clara/
WHAT'S A WOMAN /Vaya Con Dios /
WHEN I NEED YOU /Leo Sayer/
WIND OF CHANGE /Scorpions/
WIR WERDEN ALLE /Westernhagen/
WOMAN IN LOVE /Barbara Streisand/
WONDERFUL TONIGHT /Eric Clapton/
WORDS /Don,t come easy/ /F.R.David/
YESTERDAY /The Beatles/
YOU'RE STILL THE ONE /Shania Twain/
YOU'RE THE ONE THAT I WANT /John Travolta&Olivia Newton -John/