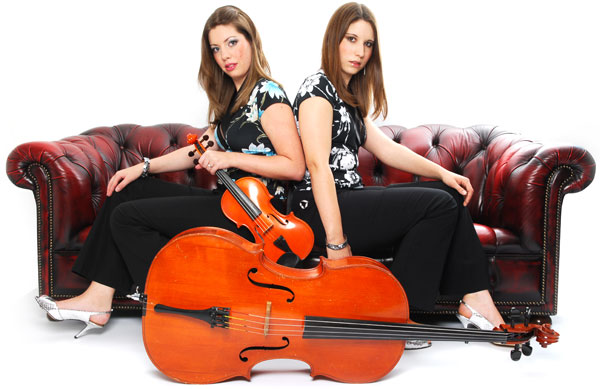 Girls are graduates of the Royal College of Music and the Guildhall School of Music and Drama. Founded in 2003, the duo have quickly established a reputation for style and versatility.

As classical artists, the duo has performed a wide repertoire at home and abroad. In the UK, recital venues include: St. John's Waterloo, Chelmsford Cathedral, The Lyceum, Christ the Cornerstone and Wimborne Minster, in aid of the Princes Trust. They have also played in Russia, Poland, India, Thailand, Malaysia, Singapore, Egypt, New Orleans, Mexico, Costa Rica, Switzerland and the Caribbean.

As music ensemble Katie and Leanne provide musical entertainment. Such is their versitility, they play for weddings, corporate functions, private parties, cruises and can make arrangements for music on request.

The duo has played in the most prestigious venues in and around London such as: The Natural History Museum, The Grosvenor Hotel, The Royal Lancaster, Claridges, The Savoy, Stockbrook Manor, The Connaught Rooms, The Tower of London, London Zoo and the Guards Museum at Buckingham Palace.

K

Since leaving the Royal College of Music, where she studied with Dona Lee Croft, K has had a varied career as an orchestral, solo and chamber musician. K plays with Opera UK, English Symphony Orchestra, Southbank Sinfonia and European Chamber Opera. She has appeared as leader of various shows such as, My Fair Lady, Chess, Suessical and Carmen.

As a concerto soloist, recitalist and chamber artist, Katie has toured much of the UK and Europe. She was recently invited to perform in the Dartington International Music Festival and has also appeared in the Villa Montefano concert series in Bologna, Italy.
Katie has collaborated with the Beijing based artist, Zhao Bandi in his 2004 UK exhibition. She has made numerous television appearances, of which include; MOBO Awards, "Celebrity Auction" and The Queen's Golden Jubilee at Buckingham Palace. Katie has also performed in Classic FM's "Classics in the City" series.
K has been supported with the Nannie Jamieson Nutshell Scholarship and she is currently studying with Diana Cummings.

L

She won both violin and piano scholarships to Wells Cathedral School in 1993 where she studied for five years. She completed her education at the Guildhall School of Music and Drama where she gained an honours degree in 2002. During her time at G.S.M.D. Leanne took part in many solo and chamber recitals throughout London in venues including St. James' Piccadilly, Southwark Cathedral and The Wigmore Hall.
L has received funding and scholarships from The Wolfson Foundation, The Prince's Trust and the Katy Choules Trust. These have enabled her to attend various summer music courses including The Dartington International Music Festival, where she took part in masterclasses with Kun Hu.

As a concerto soloist Leanne has performed at Wells Cathedral, Bishops Palace, St-Martin-In-The-Fields and St.John 's Waterloo with the Southbank Sinfonia, with which she was a member in 2003. She has recorded works by Karg-Elert and Nicholas Chouveux for the National Sound Archive and recorded a CD in aid of The Prince's Trust with The Dorset Male Voice Choir. Leanne has also appeared as a guest soloist with the Llanelli Male Voice Choir in highly acclaimed concerts in both Dorset and Wales.
L has toured much of the UK and Europe as an orchestral and chamber musician. Tours have included Italy, Germany, Bulgaria, Macedonia and France. She regularly appears on pop shows including T.O.T.P.'s, Smash Hits, National Music Awards and CD:UK and enjoys freelancing with various orchestras and chamber groups.





Clients
American Express
Abchurch Communications
Sterling Travel
Borneo Linnells
Imperial Tobacco
Swan Hellenic
Serpentine Gallery Council
Eden Intelligence
BT
Mastercard
Venues
Spenser House
The Natural History Museum
The Royal Lancaster Hotel
The Grosvenor Hotel
The Guards Museum at Buckingham Palace




Minerva II
Cardomon City Restaurant ( Northampton )
Claridges
Connaught Rooms
London Zoo
Stockbrook Manor
Leeds Castle
Sommerley House
Woburn Abbey
Tower of London
Bromley Central Library
Wimborne Minster
Christ the Cornerstone
St. John's Waterloo
Chelmsford Cathedral
Church of the Five Precious Wounds
St. Peter's, Parkstone




Comments

Abchurch Communications:
" Thank you so much for your amazing performing...you were absolutely fantastic. Your presence and music created such a great atmosphere, which is an absolute credit to you both, as all the guests had such a good time. (We were) impressed with not only the quality of your performance and your professional manner but also how genuine and warm you both are...we could not have had any better performers - you were absolutely perfect! The evening would not have been the same without you both."

Frank Brenan, Chairman of the Princes Trust for Dorset and South Wiltshire:
" Thank you to Katie and Leanne for the wonderful concert you gave at the Wimborne Minster in support of the Princes Trust. I know that everyone enjoyed your music immensely."

Professor Sinnhuber: (Minerva II)
"...Katie and Leanne, who with their brilliant playing gave our cruise of October 2005 that certain extra which made it particularly enjoyable and memorable."




Classical
Bach - Ave Maria
Bach - Double Violin Concerto in D Minor
Bartok - 44 Violin Duets
Beriot - 3 Duos op.57
Boccherini - Minuet
Boccherini - 2 Violin Duos op.5
Brahms - Wiegenlied
Handel - Arrival of the Queen of Sheba
Handel - Largo from Xerxes
Haydn - Serenade
Haydn - 3 Violin Duos op.99
Hindemith - 2 Canonic Duets
Hindemith - 14 pieces for Two Violins
Hindson - Chrissetina's Magic Fantasy
Lanner - The Schronbrunn Palace
Leclair - Sonate for Two Violins op.3
Lehar - Two Waltz from Gold and Silver
Mazas - Violin Duos: op.38,op.39, op.85
Mendelssohn - Song without words
Moszkowski - Suite in G minor op.71
Pleyel - 6 duos op.23
Prokofieff - Sonata op.56
Rossini - Comic Duet for Two Cats arr. John Arkell
Sarasate - Navarra op.33
Schumann - Traumerei
Shostakovich - Five pieces for Two Violins and Piano
Spohr - Duets op.67, op.148, op.150, op.153
Strauss (Johann I) - Philomel Waltz
Strauss (Johann II) - Andantino from the Gypsy Baron
Strauss (Johann II) - Roses from the South
Strauss (Johann II) - The Beautiful Blue Danube
Strauss (Johann II) - The Emperor Waltz
Strauss (Johann II) - The Russian March
Strauss (Eduard) - Clear The Tracks!
Strauss (Josef) - Fireproof!
Suppe - Light Cavalry
Telemann - 6 Canonic Sonatas for Two Violins
Vivaldi - Double Concerto in D minor op.3 no.11
Vivaldi - Double Violin Concerto in A minor op.3 no.8
Jazz/Blues/Ragtime
As Time Goes By
Diamonds are Singing in the Rain
Don't Get Around Much Anymore
Frankie and Johnny
Good Morning Blues
House of the Rising Sun



It Don't Mean A Thing
King of the Jungle
Lullaby of Birdland
Makin' Whoopee
Mister Sandman
Misty
My Funny Valentine
Number Twelve Train
Over The Rainbow
Paragon Rag
Smoke Gets in your Eyes
Summertime
Take Five
The Entertainer
The Fascinator
The Girl from Ipanema
Tuxedo Junction
Latin American
Cielito Lindo (Little Heavenly One)
El Condor Pasa (The flight of the Condor)
Estes Indiferente (You are Indifferent)
Flor de Yumuri (The Flower of Yumuri)
La Bamba
La Cucaracha (The Cockroach)
La Enganadora ( The Swindler)
Quizas, quizas, quizas (Perhaps,perhaps,perhaps)
Takirari
Tico-tico no fuba (Bird in the Cornmeal)
Vamos Pastorcitos (Come Shepherds)
Old-time/Bluegrass/Cajun/Texas Style
Arkansas Traveller
Bill Cheatem
Black Bayon Two Step
Blackberry Blossom
Cotton-Eyed Joe
Cotton Patch Rag
Cripple Creek
Dusty Miller
Fire on the Mountain
Gray Eagle
Johnny Can't Dance
Leather Britches
Little Maggie
Little Sadie
Old Joe Clarke
Sally Goodin
Salt River
Stoney Point
The Eighth of January
Tom and Jerry
Turkey in the Straw
Wagoner
Klezmer

At the Rabbi's Feast
Bulgar from Kishinev
Bulgar from Odessa
Dance! Dance!
Dance of Delight
Dance of Displeasure
Doina
Freylechs from Bukovina
Freylechs from Warsaw
In-Laws Dance
Jewish Wedding Song
Leading the In-Laws Home
Little Galitsian Dance
Street Melody
Sweet Father
The Wise Man's Song
Gypsy
Dance
Fast Csardas
I've Danced My Boots Off
On the waves of Lake Balaton
Slow Leaping Dance
Song of the Ghetto
The Four Corners of my Handkerchief
The Silver Leaves of the Poplar Tree
Would you tell that girl?
Fiddle
Barbara Allen
Constant Billy
Country Gardens
Danny Boy
Dixie
Down by the Sally Gardens
Drowsy Maggie
Fiddling Around
Georgiana Moon
Glenlogie
Greensleeves
Harvest Home
Hunting the Hare
Kemp's Jig
King of the Fairies
Mistress Winter's Jump
Morpeth Rant
Mrs. Jamieson's Favourite
Scarborough Fair
Skye Boat Song
That Deep Swanee River
The Fairy Dance
The Gay Gordons
The Girl I Left Behind Me
The Peelers Away with my Daughter
The Staffordshire Hornpipe
The Wind that Shakes the Barley