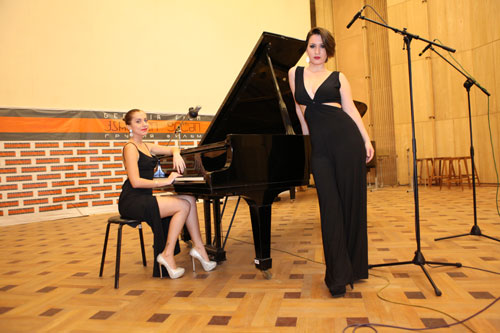 Ana
Year of birth: 1987

Education:
Tbilisi State Conservatoire.2008-2012 Bachelor. Faculty-piano.

Work experience:
2015 Georgia,Tbilisi,Batumi. Hotel "Sheraton", "Leo grand", "Intourist palace", "Georgian wine house", "Cazino campione".
2014 "MAX ROYAL" kirish. (extra)
also working other hotels with band corporate night, "Rixos premium, Rixos lares, Rixos tekirova, Cornelia diamond, Gloria golf, Royal alhambra palace.
2014 "alva donna&"
2014 kemer, Hotels "Mirada del mar"
2012 (summer) till 2014 Turkey, Antalya.
Hotel "Rixos sungate"

Mariam
Year of birth: 1990

Education:
In 2011, I was admitted to Vano Sarajishvili Tbilisi State Conservatory, and I am now studying at the Faculty of Performing Arts, specializing in jazz vocal. I have also completed a seven-year musical school, specializing in the piano.

I am the winner of the New Voice musical contest in 2007. I was a participant of the Geostar 2009 (the Georgian equivalent of the American Idol) and Golden Talent 2011 musical projects, as well as the winner of several other musical TV projects. (Georgian dreamer)

I was working in a producer center: STAR MEDIA PRODUCTION, as a teacher of vocals, in Tbilisi Georgia, for 2 years, and 1 year in Almaty Kazakhstan in producer centre: TANSARI STUDIO.