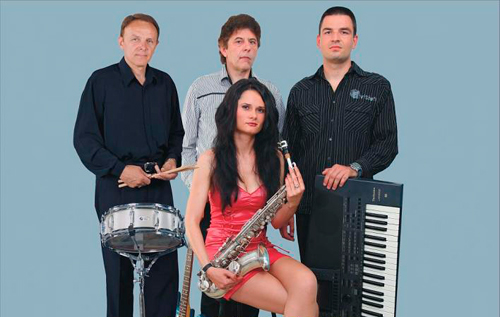 Dance education: Y. in 1977 has finished National Music School Dobrin Petkov Plovdiv-bulgaria. Georgiev in 1980 has finished National School of Music Pancho Vladigerov Burgas-Bulgaria. V. in 2005 has finished Academy for music,dance and fine arts Plovdiv-Bulgaria. V. In 2005 has finished education from Academy for music ,dance and fine arts with accordion Plovdiv-Bulgaria.

Work Experience:
Y. -vocal , guitar , keyboard
V. -vocal , acoustic piano,keyboard, saxophone
V. - vocal, accordion , keyboard
V. - vocal,keyboard,mouth armonica, rhythm guitar,drums.
Y.was born in 1957, he has worked in other bands since 1983 to 2010 in many hotels in the Scandinavian countries and Bulgaria.
V. was born in 1981 has an experience like lobby-piano player in Bulgaria and Colorline(Norway).She has worked in a duo,trio,quartet,quintet.
V. was born in 1981. He has been worked as a music teacher and as a musician in Sunny Beach(Bulgaria) and Norway.
V. was born in 1959.He works as a professional musician since 1983-2010 in many hotels -Bulgaria,Norway,United Kingdom as a one man band ,duo and quartet Master Band have been working together since 2011. Their musical styles are: Evergreens, Rock'n'roll, Country, Disco, Latino, Up-to-date Pop, Balroom, Jazz Standards. Songs are sung in: English, German, Russian, Spanish, Norwegian, Swidish, Denish The band can perform to any audience.Their repertoire has grown extensively to accommodate every taste and they are constantly updating their song-list to keep everyone dancing to their favourites. Master Band's musical catalog is vast ( more than 300 songs ), and consist of music from several different genres so that it can be enjoyed by audiences of varying ages and mentalities, including several styles of ballroom dance music (like Rumba, Cha-Cha, Waltz, Fox-Trot, etc.) Master Band always try and get guest's audience involved in some way or another (but we don't bug them of course, if they just want background music, we give them just that) - we're trying to make their time or cruise experience special.