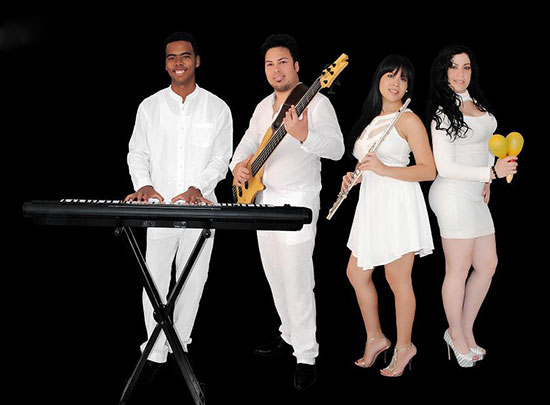 Band performs the best rhythms of Latin-America and international music.
It was founded in the year 2010 in Havana,Cuba, with the main purpose of getting together young,charismatic and talented cuban musicians who were able to get the public's attention with their refreshing mixture of talent,professionalism and energy.
We are very confident and proffesional in playing many different musical styles such as Salsa,Cha cha,Bachata,Merengue,Reggue,Regaetton,Latin Pop,Bossa Nova,Samba, Cumbia,Timba,Son and Instrumental Music.
Each of our members has a very rich international experience.
We have performed at the best clubs and hotels in Cuba, some of these include the National Hotel of Cuba, Barcelo Havana Hotel, Melia Cohiba Hotel, Melia Habana Hotel and the Jazz Cafe and La Zorra y el Cuervo wich are all very well known and respected night clubs in Cuba.
On an international basis we have worked in Cairo,Egypt, at the Kempinski Nile Hotel and the inauguration of the Habanos Embassy Cigars Lounge, the first one of its type was opened in Egypt ,also from 2010 till 2013 in Sharm El Sheikh,Egypt,at the Savoy Hotel,Sierra Hotel,as well as at Soho Square,which is centre of a very famous tourist attraction in the region and where we have acted for thousands of people at major festivals such as "We Love Egypt" with renowned artists from Egypt ,China and Europe and opening concerts for pop stars like Ali Campbell,UB 40 and Peter Andre from UK.
Also we had played for the Worl Travel Awards 2011 "The Oscar of the Travel Industry".
In 2013 we had the great experience of working on the "Aegean Paradise" Cruise Ship from May till October. Working in Maldives.