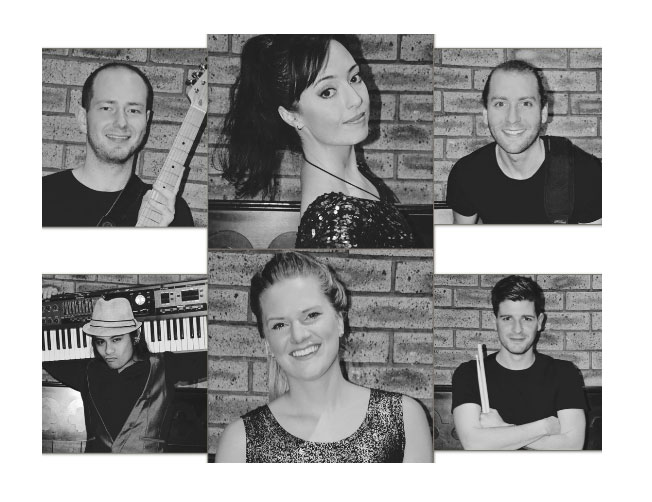 Female:
Lead Singer and Band Leader.

She has been on stage since she was ten years old with The Abraham Moss Theatre Company where she
was given her first role as Puck from Shakespeare's "A Midsummer Nights Dream".
She had singing lessons with "The Twelve Tenor's" Gary Davis and she then went on to study Musical Theatre at The Oldham College and at The Arden School of Theatre.
She was accepted into the Mountview Academy in London but chose to remain in Manchester. Credits include, Abigail in "The Crucible", Kate in "Kiss Me Kate", Carmen in "Fame", Shelia in "Hair" and Charity in "Sweet Charity".
Having also sung in a Cuban salsa band in the Caribbean she is fluent in Spanish adding that to Italian, Portuguese and French as performance languages.
She spent 2013 in England where she worked in various productions most notably at the prestigious Liverpool Empire Theatre.
The following year she joined the international agency Hear and Now Entertainment and worked on the Danish line DFDS as a singer and band leader of a six piece band. From there she toured in the Middle East as a lead singer in seven piece band and has just completed a successful 6 month contract in Bahrain as Band Leader.


Female:
singing as lead vocalist in Blues, Latin Jazz and Pop, at various events and functions.
Throughout her school years she took on lead roles in many different musical theatre productions, and went on to tour in professional productions, such as The Little Shop of Horrors,
Blues Brothers Live/ Rat Pack Live, and The Rocky Horror Tribute Show.
achieved full marks in her Music A Level, and went on to graduate at university with a 2:1 in Performing Arts.
She has many years experience of teaching both singing and performing arts, to all ages.



Male:
His intensive music education began when he started taking music theory classes and guitar lessons at the age of 10. After years of in-depth study of classical music he discovered modern guitarists such as Steve Vai, Carlos Santana and Muris Varajic who influenced his career path tremendously. In the following years he worked hard on his development as a modern musician while still growing in the classical field.
By 2013 he accumulated awards in a multitude of fields such as classical and electric guitar, theory, harmony, analysis and history from the Conservatoire de Musique du Nord in Luxembourg and a BA(Hons) in Professional Musicianship at the University of Sussex.


Male:
is an award winning pianist and Piano tutor; Born and raised in Hong Kong, he started his
classical piano training at the age of 4 and achieved his "Music performance Diploma" by the age of 20 while studing his Classical Music Degree (BA) in Wolverhampton University, UK. Harwood has won a handful of music competitions both in the UK and overseas including Hong Kong International Music Festival (classical) and Dudly Music Festival.
He is also well known for performing Blues/ Jazz/ Pop and rock music, taking the influences from the likes of Oscar Peterson, Diana Krall, Jamie Cullum, Steve Vai and Prince. His energetic live performances are guaranteed to be dazzling and exciting.
Over the last couple of years, Birmingham based pianist Harwood has worked and performed for high profile clientele such as P&O ferry, Hytt Hotel, Hotel Latour, Nuvo Bar, Yardbird jazz club, Ramee Group Hotels, Sofitel, among many Festivals, Weddings/ Private Events all over UK and received excellent reviews from clients.



Male:
Growing up in Scotland UK, surrounded by music at home he then began his career at 16 years old. Now at age 26 he has a wealth of experience ranging over many genres of music, most notably Jazz, Funk, Latin, Pop, Reggae, Hip Hop and Rock. After graduating from Napier University with a BA(Hons) degree in Music he toured with various function/wedding bands all over the UK. In the past five years he has played with famous UK based 9 Piece Ska juggernaut Bombskare, up and coming Hip Hop artist Stanley Odd and resident band The Katet at The Jazz Bar in Edinburgh. He has performed in many musicals most notably Disneys' The Lion King Show.



Male:
Sean then studied for his BA in Performance Music at York St. John University for 3 years performing in a range of ensembles including The York St. John Big Band, several function covers bands and several original bands covering styles including Rock Pop and Indie.
After University, Sean continued to perform all over England in various groups including a Dance Funk band, with notable performances of supporting Mama's Gun at The Duchess in York and with S club
Meara at Derby Pride Festival. Sean then continued to perform all over England performing in covers and original bands around the UK in venues such as The Dublin Castle, Camden Rock, Underbelly and The Borderline.
In 2014 joined the Hear and Now Entertainment agency and has since completed many contracts in
Denmark, Norway and Holland. For the last 2 years Sean has been performing in prestigious venues for the Ramee hotel group, firstly in Dubai at the Rock Bottom Club in Tecom then at its twin venue in the Bur Dubai area. After Dubai and most recently, Sean performed for over 6 months in Dublin Club at the Ramee Palace hotel in Bahrain.