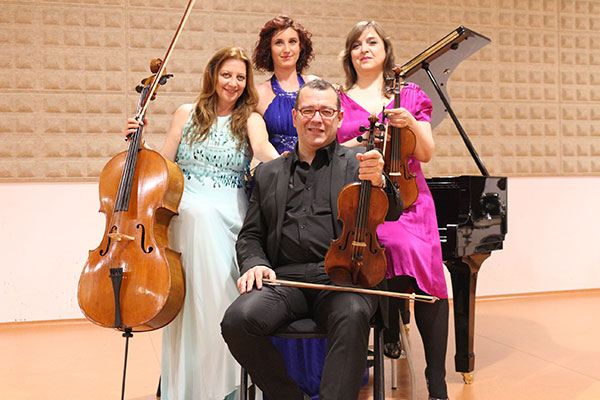 CLARA
As Cello Soloist, she played in several countries such as New York (Merkin Concert Hall), Argentina (Eduardo Rocha Theatre of La Plata - Metropolitan Theatre of Buenos Aires), Austria (Festival Wien Modern), Holland (Amsterdan, Rotterdam, Utrech, Middleburg and S-hertogenbosch) and in Spainish cities such as Madrid (Museo Reina Sofia), Gijon (Teatro Jovellanos), Vitoria (Auditorio de La Kutxa), Barcelona (Universidad Autonoma), Zaragoza (Sala Mozart-Palacio de Congresos), Sevilla (Real
Maestranza) and all around Galician auditoriums.

As Principal Cello, she played with the Symphony Orchestra, "Orquesta Municipal de Coruna", "Orquesta de Camara Gallega" and collaborated with the "Real Filarmonia" from Galicia. She also recorded Galician music written for cello soloist and was rewarded for the best soundtrack in the "CinEOICC 2012" with her cello solo piece.





ANTONIO:
Experience:
2015-Guest Entertainer two months contract.
Two months contract, 2014 two months contract.
Horizon-Guest Entertainer 2013
Grand Celebration-Guest Entertainer 2011, one month contract
Grand Mistral-Guest Entertainer 2010, two months contract
Grand Voyager-Guest Entertainer 2010-2011, three months contract
Gran Hotel de la Toja-Guest Entertainer July-August 2013
Spain: HESPERIA HOTELS Guest Entertainer 2004-2006




Natalia
Date of birth-1990

EDUCATION AND TRAINING:
Sep 2009-10 Jul 2013 Diploma of Licentiate in Arts,specialization-Stringed Instruments Academy of Music,Theatre and Fine Arts, Chisinau (Moldova) Viola class of Prof. Vladimir Andries
Sep 2005-16 Jul 2009 Instrumental artist,Teacher of music College of Music "Stefan Neaga", Chisinau (Moldova) Viola class of Prof. Dan Vrabie and Prof. Vasile Lupascu
Sep 1996-1 Jun 2005 High School Diploma High School and Musical School "V.Ployakov", Chisinau (Moldova) Violin class of Prof. Mariana Tofan (Chisinau,Moldova)
Jul 2012-30 Aug 2012 Masterclass with Wolfgang Wolfer (Austria) Chisinau (Moldova)
Viola program-Paul Hindemith: Sonata per viola e pianoforte, Op.11, No.4

WORK EXPERIENCE:
1 Apr 2014-1 Dec 2014 Musician MSC Cruise Lines, Napoli (Italy) Classical trio (piano,violin,viola)
15 Aug 2013-28 Nov 2013 Musician I,Culture Orchestra, Gdansk (Poland)
2 Dec 2012-20 Mar 2014 Musician National String Quartet, Chisinau (Moldova) Viola
2 Dec 2012-20 Mar 2014 Musician Organ Hall National Chamber Orchestra Bd. Stefan cel Mare si Sfint, 81, MD2014 Chisinau (Moldova)
20 Jun 2011-1 Sep 2011 Musician I,Culture Orchestra, Gdansk (Poland) Viola tutti
1 Sep 2010-1 Dec 2012 Musician National Symphony Orchestra of "Teleradio-Moldova" str. Miorita,1, MD2002 Chisinau (Moldova)





Beatrix
Studies:
Franz Liszt Music Academy-Bachelor of Music
Conservatory of Bela Bartok Miskolc Degree in Violin
Technician in business management-Foro Business School of Madrid

Orchestral experience:
Tours: in many countries of America, Asia and Europe
Orchestra Santa Cecilia of Excelentia Foundation like viola soloist and second violin soloist.
Symphony Orchestra of Madrid
Gran Canary Philharmonic-Spain
National Symphony of Mexico
Hungarian Symphony Orchestra Miskolc.