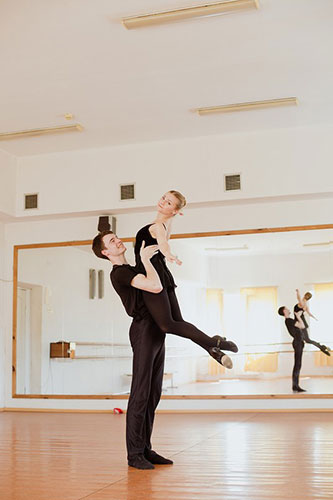 Date of Birth: 1993
Height: 189 Weight 77 kg.

EDUCATION:
2011 to 2014 Kyiv Municipal Academy of Dance named "Serge Lifar"
Faculty Folk and Classical Dance
Evropean University Institute of show business choreography Bachelor 2014-2016

Practice in theaters: in the "National Opera of Ukraine
Shevchenko "and" Kiev Municipal Academic Theatre
Opera and Ballet for Children and Youth "
The repertoire of "The Nutcracker" (Spanish Dance, Oriental Dance, Russian Dance)
"Swan Lake" (Evil Genius "Rothbart"), "Spartacus," "Lileya" Copello "(Chetvreka
Friends Soloist) "Sleeping Beauty" (Wolf) "Romeo and Juliet" (Tybalt)
"Walpurgis Night," "Don Quixote", "Scheherazade," "Cinderella"

Place of work:
2014 worked Royal Russion Ballet.
2015-2016 work Crown of Russian Ballet, Moscow Gosudarstviny Theatre.