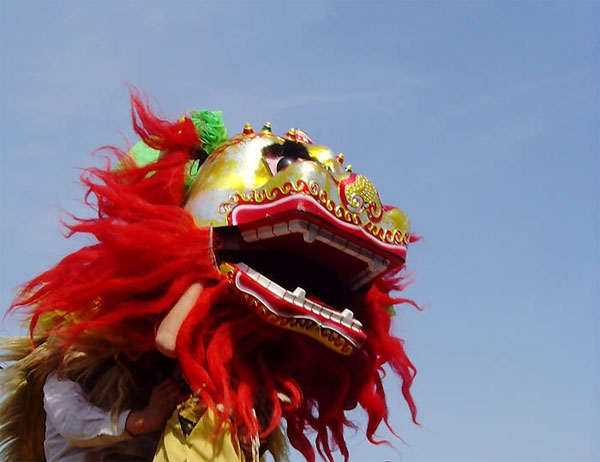 LION DANCE GROUP INTRODUCTION

Chinese called the lion as the god beast, Lion dances are performed to bring luck and to get rid of the devil. People represent their respect and worship through this play. Lion dance always is the most favorite performance in kinds of festivals, also won the favor of various countries audiences.
"ROAR TOWARD SKY" is the first-class feat of lion dance. Its main part is climb performance. People erect one 18-meter shelf on the flat land. Around four directions of the big shelf, each side is fixed by two soft ropes. Four lions climb up this 18 meter shelf along soft ropes and roar toward sky. In this show, they perform many breathtaking acts, such as go up shelf, Climb up pole, walk soft rope and upend, etc. They are all lion dance stunts.
LION DANCE GROUP's actors are live in the family of lion dance. They play it with grandfather since childhood and dancing with father when they grow up. They love lion dance deeply and act with emotion, just like every lion is themselves. In the high time of their show, it is hardly to distinguish between lion and actor. Their biggest desire is to bring lion dance performance to various countries all over the world.