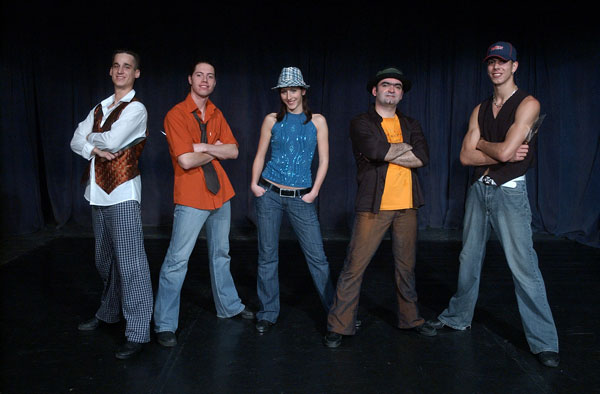 Show program is 27 minutes in duration. It consists of several short dance numbers. Due to its light, entertaining character and loose storyline these numbers are an excellent addition to any full evening program of music or dance. The numbers can be performed separately and can be put together at a length to match your needs. (For example as a lead in for a band or transition in the program.) Currently there are 5 dancers and one singer is involved with the group.

Program
Hungarian fellows 3.30 min.
(+Falling asleep 0.30 min.)
Guest arrives 2.30 min.
Knife dance 3.00 min. –no music, only sound of knifes-
Folksongs 3.00 min. –no instruments-
Tango 2.30 min.
Fight 1.30 min. –no music-
Rope dance 3.40 min.
Folksongs 3.00 min. –no instruments-
Finale 2.30 min.

Minimum space requirement is 5 by 5 meters. For the technique of the dance and health reasons a wooden floor/stage (or a similar hard and flat surface) is required. (This is primarily because of rhythmical stamping and tap dance.) When possible the use of stage microphones is advised for amplifying the acoustic rhythm created by the dancers.

The choreographer and artistic leader, Torma, is a well known asset to the Hungarian folkdance scene. Since 1993 Torma has been contributing to many leading Hungarian folk dance based theater companies and productions like BM. Duna Art Ensemble, Experidance, Hungarian National Theatre and NOX.

Hungarian Folk Dance Group have won several awards in Hungarian, European and World competitions in the Show-dance category. Their latest success was a competition in New York. This ensemble was also on contract with the Hungarian State Circus until 4 January, 2009.