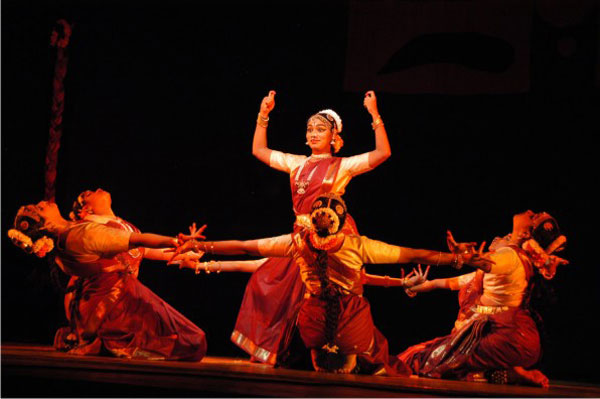 If the programme is for 1 hr, the list of dances is as follows:

1.Vignaraja Mallari (8 mins)
It is an age old tradition to perform a Mallari in the processions of temples.Nowadays,it has been incorporated in the dance reportiore as an invocatory piece.This Vignaraja Mallari is a fusion of Mallari and a keerthanam in praise of Lord Vinayaka,the elephant headed God who removes all the obstacles in the path of life. Salutations to you,O Vignaraja!

2.Shanmugha Kauthuvam (6 mins)
This is a fast and interesting number with vivid formations and patterns. Muruga,the dear son of Shiva and Shankari,the six faced God who rides on a beautiful peacock with the powerful Lance in his hand protects all His devotees.The dancers pray to Kumara in this Kauthuvam and seek His blessings.

3.Nataraja Stothram (10 mins)
This is a hymn in praise of Lord Shiva,the God of dance.His vigorous Tandavam in the Chidambaram temple has been described in this composition.A lot of Karanas and Yoga asanas have been beautifully woven in this dance to depict the blissful dance of Nataraja.

4.Keerthanam -Maha Kali(13 mins)

The Universal Mother,Goddess Shakthi is the embodiment of Power.She is the destroyer of the demon Mahishasuran.The holy Goddess is the consort of Lord Shiva and is the giver knowledge,wealth and strength.The dancer says,O Devi, remove my ignorance and bless me with happiness.

5.Bhajan-Sri Ramachandhra (10 mins)
Bhajans are soft and soothing numbers. This Bhajan is in praise of Sri Rama who sets an example to lead a modest and disciplined life.His beauty is incomparable.He is adorned with a crown studded with precious gems and wears a tilakam on his forehead.All fears and sorrows are destroyed by just uttering His holy name.

6.Thillana (8 mins)
A fitting finale to a dance recital is a Thillana.With complicated rhythemic patterns and brisk rendition of adavus, the dancers bid adieu to the audience.

IF THE PROGRAM IS FOR ONE AND A HALF HOURS,THE FOLLOWING PIECES WILL BE ADDED:

1.Keerthanam-Natanam Aadinar (9 mins)
Lord Natraja dances in the Chidambaram in ecstacy. All eight directions shook and the snake which Shiva adorns and river Ganges on his head moved to the rhythmn of His Tandavam.The whole universe rejoices on seeing the
majestic dance of Natraja.

2.Dasavatharam (7 mins)
The ten incarnations of Lord Vishnu has been dramatically portrayed in this number.We shall all seek the blessings of Him by chanting the glorious mantra "Hare Rama Hare Krishna".

3.Padam-Vishamakara Kannan (7 mins)
The playful child Krishna's innumerable pranks on the gopis is depicted in this padam.He pulls the exuberant braid of a Gopi,while he steals butter from another. This little prankster goes around fooling everyone.This padam brings out the essence of humour by describing the naughty Krishna's tricks played on young beautiful gopis.

Archana
Date of Birth: 30.11.1993

Archana's Achievements:
Winner of Thaka Thimmi Tha - Dance competition in Jaya TV 2004
Bharat Kalachar Scholarship Holder - 2005 - 2008
Kanaga Sabha - State Level Competition Winner held in Mumbai 2006
CCRT Scholarship holder - 2006, 2009,2011.
Ranjani Rajan Award for the Best Actress
II prize at All India Level held at Hyderabad - Navya Nataka Samiti
Winner of thaka dhimmi tha -group-2009
First prize in Akhil Bharathiya Samskrithikh Sangh, Pune
First prize in Concern India Foundation, 2009
Won 3rd Prize in Indian Fine Arts Competition 2010
Recipient of Nrithya Jyothi award in the national level devadasi festival
held at Orissa.2010
Recipient of Nrithya Ratna Award at the
Nataraj National Dance competition held in Kerala.

Shrivarsha's
Age: 17

Awards and achievements:
-First prize in the State level competition conducted by Tamil Nadu Art and
Cultural Department for the year 2005
- First prize in the Chennai District level competition conducted by Tamil Nadu Art and Cultural Department for the year 2004
- First prize in the All India Competition conducted by the Navya Nataka Samiti Hyderabad for the year 2010
- Rajani Rajan Memorial Award for the best dancer for the year 2003-2004
- Mrs.YGP Golden Jubilee Award for the Best Actor for the year 2006-2007
- Excellency Award by VDS Art Academy for the year 2006
- Bharath Kalachar Scholarship for the year 2007-2009
- First prize in the All India multi-lingual dance contest conducted be the Akhil Bharathiya Sanskruthik Sangh at Pune for the year 2009
- First prize in the Thaka Dhimi Tha programme conducted by jaya tv for the
year 2009
- First prize in the Parle Unnadathirkana Scholarship for the year 2003-2004
- First prize in the dance performance held on the occasion Parle Golu Galata
for the year 2005
- First prize in fusion dance competition at Horlicks Wizkids for the year 2008.
- Second prize in the annual inter-school cultural festival conducted by Sir Sivaswami Kalalaya Senior Secondary School.
- Best student award in fine arts by Chinmaya Vidyalaya for the year 2010-
2011
- Cultural co-ordinator of M.O.P.Vaishnav college for the year 2012-2013

Suvasani

Achievements:
Nrithya Jothi Award, Naveen Kalakar, Orissa
1st Prize, Natyarangam Abhinaya Competition, Naradha Gana Sabha
1st Prize, Akhil Bharathiya Sanskruthik Sangh, Pune
Winner, "Thakadhimitha", Jaya TV
B- Grade artist, Doordharsan Kendra, Chennai.

Sheela

Showed her experience in handling such complex themes with best utilization of the available man power.
- Indian Express 03/11/2002 - Balaramayanam
aagiya natana uthigalukku Guru Sheela Unnikrishnanin thiramaikku oru sabhash. - Dinamalar - 20/
04/2003 - Balaramayanam
It was a pleasant production with the dancers exhibiting perfect co-ordination. Every aspect of the
depiction was conveyed with dignity. - The Hindu 25/07/2003 - Parvathy Parinayam
Catching them young..it was quite a crisp production. It was most beautiful to watch these tiny tots with
perfect Araimandi doing skillful foot work. The senior dancers had good potential in them and danced with
full enthusiasm. - The Statesman, New Delhi 18/08/2004 - Balaramayanam
A reputed institution for moulding dancers of high caliber out of raw aspirants. - News Today 11/04/2005
Powerful and impressive. The choreography, skillfully edited to suit the ambience of the venue deserves
special mention. Indian Express - 29/09/2005 - Balaramayanam
mun varisai kalaingnargalin pattiyalil sheela - mudhirai padaippar enbadu nichchayam. - Makkal
Kural 15/01/2006 - Balaramayanam
Natanathin moolam entha vishayathaiyum unartha mudiyum endru Guru Sheela Unnikrishnan
nirupithuvittar. - Dinamalar 22/12/2006
The highlight was the sivashakthi dance , all grace and co-ordination. Choreographer Sheela Unnikrishnan
brought to light the medely of Indian classical dance styles in the Rathi- Manmatha piece. News Today -
13/07/2007 - Parvathi Parinayam
Sheela Unnikrishnan's latest dance drama Shadaksharam seems quite a favourite among tha rasikas this
season. - Deccan Chronicle 30/12/2008 - Shadaksharam

Guru Sheela Unnikrishnan's choreography brought out her creative ability, and the way she trained so many participants young and old spoke volumes of her organizing skill. - The Hindu 01/02/2008 -
Shadaksharam
Synchronisation, a good balancing capacity and adavus were the highlights of "Manoranjan" by Sheela
Unnikrishnan,s troupe. - The Hindu 13/06/08 - Taka Dimi Tha 250th episode celebrations
The dancers were extremely well trained. Even the youngest offered a clear cut and neatly held araimandi
which was pleasing to the eye. - Sruthi June 2009 - Parvathi Parinayam
Kuzhanthaigalai ivvalavu azhagaga aada payirchi alithu uruvakkiya perumai, natana amaippukku, Sheela
unnikrishnanai evvalavu paratinaalum thagum. - Dinamalar 26/10/2009 - Shadaksharam
Sheela Unnikrishnan, ace choreographer and dance teacher, whose latest dance drama Janani Jagath
Karani, a mammoth production with 50 artists, has been receiving a lot of attention and appreciation. -
Chennai Times 08/12/2009 - Janani Jagath Karani
Navab Rajamanickam Pillai, R. S. Manoharudaiya natagangalai ninaivu paduthum vagaiyil mayajala
katchigalum, Udaigalum, oppanaigalum miga sirappagavum tathrupamagavum amaindhana. - Dinamalr
11/12/2009 - Janani Jagath Karani

Guru Sheela Unnikrishnan's choreographic and organizational skills transformed Thirukkural, the dignified
and demure maiden into a lively, well dressed and well decked girls, full of smiles. - The Hindu 24/10/2010
- Kuaralin Kural
Today she impresses connoisseurs with her skillful nattuvangam in her crowd pulling shows. - The Hindu
24/12/2010 - Kuaralin Kural
With innovative choreography, effective lighting and impressive orchestration, Guru sheela Unnikrishnan
turned the verses emotive. - The Hindu 03/12/2010 - Kuaralin Kural
Indha nigazhchiyil, miga sirappaga nattiya vadivamaippu seidirundha natana aasiriyai Sheela
Unnikrishnanin kai vannathai, nigazhchiyil nattuvangam seida vidam nirupithathu. Miga thiramaiyum,
aarvamum ullavar enbathai eduthu kattum vidathil irundhathu. - Dinamalar 29/05/2011 - Kuaralin Kural

Subhiksha
Age: 18

ACHIEVEMENTS and PERFORMANCES:
- Bharath Kalachar Scholarship (2006-2009, 2009-2012)
- 2nd prize in the district level competition conducted by
Jawahar Bhalabhavan
- 1st prize for the dance competition held by Akil Bharathiya
Sanskrutik sangh -Pune
- Consolation prize in the dance competition held by Navya
Natak Samit-Hyderabad
- 2nd prize in the competition held by Kanakasabha-Bombay
- Winner of the dance show Thaka Thimi Tha - Jaya T.V
- Performed at Rashtrapathi Bhavan- Delhi in the presence of the then President Dr.A.P.J.Abdul Kalam
- Performed at the Delhi Tamil Sangam
- Performed at the Natiyanjali's held in Chidambaram,
Tanjore, Kumbakonam
- Performed at the dance festival held at Konark-Orissa
- Have performed in various sabhas in Chennai
- Stood first in Concern India Competition.
- Presently a first year medical student.

Uma
Professional Performance:
-First prize in the district and state level competition conducted by Jawahar Bala Bhavan.
-Bharat Kalaachar Scholarship .
-First prize and excellence award by VDS Arts Academy.
-First prize in "Tha Ka Dhimi Tha" .
-First prize in the dance competition conducted by TTD.
-Ranjani Raajan award for the Best dancer.
- "Nrithya Vichitra" title holder.
- " Nrutya Jyoti" title hoder , awarded by "Devadasi Nrutya Mandir"
- B-Grade artist - Doordarshan.

Uma's Achievements and Participation :
-Rashtrapathi Bhavan.
-International dance alliance.
-Naatyanjali festivals.
-Tamil sangams of Delhi , Pollachi and Madurai.
-Lead Roles in all the dance production of "Sridevi Nrityalaya".