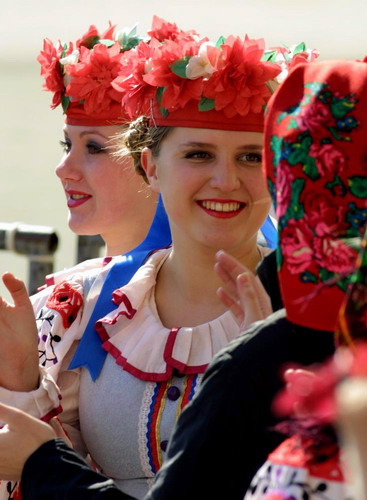 The vocal-choreographic ensemble of the Belarus state university of culture - is well-known the creativity both in Byelorussia, and behind its limits: in Estonia, Russia, Poland, Germany, France, the USA, Bulgaria, Spain, Hungary and Italy.

For 25 years of the existence ensemble "VOLOCHOBNIKI" had been prepared 23 concert programs. Among them the basic holidays and ceremonies of a calendar of Byelorussians. Every year ensemble "VOLOCHOBNIKI" allows about 50 concerts.

The ensemble is the winner of competition of student's folklore collectives Student's spring" 95 and 98, international youth festival "ART - SESSION " (Gomel 96). The collective became winners 7 international folklore festivals "Perniks - 98 " in Bulgaria, 10 international folk festival Kolomna 2000 ", 10 international festivals of national traditions in Italy (2003). In August, 2004 the ensemble represented Byelorussia at the international festival of traditional cultures in Holland, and in 2005 and to Belgium.

"VOLOCHOBNIKI" will consist of three groups: choral, tool and choreographic.

During 25 years of existence of collective his permanent art director is the deserved art worker, the professor managing faculty of the Belarus national - vocal creativity of the Belarus state university of culture Stanislav Iosifovich Drobysh.