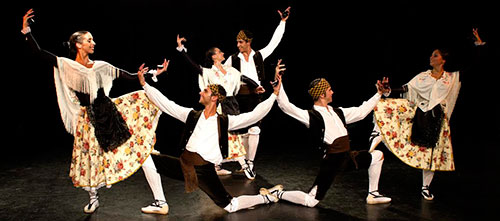 We are a 6 dancers company. All of our dancers have a 10 years degree in Spanish Dance by the Royal Professional Dance Conservatory of Madrid, the best school in the world in terms of Spanish dance and the only one in Spain with the title "Royal". They have been working for the best ballets in Spain, such as: National Ballet of Spain, Aida Gomez Company (National Dance Award in 2004, and ex-director of the National Ballet of Spain,...), Gitana Cortés Company (Joaquín Cortés Company, awarded by the King of Spain with the Gold Medal for Merit in Fine Arts in 2010), Ibérica de Danza Company (National Dance Award in 2001), Rafael Aguilar Foundation, Rafael Amargo Company (received 4 times the Max Award for the Performing Arts), Nuevo Ballet Español (Rojas & Rodríguez Company),...

As a company we have worked in different shows for the Madrid City Council (being the most programmed company in the Circuito de Proximidad Cultural 2012), among others, and we performed in the International Dance Day Gala dancing to the music of the Municipal Simphony Band of Madrid, conducted by the maestro García Asensio.

Our show "De Ayer a Hoy" (From Yesterday to Today) is about an hour and 40 minutes.

In the first part (titled "Ayer") we put on the stage the most elegant pieces of the Spanish repertoire in styles such us: Bolero School (a XVIII century style close to the Classic Ballet, really hard to find nowadays because of the high level of technical skills required to perform it), Jota (a very important part of our folklore, a full of energy style), and, of course, Flamenco (Intangible Cultural Heritage of Humanity by the UNESCO). This part is completely Old School. No any kind of fusion of styles, just a the biggest respect for our ancestors' legacy.

In the second part (titled "Hoy") we try to show where the Spanish dance is right now and how it is going to be in the future. We forget about the academic without losing our elegance, fusing together styles as different as Flamenco, Fado, Rock, Jazz or Contemporary Dance. This part is much more shocking, and you can take for sure a huge wave of energy is going to fill the stage.