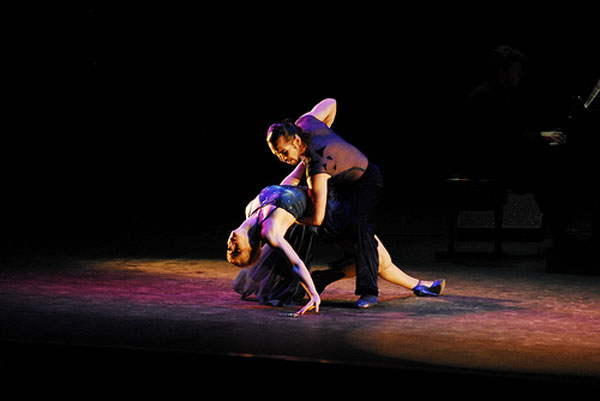 Tango Show has arisen from the coming together of virtuoso musicians, who have set out on a musical journey in search of new horizons. Their respective paths have led them to perform several hundred concerts in the world's most prestigious auditoriums. Under the direction of the viola player and guitarist Ludovic Michel, they decided to merge their various tones and their virtuosity to form an ensemble of perfect balance and an unusually rich sound.

Jose Luis comes from the heart of the Rio de la Plata itself. He started singing the Tango at the age of 9, appearing on radio and TV in Montevideo and Buenos Aires. His love of song and precocious talent led him quite naturally towards Opera. Since then he has followed a dual career in both Tango and Opera: Barreto was sought after by Astor Piazzolla himself for his opera "Maria de Buenos Aires", and he has been invited to sing at all the major opera houses.

Destiny then brought these artists together in Europe so that this unique ensemble could come into existence. A Tango was born of this long voyage, braving and defying the currents, which navigated its course between hope, violence, love and passion. The melancholy of a bandoneon, the impassioned soaring chords and languid rhythms of a defiant piano all tell of the same tragic suffering, the same wounds caused by life's journey.

Accompanying the tender, sensual and penetrating voice of Jose Luis, Tango Show interprets all the magic of the tango in its most comprehensive form, expressing the fateful nature of an impossible love and sentiments amplified by the poetry of the Rio de la Plata.

In 2004, Jose Luis Barreto and his orchestra Tanguisimo were asked by Artemis Production to perform in their show "Otango", an international first performance which took place at the Festival de l'Eau, and soon on a world tour.

Tango Show has performed at all the major Concert-Hall and festivals, including among others : UNESCO in Paris, "la Cigale" in Paris, Opera de Saint-Etienne, Opera de Nancy, Opera-Theatre de Limoges, at the "Petit Journal Montparnasse" and the "Hotel du Nord" in Paris, the Theatre Imperial in Compiegne the Labeaume Festival, the "Fort Antoine dans la ville" Festival in Monaco, the La Vezere Festival, the Young Soloist Festival in Antibes, the Operatic Festival in Marmandais, the Annecy Summer Festival, Tarascon-Latino Festival, the Vollore Concerts, Le Relec Festival, "Ma ville est Tango" in Menton, "Fortune de Lutherie" Festival in Mirecourt, the International Tango Festival in Paris-Saint Mande, the "Podewill" International Tango Festival in Berlin, the Herrenhausen Festival in Berlin (as part of the 2000 Universal Exhibition), in Switzerland, Italia, Greece, Bulgaria, United-States.