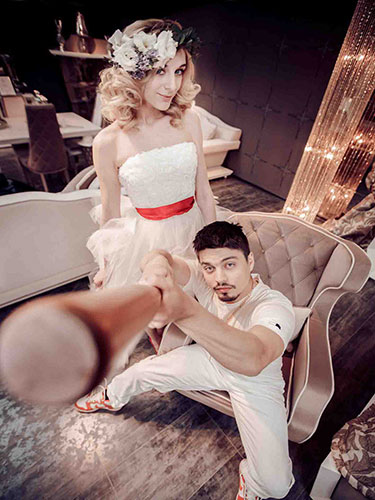 Female:
Age-25 years (12.09.1990)
Height: 170cm
Weight: 49kg

The teacher-choreographer

Experience high:
dancer, model, fashion model, body-art model, acrobat, gymnast, actress, stunt man, stunt double
He owns hulahupami and juggling, as well as poi and diabolo.
English-Elementary
Fashion model for magazine swimwear
Covergirl posters and banners for sports club
Photomodel wedding and evening dresses
Linen model
Body art model
She took part in photo shoots and video for the American dance magazine
The leading dancer of many dance shows and theater productions
Choreographer Project Director: "Mtv EMA 2014", "Hit", "Real MUSICBOX Award 2014", "BIG LOVE SHOW 2015", and much more.


Male:
31 years-(05.10.1984)

Actor, model, dancer, acrobat, teacher and choreographer.
Dancing in modern style base
Style Break Dance.
Participant, winner, winner of various dance competitions.
Since 2000. to 2005. was a member of the famous dance team "Break Show Spring"
In 2005. He worked as an artist-acrobat ballet under the direction of People's Artist in the project "On the elephants around the world"
He has worked with choreographers such as Andrew Brykanov Vadim Savinkov, Alla Spirit
Dancer-renowned model stylist-barber Vladimir Garusi
In 2007 he founded the dance team "ORIGINALITY"
She danced in many theater productions, shows, musicals, both in Russia and abroad
Was Member of "Dancing without rules," "You're the star of the dance floor," "Minute of Fame"
Since 2008, major activities of satisfied Break Dance in Russia, the participants regions of Russia, foreign countries, CIS countries
In 2009 he danced in the stage show in Dubai
In 2010, the model of dance magazines and posters for America
Artist show at the theater on the island of Taiwan
In 2011 dancer shows in China
In 2012 he opened his own dance school in which at currently teaches modern dance.
The head of the dance team "ORIGINALITY"