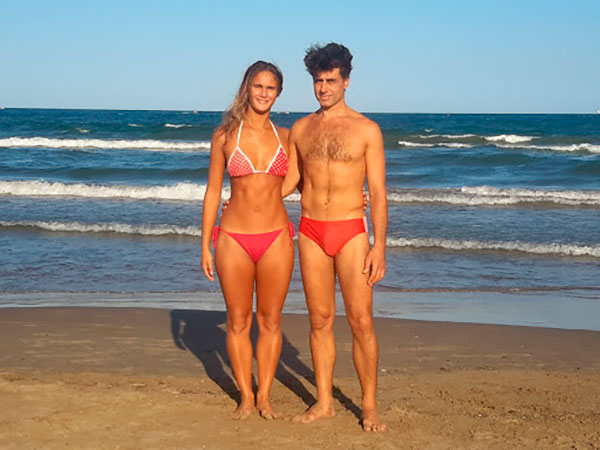 Malva and Jose

Malva:
Heigth 1,75 m
Weigth 65 Kg

ACADEMIC BACKGROUND
2012-2017: Master's degree was finishing in National Pedagogical University (Kiev, Ukraine) and it has title Balletmaster, choreography and dance teacher
2010-2013: Kiev Choreographic College, has the title "Artistic of ballet and choreography"
2009-2010: Academia de Ballet
2002-2009: State Kiev ballet School

PROFESSIONAL EXPERIENCE:
September 2011-Juny 2016: Ballet dancer, soloist in Municipal Kiev Academic
Theater of the Opera and Ballet. It was acting in 14 spectacles and it
has had 33 roles.

Prizes and Awards:
1. 3 prize International Dance Festival "The dancing breeze"
2. 2 prize in International Art Competition "Art- Premium"
3. 1 prize in Ukraine Art Competition "Ukrainian family"
4. 2 prize in Ukraine Art Competition "Primrose"
5. 1 prize in International Dance Competition "Golden stork"
6. Grand-prix in International Art Competition "Platinum Orpheus"
7. Finalist in International Ballet Competition of Vaslav Nijinskiy
8. 3 prize in International choreographic contest Dancing Catalonia




JOSE
Heigth 1,85 m
Weigth 80Kg

ACADEMIC BACKGROUND
2012-2017: Studied Pedagogy of the Dance at "Universidad Politecnica de Valencia",
in the "Conservatory Superior of Dance" Valencia, Spain.
1997-2000: Studied at the "Catedra Alicia Alonso" The program is included into the
"Universidad Complutense"
2001-2002: Studied Pedagogy of the Dance at "Carlos I University", Madrid, Spain
Fall 1999: Studies at "Scola di Roma", Italy
Has also worked with several professors worldwide. The most intensive periods of
studies were with the following professors: Loipa Araujo, Mirta Plag, Tatiana
Stepanova, Lazaro Carreno, Maria Jimenez, Jocelyn Alizart, Aurora Bosch, Angela
Santos, Adolfo Roval, Lienz Chang, among others.

PROFESSIONAL EXPERIENCE:
January 2005-January 2010: Dancer at the "Centro Coreografico, Teatres de la
Generalitad de Valencia, (TGV)" Inma Gil, director.
September 2003-2004: Principal Dancer at the "European Ballet" London, Stanislav
Tchassov, director.
July 2002- 2003: Solo dancer at the "Classic Ballet of Lauren Guinea", Laurentiu
Guinea, artistic director.
November 2000- April 2002: Classical ballet dancer at the "National Ballet of Cuba",
Alicia Alonso, director.
January 1998-November 2000: Solo dancer at the "Chamber Ballet of Madrid".
Jose's repertoire includes Prince Desire and Blue Bird in Sleeping beauty, Albrecht in
Giselle, Prince in The Nutcraker, Carmen ballet, Swan Lake, Carmina Burana full-
length neoclassical ballet, Requiem de Mozart, Shecherezade as well as roles in Tangos, La Traviata, Adagio de la Rosa, Majisimo, Aladino, Entre Dos Cisnes, Adagio Pax de
Deux, Siete Danzas Griegas, In the night, Concierto de Aranjuez, and others.