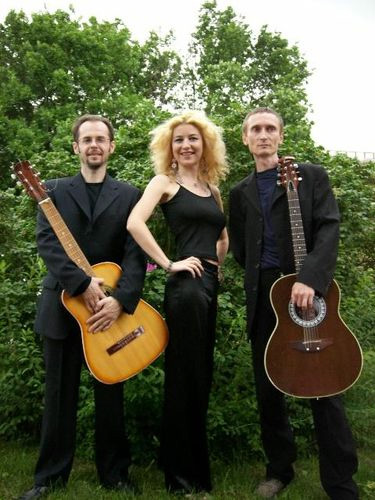 The Trio from Belarus

Female on Vocals & Percussion
V. on Guitar & Vocals
V. on Guitar & Vocals.

Trio was formed in 2001, and in their native country Belarus, have performed in many of it's top Hotels and Night Spots. As well as performing nightly, they have taken part in festivals in Russia, Ukraine, Romania, Poland and Belarus. They have all gained their experience and reputation performing with some of their own country's top musicians, as well as internationally.

Some of their top engagements in Belarus include performing at the
Hotel Minsk in 2002,
Hotel Belarus (West World Club) – 2003, Casino Princess – 2004, Casino
Belaya Vezha in 2005 and Casino Rubin - 2006

S. has also made a reputation performing with other top local bands, and has enjoyed considerable success as a lyrics writer for Belarusian recording artists. From 2005 – 6 she worked on Star Cruises, with another band, on the Super Star Virgo.

V. was part of the local pop-rock band Interpol, and as their lead vocalist and keyboardist, released several CD's during the 1990's. Songs from their last album charted the Belarus national top 20!

V. was formerly lead guitarist of the Belarusian ethnic band Troitsa. They released a CD in Holland and toured all over Europe.

Trio 3 piece band boasts a charismatic and irresistibly charming female singer, ably backed by two gifted male guitarists, who have the added advantage of singing with her. These three gifted Artists know how to adapt their performance and musical approach to suit a range of audiences and international venues.

Drawing on diverse musical styles, from jazz standards and popular movie theme songs and musicals to rock' n' roll, funk and soul, trio can cover the full spectrum of any type of function and situation, from corporate events to casinos, clubs, restaurants, hotels lounges etc. The trio's front lady can veer effortlessly from smooth breezy tones to the full power of her voice. She is entertaining, energetic and exciting.
The Trio from Belarus share a mutual passion for their music, which usually has the audience spellbound, wanting more!

Play List


A hard day's night
A little less conversation
All my loving
All of me
and I love him
Angels
Autumn leaves
Besame mucho
Blue suede shoes
Cabaret
Can't buy me love
Cara mia
Caravan
Cheek to cheek
Crazy
Daydream
Ding-a-dong
don't call me baby
Don't get around much anymore
East of the sun
Easy
eight days a week
El condor pasa
Every breath you take
fever
Fly me to the moon
frozen
Girl from Ipanema
Good golly miss molly
Greensleeves
Hands up
Have you ever seen the rain
Help!
Here there and everywhere
Hey now
Hippy hippy shake
hit that jive jack
honesty
Hound dog
How do you do it
I just called to say
I let a song go out
I wanna hold your hand
I'll be your baby tonight
I'll follow the sun
I'll survive
I'll wait for you
Imagine
It's a long lonely highway
it's my life
It's now or never
I've just seen a face
killing me softly
knocking on heaven's door
Layla
Let it be
Let's twins again
Looking out my back door
love and marriage
Love hurts
Love me tender
love story
lullaby of birdland
Memory (Cats)
moon river
Moonlight serenade
more than words
My baby left me
My way
Nah neh nah (vaya con dias)
New York
Nights in white satin
No woman no cry
Number one
One of us
One way ticket
Only you
Pasadena
Put the blame on me
quando
Raindrops keep falling
rock and roll is king
Sacrifice
Sealed with a kiss
Smile
smooth operator
Soon
sorry seems to be the hardest word
stairway to heaven
Stars fell on Alabama
Strangers in the night
Strong enough
Summertime
Sunny
Sunrise
sweet dreams
Teach me tiger
Tears in heaven
Temptation
That's all right mama
The road to Mandalay
The shadow of your smile
The story of love
Till there was you
To love somebody
Unchained melody
underneath your clothes
Unforgettable
Venus
What a wonderful world
Whiter shade of pale
Who'll stop the rain
Wild world
without you
Woman in love
Yesterday
You are my everything
and many more...