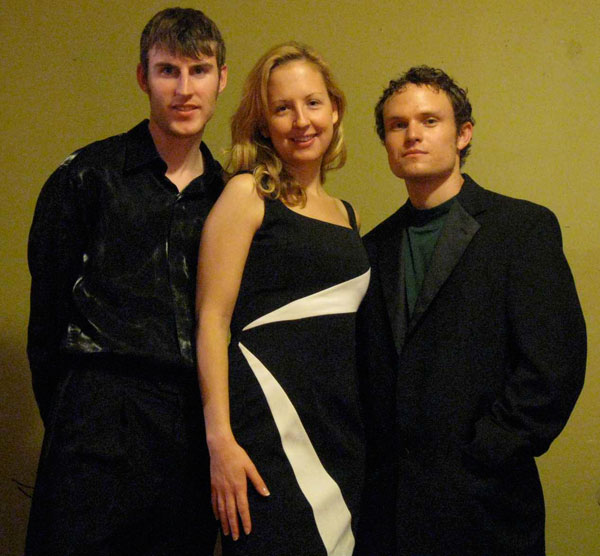 The Trio has been performing for over four years, entertaining in such venues as the "Algonquin Hotel" in Times Square, New York and recently, the infamous seven-star Hotel in Dubai: Burj Al Arab.

Blake grew up playing bass, starting at 15 years old, in Cleveland Ohio. He played professionally throughout Boston, Illinois, California, Hawaii, New York, Japan, England, and recently in Dubai at the Burj Al Arab.

The Trio has played all of Boston's top hotels, including the Sheraton, Westin, Ritz-Carlton, the Lenox, Hilton, Four Seasons, Top of the Hub, Fairmont Copley, Boston Harbor and the Seaport Hotel.

B. has performed with such greats as Wynton Marsalis, New York Voices singer Kim Nazarian, Terrence Blanchard and Bobby Watson just to name a few.

B. went to Berklee College of Music and graduated with a Performance Degree.

H.also attended Berklee College in Boston. She has a pure voice and the ability to entertain. H., from Maryland, studied singing and classical Violin since 1988. She was honored to receive the "Friends of Annapolis Symphony Orchestra Awardâ€, and performed with the Baltimore Symphony Orchestra. Hayley has traveled to Western Europe, California, the Virgin Islands and has been to Japan six times. H. was recently performing with the White Heat Swing Orchestra in Boston during 2006-2007. She has worked with the Four Seasons Hotel, The Boston Harbor Hotel, the Ritz-Carlton and the Museum of Fine Arts of Boston.

J., 25, is a versatile pianist and is from Eugene, Oregon. He studied at the New England Conservatory. He has also been playing professionally for over a decade in Hotels and shared the stage playing with Danilo Perez, Fred Hersch, Dave Holland, Joe La Barbara, Dave Douglas, Ran Blake, and Jeff Hamilton to name a few. He is the recipient of Down Beat magazines Outstanding Performance Award. J. composes and arranges music for Big Band and contemporary settings.

The trio strives to provide the best talent and musical performance for any situation.

Song List

Rock/Pop/R&B/Soul

Hotel California (Eagles)
Imagine (John Lennon)
Careless Whisper (George Michael)
Can't Help Fallin in Love (Elvis Presley)
MoonDance (Van Morrison)
I Got You (I Feel Good) (James Brown)
I Heard It Through The Grapevine (Marvin Gaye)
I Say A Little Prayer (Burt Bacharach)
Isn't She Lovely (Stevie Wonder)
Lady Marmalade (Christina Aguilera)
Mustang Sally (Wilson Pickett)
My Girl (Temptations)
On Broadway (Drifters)
Papa's Got A Brand New Bag (James Brown)
Save The Last Dance For Me (Michael Buble)
Saving All My Love For You (Whitney Houston)
Shout (Tears for Fears)
Stand By Me (John Lennon Version)
I Will Survive (Gloria Gaynor)
Just my Imagination (Temptations)
You are the Sunshine of my life (Stevie Wonder)
Sittin' on the dock of the Bay (Otis Redding)
Natural Woman (Aretha Franklin)
I swear (Boys II Men)
This Love (maroon 5)
Volare (Gypsy Kings)
Smooth Operator (Sade)
Tequila
Fever (Peggy Lee)
And Much More..

-Latin

Quando Quando Quando (Italian Pop/Michael Buble)
Afro Blue (John Coltrane)
Besame Mucho
Black Magic (Santana)
Learning to Cha Cha
Mambo #8 (Perez Prado)
Manteca (Dizzy Gillespie)
Oye Coma Va
Picadillo (Tito Puente)
Rhumba
Smooth (Santana)
So Danco Samba (Tom Jobim)
Sway
Tin Tin Deo (Dizzy Gillespie)

-Jazz Standards

Ain't Misbehavin' (Armstrong)
Alexander's Ragtime Band
All of Me (Basie)
All Blues (Davis)
All or Nothing at All (James)
Anthropology (Parker)
Angel Eyes
Arivederci Roma
Autumn Leaves (Mortes)
At Last
Barbados (Parker)
Basin Street Blues (Armstrong)
Begin the Beguine (Shaw)
Besame Mucho
Bess You is My Woman (Evans)
Best is Yet to Come (Vaughn)
Beyond the Sea (Darin)
Bill's Bounce (Parker)
Birdland (Weather Report)
Birds of a Feather (Krupa)
Black Orpheo
Blue 'n Boogie (Gillespie)
Blue Bossa
Blue In Green (Davis)
Blue Haze (Davis)
Budo (Davis)
Blue Champagne (Miller)
Blue Moon (Rodgers)
Blue Tango
Blueberry Hill (Armstrong)
Blues in the Night (Herman)
Body and Soul (Hawkins)
Boogie Woogie (Dorsey)
Brasil
But Beautiful (Sinatra)
But Not for Me
Bye Bye Blackbird (Parker)
C-Jam Blues (Basie)
Cabaret (Kander)
Can't Help Lovin Dat Man (Holiday)
Cara Mia (Trapani)
Carolina Moon (Dorsey)
Chasing the Bird (Parker)
Chelsea Bridge (Ellington)
Cherokee (Marsalis)
Chicago (Fisher)
Come Rain or Come Shine (Coltrane)
Come Sunday (Ellington)
Copacabana
Corcocovado
Cottontail (Rhumba)
Corner Pocket (Samba)
Cry Me a River (Ray Charles)
Deed I Do (Lunceford)
Desafinado
Dindi (Jobim)
Do Nothin Til You Hear from Me (Ellington)
Don't Get Around Much Anymore (Ellington)
Doxy (Rollins)
East of the Sun (and West of the Moon)(Dorsey)
The Entertainer (Joel)
Fascinatin' Rhythm (Gershwin)
A Fine Romance (Basie)
Flamingo (Ellington)
Forty Second Street (Warren)
Fly Me to the Moon (Basie)
Footprints (Davis)
Georgia on My Mind
Girl from Ipanema (Getz)
God Bless the Child (Holiday)
Go Now (Bennett)
Green Dolphin Street
Guantanamera
Have You Met Miss Jones (Brown)
How Insensitive (Byrd)
It Ain't Necessarily So (Davis)
I Got RhythmI
Loves You Porgy (Davis)
I Left My Heart in San Francisco (Bennett)
I'm in the Mood for Love
In the Mood (Miller)
Indian Summer
It Don't Mean a Thing If It Ain't Got That Swing
It Had to be You
Jalousie
Jelly Roll Blues (Morton)
Jersey Bounce
Jive at Five (Basie)
Jump, Jive, and Wail (Setzer)
Just in Time (Basie)
La Cucaracha
La Cumparsita
La Paloma
LaBamba
Lambada
Leap Frog (Garland)
Lullaby of Birdland (Shearing)
Lush Life (Coltrane)
Macarena
Mack the Knife (Darin)
Mambo Italiano (Merrill)
Mambo No. 5
Masquerade (Sanborn)
Milestones (Davis)
My Funny Valentine (Davis)
Misty (Garner)
My Foolish Heart (Evans)
Mona Lisa
Mood Indigo
Moonglow (Shaw)
Moonlight Serenade
My Romance (Evans)
Nice Work If You Can Get It (Gershwin)
A Night in Tunisia (Gillespie)
Night and Day
Oje Como Va (Santana)
Ol' Man River (Dorsey)
Ole Guapa
One O'Clock Jump
One Note Samba (Getz)
Opus One (Dorsey)
Our Love is Here to Stay
Peanut Vendor (Kenton)
People Will Say We're in Love (Fitzgerald)
Perdido (Ellington)
Polka Dots and Moonbeams (Sinatra)
Por Unacabeza
Puttin' on the Ritz
Round Midnight (Monk)
Route 66 (Cole)
Salt Peanuts (Gillespie)
Satin Doll (Ellington)
Scrapple from the Apple (Parker)
Sentimental Journey (Brown)
Seven Comes Eleven (Goodman)
Shake, Rattle, and Roll (Turner)
Skylark
Smile
Side by Side (Krupa)
Sister Sadie (Silver)
Smoke Gets in Your Eyes (Dorsey)
Some Day My Prince Will Come (Davis)
Some Enchanged Evening (Sinatra)
Someone to Watch Over Me
So Nice (Summer Samba)(Getz)
So What (Davis)
St. Louis Blues
Sweet Georgia Brown
S'Wonderful
The Song is You (Sinatra)
Spain (Corea)
Spanish Eyes
Sqeeze Me (Waller)
Star Dust (Carmichael)
Stompin at the Savoy (Goodman)
Stormy Weather (Holiday)
Strangers in the Night (Sinatra)
Sugar (Goodman)
Summertime (Fitzgerald)
Sunrise Serenade (Miller)
Swingin' the Blues (Basie)
Take the A Train (Ellington)
Take Five (Desmond)
Tea for Two
That's Life (Sinatra)
There Will Never Be Another You (Young)
They Can't Take That Away from Me (Fitzgerald)
The Lady is a Tramp (Sinatra)
The Thrill is Gone (Holiday)
Thou Swell (Rodgers/Hart)
Tico-Tico
Time Remembered (Evans)
Tin Roof Blues (Armstrong)
Tuxedo Junction (Miller)
Twelfth Street Rag (Bowman)
Unforgettable (Cole)
Vaya Con Dios (Russell)
West End Blues (Armstrong)
What a Wonderful World (Armstrong)
When I Fall in Love (Davis)
When the Saints Go Marching In
Who Needs You (Holiday)
Woodchopper's Ball (Herman)
Yellow Bird
Young at Heart (Sinatra)
Younger Than Springtime (Peterson)

They are playing: Rock, Pop, R&B, Soul, Latin, Jazz Standards,

They can also take requests from the audience. They know additional songs from memory or have them in music books as they all play by ear or with music. They also have more songs for Holiday/Christmas settings.