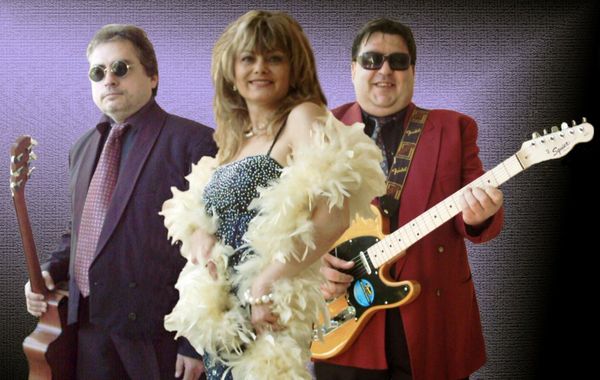 The Trio comprise the vocals, keyboard and guitar of this trio. V. and I.formed the group in 1990 and began working with N. in 1995. The trio had immediate success performing in the finest hotels of Bulgaria, including the famous Black Sea resorts and top venues in Bulgaria's winter resorts.

The have an extensive repertoire that takes advantage of their considerable language skills. They sing in English, German, Russian, French, Italian, Spanish, Swedish, Norwegian and Arabic. They are fluent in spoken and written English; spoken French, German and Russian.

The Guitar Trio have performed worldwide, including; Norway, Sweden, Denmark, Germany, Morocco, and India. And are quite capable of entertaining all types of audiences across many different cultures.

Their repertoire of music covers; evergreen, country, country-rock, swing, blues, rock'n'roll, rock, pop-rock and dance music.




Achy Breaky Heart- Billy Ray Cyrrus
Africa - Rose Laurens
Aicha
Alabina /Spanish - Arabic Song/
Aline - Christopher /French Song/
All of Me - Ella
All Cried Out - Alison Moyet / No Angels/
Always On My Mind - Elvis Presley
Angie - Rolling Stones
Another Day In Paradise - Phil Collins
As Time Goes By - N. Cole
Baby Can I Hold You - Tracy Chapman
Bad Moon Rising - Credence
Baila - Zucchero
Beautiful Sunday - Daniel Boone
Beer Barel Polka
Besa Me Mucho
Blanket on the Ground - Billy Jo Spears
Blue Berry Hill
Blue Suede Shoes - Elvis Presley
Blue Moon - Frank Sinatra
Brazil
Bring It Home To Me - Animals
Bring Me Sunshine - Lisa Minnelli
Buona Sera - Luis Prima
Burning Love - Elvis Presley
Bye, Bye Baby - Simone
Bye, Bye Love - The Everly Brothers
Can't Take My Eyes Off Of You - Boys Town Gang
Caribbean Queen
Chirpy, Chirpy, Cheep, Cheep
Coffee Black
Congratulations - Cliff Richard
Colegialla - Los Mayos
Cotton Fields - Credence
Could You Be Love -Bob Marley
Country Roads
Cowboys & Kisses - Anastasia
Crazy - Patcy Cline
Crying Time Again - Brenda Lee
Da Doo Ran, Da Doo Ran, Ran - The Crystals
Daddy Cool - Boney M
Dancing Queen - ABBA
Darling - Frankie Miller
Delilah - Tom Jones
Delta Down 'Tanya Tucker
Diana - Paul Anka
Don't Be Stupid - Sh. Twain
Don't Cry For Luy - Vaya Con Dios
Don't It Make My Brown Eyes Blue - Crystal Gale
Don't Know Much About Love - Hannie Boel
Down On The Corner - J. Fogerty
Dream A Little Dream Of Me - Chicago
Dust In The Wind - Kansas
El Porompomper - Makolo Eskobar
Es Gibt Kein Bier Auf Hawaii / Germany song/
Every Little Think-Carlene Carter
Everybody Needs Somebody - Blues Brothers
Everything I Do I Do It For You - Bryan Adams
Falling Leafs
Feelings - Morris Albert
Fever - Elvis Presley
Fly Me To The Moon - Frank Sinatra
For The Good Times
Games People Play- Joe South
Georgia - Ray Charles
Gimme All Your Lovin'-ZZ Top
Gimme Hope Joanna - Eddy Gran
Girl From Ipanema - Ella
Give Me One Reason - Tracy Chapman
Go Marching In - Fats Domino
Golden Eye = Tina Turner
Got You On My Mind - Delbert Mc. Clinton
Green, Green Grass Of Home- Tom Jones
Guantanamera
Hands Up - Ottawan
Hanky Panky - Madonna
Happy Birthday Sweet 16
Have You Ever Really Loved a Woman 'Bryan Adams




Have You Ever Seen The Rain - Credence
Heading For A Fall - Vaya Con Dios
Hello Dolly - Ella
Hello - Lionel Ritchie
Hello Mary Lou
Hello Josephine - F. Domino
Help Me Make It Through The Night
Hernandos Hadaway
Hey Baby - D.J. Otzi
Hey Jude - The Beatles / Hanie Boel
Hit The Road Jack - Ray Charles
Hooray! It's A Holy - Holiday - Boney M
Hot Stuff - Donna Summer
Hot, Hot, Hot
Hotel California - Eagles
In The Midnight Hours - Wilson Pickett
I Walk The Line - J.Cash
I Will Survive - Gloria Gaynor
I Can't Stop Lovin' You - Ray Charles
I Feel Good - James Brown
I Feel Lucky - Mary Chapin Carpenter
I Just Call To Say I Love You - S. Wonder
I've Got Dreams - Delbert Mc Clinton
I'm Sailing - Rod Steward
I'm So Excited - Pointer Sister
Imagine - John Lennon
In Munchen Steht Ein Hofbrauhaus / Germany song/
It's Keeps Raining - Bitty Mclean
It's A Heartache - Bonnie Tyler
It's now Or Never - Elvis Presley
It's Raining Man - Gerry Halliwell
Jambolaya
Johnny Be Good - Ch. Berry
Just A Gigolo - David Lee Roth
Kalinka- /Russian Song/
Keep On Smiling - James Lloyd
Killing Me Softly - Roberta Flack
Knockin' on Heaven's Door - Randy Crawford
L'ete Indien - Jo Dassin /French Song/
La Bamba
La Isla Bonita - Madonna
La Paloma
Lay Down Sally - Eric Clapton
Leaving On A Jet Plane - J.Denver
Leap Of Faith - Delbert Mc Clinton
Let It Be - The Beatles
Living Next Door To Alice - Smokie
Loaded - Ricky Martin
Long Train Running - Doobie Brothers
Looking For Freedom-David Haselhoff
Lost In The Tango - Jorn Hoel
Love Me Tender - Elvis Presley
Lucky Lips - Sh. Stevens
Lying Eyes - Eagles
Mack The Knife - Luys Armstrong
Mamma Mia - ABBA
Many Good Lovin' - Connie Francis
Marina - Rocco Granata /Italian song/
Mendocino - Michael Holm / Germany song /
Mne Mama Tiha Govorila / Russian Song /
Moon River - Auedrey Hepburn
Moonlight Serenade - Frank Sinatra
Movin' On - M People
Mustang Sally - Otis Reading
My Bonnie
My Way - Frank Sinatra
Never On Sunday - Petula Clark
No Rein Do Rain - Edit Piaff /French Song/
No woman, No cry - Bob Marley
No, No, No - Down Penn
Obladi Oblada - The Beathles
Oh, Carol - Nill Sedaca
Oh, Julie - Sh. Stevens
Oh, Pretty Woman - Roy Orbison
Oh, Happy Day - Sister Act
One Way Ticket - Neil Sedaka
Old Time Rock'n'roll - Bob Seged
Oye Como Va - Santana
Oye Mi Canto - Gloria Estefan
Paloma Blanca-George Baker Selection
Perhaps,Perhaps,Perhaps - Doris Day




Podmoskovnie Vechera / Russian Song/
Proud Mary - Credence
Purple Rain - Prince
Quando, Quando - Engelbert Humperdinck
Que Sara, Sara- Doris Day
Reach Out, I'll Be There -Gloria Gaynor
Red Red Wine - UB 40
Release Me - E. Humperdinck
Rise - Gabriele
Rivers Of Babylon - Boney M
Rock Me Baby - Tina Turner
Rock Around The Clock - Bill Haley
Rock 'n' Roll Is King - Electric Light Orchestra
Rockin` Good Way - Bonnie Tyler/Sh. Steven
Rose Garden - Lunn Anderson
Route 66 - Natalie Cole
Sacrifice - Elton John
Salma Ya Salama - Dalida /Arabic Song/
Save the Last Dance for Me - The Drifters
Sea Of Heartbreack
Sea Of Love
See You Later Allgator - Bill Haley & His Comets
Shala La - Vengaboys
She Works Hard For The Money-Donna Summer
Sir Duke - Steve Wonder
Smoke On The Water - Deep Purple
Smooth Operator - Sade
So Be My Guest To Night - F. Domino
Soldier Of Fortune - Deep Purple
Sorry, Seems To Be The Hardest Word - Elton John
Stand By Me - Ben E. King
Stand By Your Man - Tammy Winette
Starting All Over Again 'Hannie Boel
Steamy Windows - Tina Turner
Still Got The Blues - Gary Moore
Strangers In The Night - Frank Sinatra
Street Life - Randy Crawford
Stumblin' In - Suzy Quattro & Chris Norman
Summertime - Ella & Luis / G.Gerhwin/
Summer Of 69 - B. Adams
Sunny - Boney M
Sweet Home Chicago - Blues Brothers
Sweet Sweet Smile - Carpenters
Tell Me About It - Tanya Tucker
That's All Right - Elvis Presley
That's Amore-Dean Martin
That's Life - Frank Sinatra
The Best - Tina Turner
The Shoop, Shoop Song - Sher
There Goes My Everything - Elvis Presley
Till Mitt Eget Blue Hawaii - Vikingarna /Sweeden Song/
Toot Toot-Sidney Simen
Tutti Frutti - Little Richard
Twist Again
Twist & Shout - The Beathles
Tziganka /Russian Song/
Unchain My Heart - J.Cocer
Venus - Banana Rama
Wake Me Up Before You Go - Wham
Walk Of Life - Dire Striates
What a Wonderful World - Louis Armstrong
What's A Woman - Vaya Con Dios
When
When A Man Loves A Woman - Percy Sledge
When I Need You - Leo Sayer
When You Smile - Sharlly Basy
When The Saints
Wherever You Go
Who'll Stop The Rain - J. Forgery
Wild World - Cat Stevens
Ya Mustafha - /Arabic Song/
Yes Sir
Yesterday - The Beathles
You Are My Destiny - Paul Anka
You Belong To My Heart
You Mean Everything To Me- Neil Sedaka
You Can Leave Your Hat On - Joe Coker
You Drive Me Crazy - Sh. Stewan
You're The One That I Want - O.N. John & J.Travolta