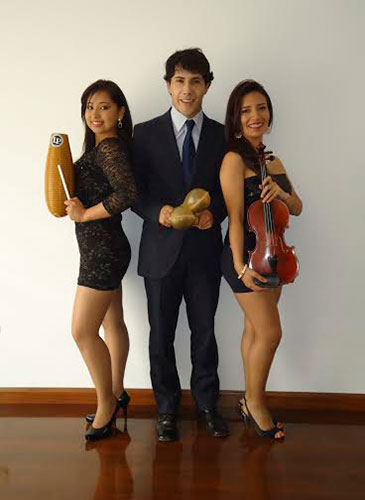 Trio (LatinMusic) is formed by professional and versatile musicians from
Colombia with a very wide experience making music from all Latin American
popular genres as tango, bolero, bossa nova, samba, cuban son and more. We
alternate between music with vocals and instrumental music. Our format is
acoustic; everything is played at live with high quality, making original
arrangements and adaptations. We do not use backings tracks or sampling. We
have made many performances including recitals, concerts, social and corporate
events.

Female M: (Band Leader)
Skill: Violin Player
Other skills: Latin Percussion, Backing Vocals.
Professional violinist graduated from Juan N. Corpas University, Colombia. Her
musical education began at 8 years old. She has played with different classical and
popular ensembles as symphony orchestra, string quartet, latin trio, contemporary
tango quintet and others. With some of them she has worked in international
venues as UAE, France and Spain.

Female L:
Skill: Lead Singer
Other skills: Latin Percussion, Melodica (keyboard wind instrument)
She has a full lyric soprano voice with a versatile training that ranges from classical
to standard jazz and popular music. Her musical training began at 5 years old.
Soprano invited for different symphonic concerts. She has participated in several
festivals as a Choir Conductor and singer. She has been a member of vocal
ensambles as EnCanto duo and she has been awarded in important vocal
competitions as Andean Colombian Song Festival, 2011. She also has made vocal
recordings for radio and television.

Male G:
Skill: Pianist
Other skills: Composer, arranger, vocals.
He is a professional musician with major in Composition. He has participated in
diverse musical projects as contemporary tango quintet, jazz ensamble, new age,
new Colombian music and many more. He also has played as an accompanying
pianist for ensambles like choir, big band and others. He is a composer of new
age music. He made the arrangements and adaptations for GML trio.






BOLERO
Besame mucho
Sabor a mi
El dia que me quieras
Contigo en la distancia
Palabras
Con los años que me
quedan
Yolanda
Esperare
Tres palabras
Cuenta conmigo
La gloria eres tu
Piel canela
Como te atreves
Tengo ganas
Mi buen amor
Esta tarde vi llover
Solamente una vez
Sin ti

TANGO
La cumparsita
El choclo
Libertango
Oblivion
Volver
Por una cabeza
Gallo Ciego
Recuerdo
Negracha
Los mareados
Nostalgias
Danzarin
Nada
Adios nonino
Soledad
Cambalache
Caminito
Sur

BRAZILIAN
Garota de Ipanema
Maria das Mercedes
How insensitive
Chega de saudade
E samba e o tango
Ginga do Mane
Aquarela de Brasil
Corcovado
Tico Tico
Desafinado
Mais que nada
Pra que discutir com
madame
Felicidade
O pato

CUBAN
Chan chan
Guantanamera
Sandunguera
Lagrimas negras
El manisero
Te busco
El Raton
El Cantante
Oye como va
El carretero
Son de la loma
Moliendo café
La vida es un carnaval
Quizas quizas quizas
Micaela
El yerberito
Cuba
La negra Tomasa
De que callada manera
Cachita

MEXICAN
La bamba
La bikina
Sabes una cosa
Cucurrucucu
Y con todo y mi tristeza
Nuestro juramento
Historia de un amor
Poco a poco
Por tu maldito amor
Que bonito amor
Contigo aprendi
La media vuelta

ARGENTINOS (no tango)
Alfonsina y el mar
Gracias a la vida
Zamba para olvidar
Zamba de usted

OTROS
Cuando Te Beso
Mi tierra
Se me acabo el amor
Ella
El breve espacio en que no
estas
No te pido flores
Nina bonita
Quiero que te quedes
Ayer
Amapola
Mary
El Gavilan
Ay cosita linda
Besos usados
Embrujo
Contaminame
Cerca del amor

... and more.