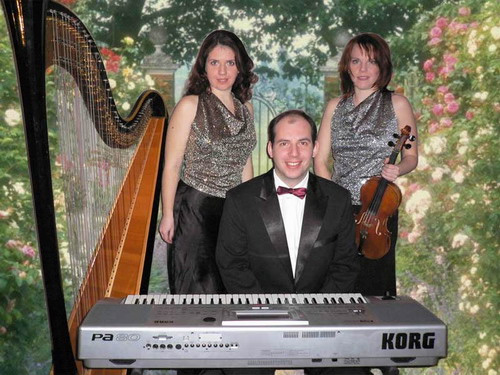 Performing cast:

Ms. A.
29 years old
Harp

Ms. Y.
26 years old
Violin

Mr. P.
31 years old
Piano (keyboard)

The Trio is a compliment to leisure and business activity, hotels and restaurants. They play world hits, jazz, pop-classic, retro (the hits of the '20's & '30's), Hollywood songs & melodies, modern music, and personal compositions.

The musicians of the trio graduated from the Music College of St. Petersburg, Russia and the Music Academy of St. Petersburg.

Since 2001, "Garden" has performed at banquets, marriages, and galas.

Jazz & Retro
All of Me. G. Marks
Oh, Lady Be Good. G. Gershwin
Hello, Dolly. D. German
Georgia On My Mind. H. Carmicael
Moonlight Serenade. G. Miller
Ja-da. B. Carton
Macky the Knife. K. Weyl
Smoke Gets in Your Eyes. J. Kern
I Left My Heart in San-Francisco. G. Cory
Istanbul. N. Simon.
If I Give My Heart to You.J. Grane
Raindrops Keep Falling On My Heard. B. Barcharach
Green Fields.T. Gylkinson
Quiet Night et Quiet Stars (Corcovado). A.C. Jobin
All the thingt you are. J. Kern
Over the Rainbow. H. Arlen
Misty. E. Garner
The Sheik of Araby. T. Snyder
Sweet Georgia. M. Pincard, K. Casey
I Can't Give You Anything But Love. J. McHugh
Tea For Two. V. Youmans
Nature Boy. E. Ahber
This Masquerade. L. Russel
Bye Bye Blackbird. R. Henderson
How Insensitive. A.C.Jobim
Night & Days. C. Porter
Caravan. D. Ellington, J. Tisol
Beatiful Love. V. Young, E. Van Alstyne
Killing Me Softly With His Song. C. Fox
Meditation. A.C.Jobim
After You Have Gone.D. Leiton
Cherry Pink & Apple Blossom White.J. Larue etc.

Sound Tracks & Musicals
My Heart Will Go On. From "Titanic". J. Horner
Love theme from "Godfather". Ninno Rotta
Love theme from "Romeo & Juliet". Ninno Rotta
Some Day My Prince Will Come. F. Churchill
The Exodus Song. From "Exodus". E. Gold
Lara-Waltz. From "Doctor Zivago".
Chattanooga Choo Choo. From "Sun Valley Serenade". H. Warren
Golden Earring. From "Golden Earring. J.Livingston & R. Evans
I Know Why (And So Do You). From "Sun Valley Serenade". H. Warren
Green Fields Of Summer. From "Alamo". D. Tiomkin
Love theme from "The Cherbourg Umbrellas".M. Legran
Chi Mai. From "Prefessional". E. Morricone
Themes frome "Lord of the Rings". J. Horner etc.

Folks & Ethnics
O Sole Mio. Neapolitan song
Paloma Blanca. Spanish nat. song
Habanera & Serenada-Polo. Spanish nat. song
Auld Lang Syne. Scotch nat. song
Come Back to Sorrento. C. Mayfield
Rio-Rita (pasodoble). Latin.
Green Sleeves. English nat. song.
Le Trestes Noces. French . nat. song
Pique la Baleine. French . nat. song
Le Roi A Fait Battre Tambour. French . nat. song
Sous le ciel de Paris. French waltz
Por Una Cabeza. C. Gardel
Mond Tanze. Irish song
Santa Lucia. Italian nat. song
Bessame Mucho. J. Velazques etc.

Pop & Rock
Nothing Else Matters. Metallica
Englishmen in New-York. Sting
Let It Be. J. Lennon, P. McCartney
Oblady-Oblada. J. Lennon, P. McCartney
Yesterday. J. Lennon, P. McCartney
Every. Sting
Memories. B. Streisand
Strangers in the Night. B. Kaempfert
Autumn Leaves. J. Kosma
What a Wanderfull Worl. L. Armsrong
Only you. B. Ram
Shamps de l'Essee. D. Dassen
Delila. D. Russes
Yes, Sir, That's My Baby. W.Donaldson
Coz I Luv you. Slade
Stormwatch. Jethro Tull
Oblady-Oblada. J. Lennon, P. McCartney
Et Si Tu N'Existais Pas. D. Dassin
I'm Sailing. D. Kelly
Scene D'Amour. S. Brightmen
Strangers in The Night. B. Kaempfert
The Lonely Shepherd. J. Last
Moon River. H. Mancini
My Way. J. Revaux etc.

Classic. Waltz. Tango
Autumn Dream. A. Joys
Spring Voices. J. Strauss
The Blue Dunai. J. Strauss
Walse. E. Doga
Waltz from "The Sleeping Beauty". P. Chaikovsky
Waltz from ,,Shchelkunchik". P. Chaikovsky
The Last Waltz. L. Reed
Anna-Polka. J. Strauss
Polka. A Petrov
Waltz. J. Brams
Waltz "Domino". Ferrari
Tango.A. Aigi
Argentine Tango. L. Villoldo
Tango "The Moon Rapsody". O. Strock
Aria. J.Hendel
Cumparsita. A. Rodriges
Cavatina. From "Norma". F. Bellini
Serenada. F.Schubert
Ave Maria. Bach-Gounod
Song from "Rigoletto". J. Verdi
Menuette. L. Bokkerini
The Entertainer (Regtime). S. Joplin
Regtime. I. Gradesky etc.