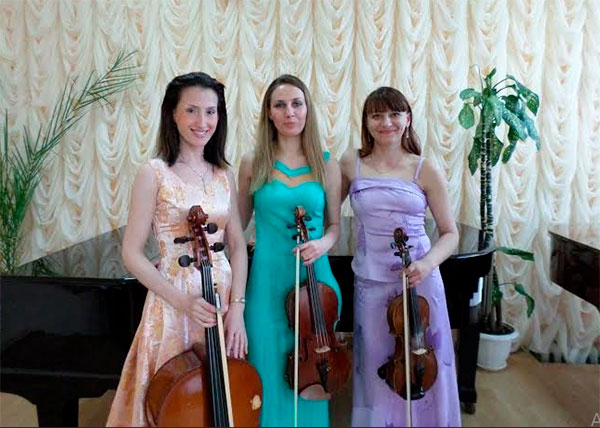 Olena
Violin:
Date of birth-1986

Education:
2000-2004 Higher Music School
2006-2011 Music Academy named Prokofiev

Previous Experience:
2011-2017 Artist Ars Nova Chamber Orchestra




Kristina
Cello
Date of Birth-1976

Education
1995-2000 Conservatory, Doneck, Ukraine

Previous Experience:
2015-2016 Korean cruise company - Electro cellist
2007-2013 Holland America Line & Princess Cruises company- Cellist of strings quartets on board
2002-2007 Cellist of the chamber orchestra, Mariupol. Cellist of string quartet.
2001-2003 Arts supervisor in Mechanical engineering technical school, Mariupol.
2001-2002 Cellist of the chamber orchestra, Mariupol.
1993-1995 Cellist of Children's philharmonic society, Mariupol.




Kateryna
viola
Date of Birth-1989

Education
Kharkiv National Kotlyarevsky University of Arts (2008 - 2013)

Previous Experience:
2017-the Dnipropetrovsk Regional Philharmonic.
In 2016 works in the Orchestra in Kiev, touring in China.
2014-2015 worked in India on a contract basis.
In 2014 worked in the Sevastopol Chamber-Symphony Orchestra.
From 2013 to 2014 the Luhansk Regional Philharmonic, tours to Italy.
In 2012-worked in the Kharkiv Philharmonic, touring Germany.
From 2011 to 2013-the Kharkiv Academic Theater of Musical comedy as an artist of the orchestra.