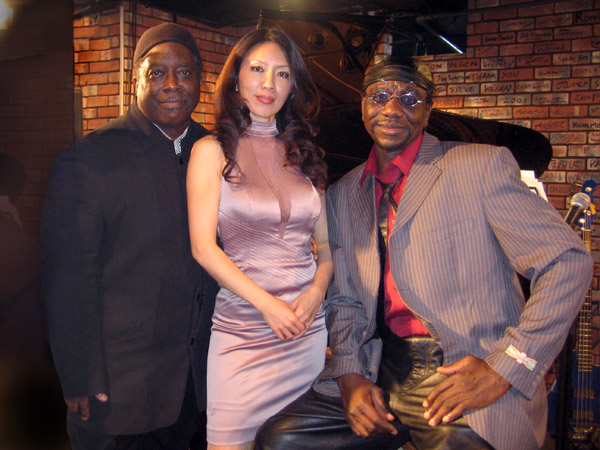 Ground-breaking, evocative Afro-Classical rhythms.

"As a stream flows into a river, Takako's classical beginnings flow into Stimulative jazz.
The transparency of her music conjures up images not only of modern jazz but of a hybrid future jazz." Composer, Shigeaki Saegusa.

Well known for her playing versatility, as a concert pianist and composer, T. has given many special performances throughout her native Japan, as well as France and Germany.
Certified in piano performance by passing the acclaimed Japan Performance Society Competition, T. has been a two time guest soloist at "The Symphony Hall" performing with the Osaka Philharmonic Orchestra, playing the Prokofiev piano Concertos numbers One and Three.
As a contemporary musician, she leads her own ensemble performing original compositions. Her writing style fuses classical traditions with exciting new rhythms.

In 2005, T. appeared with musical director Z. as a soloist with the Japan Azalea Jazz Orchestra, in a tribute to George Gershwin.

In 2006, T. made her American debut in a New York City concert that included the renowned bassist, Mr. Juini Booth. Back in Japan, Takako performed in a concert with Smooth Jazz pioneer, Tom Grant.

In 2007, T. played at "Steinway Hall" in New York with her band, the Curacion Rhythm Section followed by a grand concert at Carnegie Hall in October. Her exciting and delicate piano performance was received with great admiration from the many people in attendance.

In 2009, T. had a successful Japan tour including shows in Tokyo and Osaka and also introduced a new element to her performance by adding French spoken word.
The highlight of the year was her strong result in the International Song of the Year competition in July. In the Instrumental/Jazz/World category, T.'s original piece "Musician in New York" claimed a prestigious Finalist placing.

Also in 2009, "Musician In New York" was selected as a finalist in the 11th Annual Great American Song Contest in the Instrumental category.

In 2010, T. built on the growing momentum of the previous year's achievements to dazzle enthusiastic, full-house audiences, again in Tokyo and Osaka.

T. has released three CDs and a DVD featuring her original works.
1998 - CD, Piano of Healing;
1999 - CD, La Defense au clair de lune;
2006 - DVD, My New York Sound,
2008 - CD, Musician in New York.