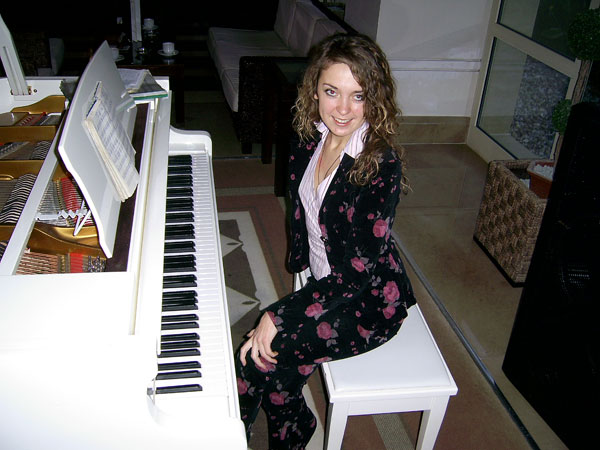 Date of birth: March 15,1983

Education:
- 1990-1998 Secondary school
- 1990-1998 Music school
- 1998-2002 Bachelor Diploma Degree; Music college; faculty of classic;
- 2002-2007 Master's Diploma in Piano Performance; Kharkov Conservatory; faculty of popular and jazz music.


Work experience:
-2005-2007 - worked as a piano teacher in music school, Ukraine
-2007-2009 - worked as a pianist and singer in hotels of Turkey, Antalya
Rixos, Kemer
Marti Myra, Goynuk
Riva Donna, Belek
Riva Diva, Antalya
- 2009 - worked as a pianist in hotel of South Korea, Seoul
Vivaldi Park, Hongcheon
- 2010-2015-worked as a pianist and singing pianist in hotels of UAE
Ramada, Dubai
Sheraton Deira hotel, Dubai
Radisson Blu, Dubai
Park Regis Kris Kin hotel, Dubai
Le Meridien, Abu Dhabi
-2012 - coordinator of project "Moscow Club" in Publishing house
"Russian Emirates", UAE, Dubai


Repertoire:
- popular and wellknown world music: English and American (Beatles, Abba, F.Sinatra, Sting, Elton John, A.L.Webber, Phil Collins, Billy Joel, George Michael, Santana, D.Kramer, G.Miller, Boney M, Brun, Dvorzhak, Ken Lane, R.Clayderman) , French(Paticia Kaas, Edit Piaf, J.Dassin, Francis Lai, Jean-Jacques Goldman, M. Farmer, Yves Montans, C.Aznavour, Bruno Pelletier, Lara Fabian, Celine Dion, Dalida), Italian (A.Chelentano, E.Morricone, Francesco Santori,A.and R. Power, R.E Poveri), Latin, Russian and other world known music;
- classic music (R.Shuman, L.V.Bethoven, F.List, F.Chopin, I.S.Bakh);
- jazz standards (autumn leaves, lullaby of birdland, girl from Ipanema, summertime, how high the moon, all of me, the man I love, softly, yesterdays, nature boy, killing me softly, hello Dolly, take five, fly me to the moon, besame mucho, all the things you are, etc.);
- valses, tango, popular songs, 80-s, blues, rag-times, swings;
- music from movies (Casablanca, Romeo and Juliet, Doctor Zhivago, Scent of the woman, Moonlight serenade, Don Juan DeMarco, Breakfast at Tiffany's, Beauty and the beast, Once upon in America, Le Professionnal, Mack the knife, etc.);
- music from musicals (Chicago, Jesus Christ Superstar, Notre Dame De Paris, Phantom of Opera, Cats, Romeo et Juliette, and others);
- many improvisations on different themes.