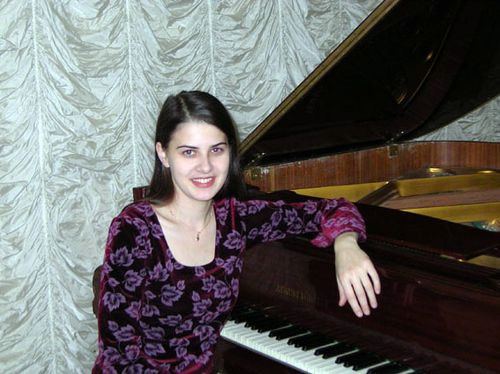 EDUCATION
2005 Graduated from State Academy of Slavonic Culture(piano)
2000 Graduated from Tver Musical College(piano)

QUALIFICATION
Accompanist
Artist of chamber ensemble
Teacher with the specialization in instrumental performance piano
My Specialties: Cocktail pianist, Zazz standards, Classical music, Pop music (English, French, Spanish, Russian, Italian).
I have extensive experience performing in front of large Concert Crowds.
I have acquired a large repertoire of Classical Music.
I constantly update with new musical material.

MY EXPERIENCE
November 2006 till present days: A choir concertmaster in College of Music and Theatre's Art in Moscow.
June 2004-Oct 2004 - Motorship N.Chernishevsky
June 2005-Sept 2005 - Coctail pianist in piano bar, classical concert on Ship.
May 2006-Oct 2006 - Motorship Leo Tolstoy, Limited Company "Vodohod", Russia, Moscow,
Cocktail pianist in piano bar,
Classical concert on ship
Play on Saxophone in Duet with pianist
July 2003-Jan 2004 - Restaurant"Berezovaya Roscha", Russia,c.Tver,
Piano player
2002-2006 - Cafe "Nadezda", Russia, c.Tver,
Pianist and duet with contrabass
2000 - Kindergarter, Moscow
Music worker
SKILLS - English language.
PERSONAL INTERESTS
Different kinds of sports, reading, cooking.