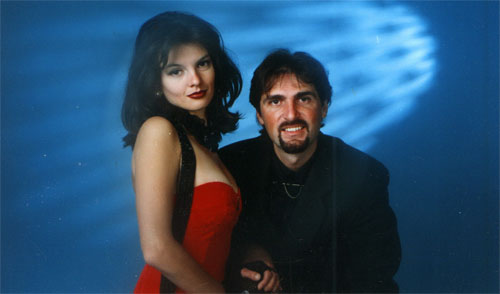 She, a solo/backup singer, keyboard and violinist, was nominated as a pop singer for Bulgaria's most prestigious pop festival "GOLDEN ORPHEUSE". She graduated from the National Music Academy "Pantcho Vladigerov" in Sofia (1994-1998). She won a concourse for best violin player among the children from The Musical School in Sofia in 1985. She has performed as a professional singer in the best pop and rock venues of Bulgaria, "Funkies Club", "X-Club", and"Swingin Hall".

He is a vocalist and plays the acoustic and bass guitars, keyboards and bouzouki. He played in a family band growing up and won first place in the "Kresna" concourse for young guitarists in 1991. He has studied guitar since 1980, and graduated "guitar and music theory" from the "M. Draganov" school. He has performed in the best venues of Sofia and all over the country.

They formed a duet in 1995. They play rock, pop, reggae, Latino, country, traditional folk, evergreen and covers of well known songs in English, German, French, Italian and Spanish.

The duet is experienced performing in nightclubs, rock clubs, and 5-star hotels. In 1998 they enjoyed their first long term engagement at the 5 -star hotel "Merit-Limra" in Antalya, Turkey. The following 5 years they worked in Switzerland in Cabarets, Night clubs and upscale restaurants. Since then, their international engagements include the Deluxe Hotel "Westing Chousun" in Seoul, South Korea and the Hotel & Resort "Sheraton Doha" Doha, Qatar.






"Guitar"
1. How Deep is your love Bee Gees
2. Oxygene J.M.Jarre
3. Them for young lovers The Shadows
4. Apache The Shadows
5. Country Show-1896 The Shadows
6. Europa K.Santana
7. Moon flowers K.Santana
8. Samba pa ti K.Santana
9. The Loner G.Moore
10. Parisienne Walkways G.Moore
11. ProfesionalE.Morricone
12. The Good,The Bad and The Ugly
13. El Condor passaTraditional
14. La Playa Traditional
15. Candle in the Wind E.John
16. And I love HerThe Beatles
17. Adelina R.Claiderman
18. Whiter shade of Pale Procol Harum
19. Pearls in Her Haire Omega
20. Fire rules Y.Vangelis
21. It's anybody home Pink Floyd
22. Bad M.Jackson 23. Doop Dicxy/Remix
24. Childrens R.Mailes/Remix/
25. Rock Emaj S.Ray Vaughan
26. Concerto D'Aranjuez Aranjues
27. Why I Sing The Blues/B.B.King
28. Don't Answer the Door/B.B.King
29. To Know You is to Love You/B.B.King
30. Get off my Back/B.B.King
31. E.Clapton Blues/Gmaj/ E.Clapton
32. Proud and Join/Emaj/S.Ray Vaughan
33. Theme for Blues/Fmaj/ P.Green
34. Boogie/1 Cmaj/J.Lee Lewis
35. Boogie/1 Emaj/J.Lee Lewis
36. Boogie-Lucille L.Richard
37. Country-Rock/1 Cmaj/R.Travis
38. Country-Rock/1 Emaj/R.Travis
39. Country-Rock/2 Emaj/ J.Jones
40. Country-Rock/1 Fmaj/ G.Brouks
41. Country/1 Dmaj/ Alabama
42. Country/1 Amaj/ Alabama
43. Country/2 Amaj/ Alabama
44. Country/3 Amaj/ S.Twayn
45. Country/1 Gmaj/ D.Jones
46. Country/1 Fmaj/ D.Jones
47. Country/1 Emaj/ J.Denver
48. Jambalaya Traditional
49. Suzana Traditional
50. Bobby McGeeK.Kristofferson
51. Benny Hill Show C.Atchins
52. Every Street/Emaj/ Dire Straits
53. Cannibals/M.Knopfler/Cmaj/ M.Knopfler
54. Passo Doble/Emaj/ Spanish
55. Passo Doble/1 Dmin/ Spanish
56. Passo Doble/2 Gmaj/ Spanish
57. Passo Doble/3 Amaj/ Spanish
58. Passo Doble/4 Cmaj/ Spanisn
59. Besa me Mucho/ Acustic
60. Rumba/Dmin/Traditional
61. Rumba/Gmaj/Acustic/Traditional
62. Desafinando/Samba/A.C.Jobim
63. Paco/Merenge/ R.Porchero
64. Tico-Tico-Tac/Samba/Los Tremolos
65. La Cocharacha/Samba/ Traditional
66. Pink Panter Traditional
67. La Pacha/Salza/ Traditional
68. Baneo/Salza/ Traditional
69. Besa/Cha-Cha/ Traditional
"Violin"
1.Blanket on the Ground Billie Jo Spears
2.Coward of CountyK.Rogers
3.Bobby MaCcgee K.Kristofferson
4.On the Road AgainW.Nelson
5.Jambalaya Traditional
6.Suzana Traditional
7.Yellow RiverChristie
8.La Comparsita/Tango/ Traditional
9.Adios muchachos/Tango/ Traditional
10.Spanish Waltz/1 Emin/ Traditional
11.Spanish Waltz/2 Amin/ Traditional
12.Dunavski Valni/Waltz/J.Straus
13.Hungarian Tanz Dvordjak
"Bouzouki"
1. Aleksis Zorbas Dance/Sirtaki/ M.Theodorakis
2. Stodromo/Sirtaki/ M.Theodorakis
3. Sto perigiali to krifo/Sirtaki/ M.Theodorakis
4. Aponizoi M.Theodorakis
5. Epikrisis Apolon M.Theodorakis
6. Kane to pono sou xara/Sirtaki/ N.Hadjidakis
7. Top Kapi N.Hadjidakis
8. Poserviko N.Hadjidakis
9. Rembetiko/1 Amaj/ Traditional Greek Dance
10. Rembetiko/2 Dmaj/ Traditional Greek
11. ZeibekikoTraditional Greek Dance
12. Hey BouzoukiTraditional Greek Dance
13. Maria meta ketrina M.Papadopolous
"Ballads"
1. Blue Spanish Eyes E.Humperdinck
2. Please Release me E.Humperdinck
3. Wonderful World E.Humperdinck
4. The Last Waltz E.Humperdinck
5. New York F.Sinatra
6. Strangers in the Night F.Sinatra
7. Feelings F.Sinatra
8. Georgia on My Mind Ray Charles
9. Summertime E.Fidgerald&L.Armstrong
10. Green,Green Grass of Home T.Jones
11. Delilah T.Jones
12. I'll Never fall in Love Again T.Jones
13. Can't Help falling in Love E.Presley
14. Love Me Tender E.Presley
15. Are You lonsome Tonight E.Presley
16. It's Now or Never E.Presley
17. The Way We Were B.Streisand
18. Evergreen B.Streisand
19. Memories B.Streisand
20. Woman in Love B.Streisand
21. Sorry Seems to be The Hardest Word
22. Your Song E.John
23. You Can Leave Your Hat on J.Cocker
24. With a Little Help of My Friends J.Cocker
25. N'oubliez jamais J.Cocker
26. Kiss and Say Goodbay Manhatan
27. Hey JudeThe Beatles
29. Yesterday The Beatles
30. Let it be The Beatles
31. Something The Beatles
32. Norvegian Wood The Beatles
33. Imagine J.Lennon
34. Gealous Guy J.Lennon
35. No More Lonely Nights P.McCartney
36. Ebony and IvoryS.Wonder&P.McCartney
37. I Will Always Love You W.Houston
"Rock Ballads"
38. Nights With White Satin Moody Blues
39. Angie The Rolling Stones
40. I'm Selling R.Stewart
41. Hotel CaliforniaEagles
42. Wonderful TonightE.Clapton
43. Please Forgive me B.Adams
44. Knockin on Heavens Door Guns,n Roses
45. Spending My Time Roxette
46. Dreamer O.Osbourne
47. Wish You Were HerePink Floyd
48. I Want to Know What Love is Foreigner
49. Stairway to Heaven Led Zeppelin
50. Soldier of Fortune Deep Purple




51. Rainbow Eyes Rainbow
52. Dust in The WindKansas
53. Boat on The RiverStyx
54. Eternal Flame Bengals
55. Smouth Operator Sade
56. Why Sade
57. For YouV.Con dios
58. No Woman No CryB.Marley
59. Need Your Love So Bad Fleetwood Mack
60. Mull of Kintyre P.McCartney
61. Massachusetts Bee Gees
63. My Bonnie is Over The Ocean Traditional
"POP"
1. Sunshine Reggae Led Back
2. JohannaE.Grant
3. No Woman no Cry B.Marley
4. I'll be Your Baby Tonight Ub-40
5. Games People Play I.Cyrcle
6. To Love SomebodyJ.Sommervile
7. One for Me one for You La Bionda
8. Jamaika-Mix/Hat Dance/Remix
9. Sha-la-la Vengaboys
10. I've Been Thinking About You
11. Superstitious S.Wonder
12. Karma Chameleon B.George
13. Girls Just Wanna Have Fun C.Lauper
14. Sweet Dreams Eurythmics
15. I Will Survive G.Gaynor
16. Born to be Alive Steppenwolf
17. Houreu Boney'M
18. Sunny Boney'M
19. Dancing Queen ABBA
20. Money, Money ABBA
21. Mama Mia ABBA
22. Sexy Lady Modern Talking
23. Chery Lady Modern Talking
24. Brother Louie Modern Talking
25. Believe Cher
26. My Baby Just Cares for Me Nina Simone
27. La isla Bonita Madonna
28. Beautiful Stranger Madonna
29. Music Madonna
30. Don't Impres Me Much S.Twain
31. I'm Gonna Getcha Good S.Twain
32. What is Love Hadway
33. Locomotion C.King
34. Sweet Harmonie Belovet
35. Funky TownLipps Inc.
36. What's up/Remix/Four non Blondes
37. Barbie Girl Aqua
38. Coco Jumbo Mr.President
39. Macarena Los del Rio
40. Marina /Disco-Mix/R.Granada
41. Mambo-5 L.Vega
42. Sex Bomb T.Jones
43. Samarik/Disco-Mix/Tarkan
44. Chihuahua DJ Bobo
45. JosephinC.Rea
46. Dont Go Breaking My Heard K.Dee&E.John
47. Raining Man Wathers Girls
48. Lucky in My Life J.Timbarleik
49. AliveC.Dion
50. Why'd You Lie to Me Anastasia
51. Who/Disco-Mix/Toto
52. Maria,MariaK.Santana
53. Hope of Delivarence P.McCartney
54. Livin la Vida Loca R.Martin
"Rock"
1. It's a Heartache B.Taylor
2. Moonlight Shadow M.Olfields
3. Black VelvetA.Myles
4. Venus Bananarama
5. Torn N.Imbrulia
6. Walking in Memphis Cher
7. Give Me One Reason T.Chapman
8. Son of A Preacher Man Dusty Springfield
9. What's up Four non blondes
10. Bobby McGee J.Joplin
11. Proud Marry Creedence
12. Have You Ever Seen The Rain Creedence
13. Down on The Corner Creedence
14. Lay Back in The Arms of SomeoneSmokie
15. Stumblin inS.Quatro&C.Norman
"Rock&Roll"
1. Dont be Cruel E.Presley
2. That's All Right E.Presley
3. It's Mether of Time E.Presley
4. Blue Suede Shoes C.Parkins
5. Bi-Bop A Lou-La Belamy Brothers
6. See You Later Alligator B.Haley
7. Tutty-Frutty L.Richard
8. Blueberry Hill J.Lee Lewis
9. Johnny B. Good C.Berry
10. Kansas City The Beatles
11. Twist Again C.Checker
12. Twist CocktailRemix
13. What I Say R.Charles
14. Rock&Roll is KingElectrik Lights Orchestra
15. Bad Moon Rising Creedence
16. Ballroom Dancing P.McCartney
17. Sad Song E.John
18. GigoloL.Prima
19. Help YourselfT.Jones
20. Yes Sir B.Crossby
21. O Carol N.Sedaka
22. Diana P.Anka
23. When The Sants Go March Evneng L.Armstrong
24. Hello Dolly L.Armstrong
25. Jive MoonJames Last Orchestre
26. Twist Alligator/Remix/
27. Amarillo Tony Christie
"Hard Rock"
1. Come Togheter The Beatles
2. Satisfaction The Rolling Stones
3. Susie Q Creedence
4. Hey JoeJ.Hendrix
5. Cocaine E.Clapton&J.J.Cale
6. Oye como va K.Santana
7. Steamy Window T.Turner
8. The Wall Pink Floyd
9. Money for Nothing Dire Straits
10. Smoke on the Water Deep Purple
11. Walking by Myself G.Moore
12. Hold The Line Toto
13. RosannaToto
14. Light My Fire The Doors
15. Whole Lotta Love Led Zeppelin
16. Sleeping in My Car Roxette
17. Alon Heartz
18. Sweet Home Alabama Lenard Skinard
"Country"
1. Country RoadJ.Denver
2. Country Road/Slow/ O.N.John
3. Country Show/mix/Varius Artists
4. Chattahoochee A.Jackson&J.McCbride
5. Achy Breaky Heard B.Raycurs
6. Detroyt City Alabama
7. Take Me to The River Alabama
8. Hello Marry Lou R.Nelson
9. The Gambler K.Rogers
10. Lucille K.Rogers
11. Lay Down Sally E.Clapton
12. Ring of Fire J.Cash
13. CrazyP.Cline
14. In The Summertime M.Jerry
15. Stand by Your ManTammy Winette
16. Release me Country
"Latino"
1. AsherejeLas Ketchup




2. Objection Shakira
3. La Bomba Traditional
4. La BambaR.Valens
5. La BananaTraditional
6. La PalomaTraditional
7. LambadaCaoma
8. Lambada da SandoCaoma
9. La Vida LocaR.Martin
10. Copa de la VidaR.Martin
11. ColegialaTraditional
12. Dov'e L'Amore Cher
13. Disco SambaTraditional
14. Besa me MuchoTraditional
15. Guantanamera Los Payos
16. Girl from Ipanema A.C.Jobim
17. MasquenadaJ.Jilberto
18. VolareJ.King
19. Una Paloma Blanka G.B.Selection
20. Viva EspanaTraditional
21. El Porom-Pom-pero Traditional
22. Tic-Tic-TacCarrapicho
23. Quando-QuandoTraditional
24. Sielito Lindo Traditional
25. TequilaTraditional
26. Ritmo de la Noce Traditional
27. Samba de JaneiroTraditional
28. Etochan Traditional
29. Samba MexicanaTraditional
30. Chumbachero El Santino
31. Pepito corasonLos Lobos
32. I Jalisco Traditional
33. El BimboTraditional
34. Mambacho/Samba/R.Porchero
"Italian"
1. Azzurro A.Celentano
2. Cosa de la VidaE.Ramazzotti
3. Gente di MareG.Morandi,U.Tozzi&Raf
4. TorneroI.California
5. Mama Leone Bino
6. Marina R.Granada
7. Mam MariaRichie Poveri
8. Sara Perche Ti amo Richie Poveri
9. L'italiano T.Cotuno
10. Unika DonnaRaf
11. Laura Non'ce Nec
12. Domenica Zucchero
13. Baila Morena Zucchero
14. Ti amoU.Tozzi
15. Quando-Quando Traditional
16. Violetera Traditional
17. TarantelaTraditional
18. Tarantela Regina Traditional
"Italian" (Instrumental)
1. La LunaNeapolitan Traditional
2. SorentoNeapolitan Traditional
3. O SarachinoNeapolitan Traditional
4. Tarantela neapolitana
5. Santa LuchiaTraditional
6. Romania miaTraditional
"French" (Songs)
1. Acropolis Adieu M.Mateu
2. Aisha Khaled
3. Je ne regretted rien E.Piaf
4. Parole,Parole Dalida&A.Delon
5. T'en va A.Barier
6. Natalie G.Becand
7. L'ete Indien G.Becand
8. Champs Elysees J.D'Asain
9. Voyage M.Fafmer
10. Oh Sarah J.Hallyday
11. Roud du Memphis J.Michelle
12. Comment Ca va Shorts
13. C'est bon pour la Moral Tropical Dence
14. Medley Tropical/Remix/
15. Ele Disco Macumba
16. Soca Party Company Creole
17. Kangevua P.Richar
18. Pour que tu m'aime encoreC.Dion
19. Je T'aime L.Fabian
20. Je T'aime moi non plus J.Birkin&S.Gainsbourg
21. Paris Latino Stars Academy
22. MemoriaTraditional
"French" (Instrumental)
1. Chanson D'Amour M.Mathieu
2. Dernier Chanson M.Mathieu
3. L'Amerique J.Dassin
4. Laura Hawlidey
5. Waltz Muzet/1 Emin/ Traditional
6. Waltz Muzet/2 Dmin/ Traditional
7. Waltz Muzet/3 Amaj/ Traditional
8. Tango French/1 Gmaj/ Traditional
9. Tango French/2 Fmag/ Traditional
10. Tango French/3 Amag/ Traditional
11. Tango French/4 Cmag/ Traditional
"German"
1. Siera Madre Zillertaler Schurzejager
2. WillenlosMarius Muler&Westernhagen
3. Es Geth Mir Gut Marius Muler&Westernhagen
4. Siben Tage Siben Neghte W.Petry
5. Coco-Cacao W.Petry
6. Je T'Aime,Hase Ich Liebe DichDie Flippers
7. Ich bin Bayrisches Cowgirl Niki
8. HerzihlineWildecker Herzbuben
9. Cabalero,Cabalero C.Bach
10. Sommerabend Party C.Bach
11. Vogel der Night Traditional
12. Irgenwo,Irgenwi
13. Ganz Normale
14. Rote LipenF.Domino
15. Hey BabyD.J.Otzzi
16. Rosemunde Traditional
17. Heidi Traditional
"Russian"
1. Trava u DomaZemliani
2. Trava u Doma Disco/Remix/
3. Darogi DlinnieTraditional
4. Kazachoc Traditional
5. KatuchaTraditional
6. CiganTraditional
7. Oci Chornie Traditional
8. Oci Chornie/Tango/ Traditional
9. Podmoskovnie VeceraTraditional
10. Vashe BlagorodieTraditional
11. Dve Gitari Traditional
12. Pesenka Krokodila GenyMusic from Muvie
"Greek"
1. Barba Janis N.Kasandzakis
2. Tarzan N.Kasandzakis
3. EpimenoXaristofan
4. Siko Xorepse SirtakiTraditional
5. Siko Xorepse KuklimoTraditional
6. GorgonaM.Luisos
7. Lovely Lady of ArcadiaD.Roussos
8. Pireas ChildsN.Moskuri
9. Na Haro Traditional
10. Taj Stara MasaTraditional