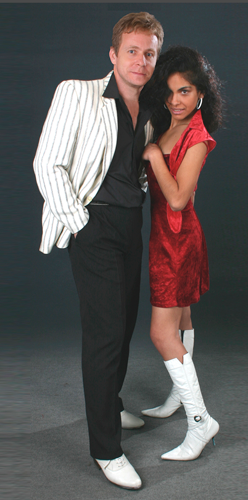 Female
Date of Birth:19 December 1982
Hight: 164
Weight: 40

Occupied with signing since early age. Participated in various contests where her signing talent was acknowledged. Studied opera signing under a renowned Varna opera singer and tutor for a couple of years. Her talent was noticed and from the age of 17 she has been working in musical establishments in the Bulgarian Black sea resorts. Worked with renowned musicians and groups from Varna.

Male
Date of Birth:2 August 1960
Hight: 175
Weight: 78

Occupied as professional musician for over 25 years. Plays the bas guitar and keyboards. Worked with renowned musicians in many musical establishments. Since 2005 he works in abroad.



Song List:
ACHY BREAKY HEART - BILLY RAY CYRRUS
ALICE - SMOKIE
ALL THAT SHE WANTS - ACE OF BASE
AMAZING - INNA
ARE YOU LONESOME - ELVIS PRESLEY
BAD MOON RISING - CCR
BESAME MUCHO - FRANK SINATRA
BLUEBERRY HILL - FATS DOMINO
BORO BORO - ARASH
CAN'T HELP FALLING IN LOVE - ELVIS PRESLEY
CAN'T TAKE MY EYES - GLORIA GAYNOR
CARELESS WHISPER - GEORGE MICHAEL
CONGA - GLORIA ESTEFAN
COUNTRY ROADS - JOHN DENVER
CRAZY - PATSY CLINE
CRYING IN THE CHAPEL - ELVIS PRESLEY
DO YOU WANNA DANCE - BEACH BOYS
DON'T BE CRUEL - ELVIS PRESLEY
DON'T WORRY, BE HAPPY - BOBBY MCFERRIN
DRIVING HOME FOR CHRISTMAS - CHRIS REA
DUM TEK TEK - HADISE
EVERYBODY NEEDS SOMEBODY - BLUES BROTHERS
FALLIN' - ALICIA KEYS
FIELDS OF GOLD - STING
GOOD LUCK CHARM - ELVIS PRESLEY
GREATES LOVE OF ALL - WHITNEY HUSTOUN
GREEN GRASS OF HOME - TOM JONES
HELP ME MAKE IT - BOBBY BARE
HERO - MARIAH KEARY
HIT THE ROAD JACK - RAY CHARLES
HOTEL CALIFORNIA - EAGLES
HOW DEEP IS YOUR LOVE - BEE GEES
I FEEL GOOD - JAMES BROWN
I GOT MY MIND SET ON YOU - GEORGE HARRISON
I WANNA BE ONLY - ETERNAL
I WANNA DANCE WITH SOMEBODY - WHITNEY
I WILL ALWAYS LOVE - WHITNEY HUSTOUN
I WILL SURVIVE - GLORIA GAYNER
I'M OUT A LOVE - ANASTACIA
I'M A BELIEVER - MONKEES
I'M OUTTA LOVE - ANASTACIA
IN YOUR EYES - KYLIE MINOGUE
IS THIS LOVE - BOB MARLEY
IT MUST HAVE BEEN LOVE - ROXETTE
IT'S NOW OR NEVER - ELVIS PRESLEY
KING OF THE ROAD - ROGER MILLER
KISS - TOM JONES
KISS AND SAY GOODBYE - MANHATTANS
LA ISLA BONITA - MADONNA
LIFE 3 - DESIRE
LOVE ME TENDER - ELVIS PRESLEY
MORE OF YOU - BELLAMY BROTHERS
NO FIRE - INNA
NOSSA, NOSSA - MICHEL TELO
NOT THAT KIND - ANASTACIA
OH JULIE - SHAKIN' STEAVENS
ON THE ROAD AGAIN - WILLIE NELSON
ONE MOMENT IN TIME - WHITNEY HUSTOUN
POUR UN FLIRT - MICHEL DELPECH
RAIN OVER ME - PITBULL
RAINDROPS KEEP FALLIN' ON MY HEAD - BJ THOMAS
RETURN TO SENDER - ELVIS PRESLEY
SAVE THE LAST DANCE FOR ME - THE DRIFTERS
SEX BOMB - TOM JONES
SEXY EYES - DR HOOK
SHAPE OF MY HEART - STING
SHE'S NOT YOU - ELVIS PRESLEY
SOMETHING STUPID - WILLIAMS UND KIDMAN
SORRY SEEMS TO BE - ELTON JOHN
STAND BY ME - BEN E KING
STRANGERS IN THE NIGHT - FRANK SINATRA
STRONG ENOUGH - SHER
STUCK ON YOU - ELVIS PRESLEY
SUMMERWINE - SINATRA NANCY
SUNSHINE REGGAE - LAID BACK
SUPERSTAR - JAMELIA
SWAY - SKYLAB ORCHESTRA
SWEET HARMONY - THE BELOVED
TEDDY BEAR - ELVIS PRESLEY
THAT'S WHAT FRIENDS ARE FOR - DIONNE WARWICK & FRIENDS
THE GIRL OF MY BEST FRIEND - ELVIS PRESLEY
TICKET TO RIDE - BEATLES
TOO MUCH - ELVIS PRESLEY
TRICK ME - KELIS
TWILIGHT TIME - THE PLATTERS
UNBREAK MY HEART - TONI BRAXTON
VENUS - SHOCKING BLUE
VISION OF LOVE - MARIAH KEARY
WAITING FOR TONIGHT - JENNIFER LOPEZ
WHAT A WONDERFUL WORLD - LOUIS ARMSTRONG
WHEN RELIGION COMES TO TOWN - E-TYPE
WILD THING - TROGGS
WISH I COULD FLY - ROXETTE
WOODEN HEART- ELVIS PRESLEY
Y VIVA ESPANA - SYLVIA
YOU MIGHT NEED SOMEBODY - RANDY CRAWFORD

and many other songs (english, deutche, russian, french, italian, bulgarian)...