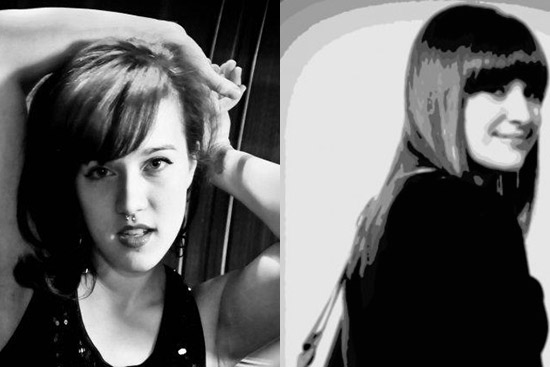 EXPERIENCE:
Performing in ON with original band, from 2012-present at:
-Manhattan's The Mod Club McReilly's Michael & Marion's Kenzington
-Clarkson Pub Cellarman's Pub Study Lounge Boathouse Eatery Phil's
-New Toronto Billiards Mt. St. Louis QUE Supper Club Magic Oven (and private functions)
-Session vocalist for Rick McCue at Kensington Sound in Toronto, ON from 2011-present
-Substitute vocal teacher at T-Rox Academy in Port Credit, ON from 2011-present

Performed the National Anthem at the Special Olympics closing ceremonies in Newmarket, ON (2013)

Performed the National Anthem at the York Regional Police graduation ceremony in Newmarket, ON (2013)

Lead vocalist in cover band contracted with Brian Pombiere Entertainment, BPM Krew, from 2011-2012

Performed at Pride celebrations in Toronto and Mississauga, ON (2013)

Y's Men's Music Festival playing Tenor saxophone in Midland, ON (2007)



A Woman's Worth - Alicia Keys
After the Rain - Little Dragon
Ain't No Other Man - Christina Aguilera
Alejandro - Lady GaGa
Angel - Shaggy
Arms Wide Open - Creed
At Last - Etta James
Babylon - David Gray
Back to Black - Amy Winehosue
Bad Romance - Lady GaGa
Black Betty - Ram Jam
Black Velvet - Alannah Myles!
Beat It - Michael Jackson
Beautiful Mess - Diamond Rio
Best Friends - Amy Winehouse
The Best Part - El Madmo
Better Man - Pearl Jam
Black Velvet - Alannah Myles
Blow Ya Mind - Eve ft. Gwen Stefani
The Boys are Back in Town - Thin Lizzy
Boys of Summer - Don Henley
Breakfast at Tiffany's - Deep Blue Something
Breakin' Dishes - Rihanna
Brian Wilson - Bare Naked Ladies
Brick House - The Commodores
Brown Eyed Girl - Van Morrison
Bull Rider - Norah Jones ft. Sasha Dobson
Butteryz - Alicia Keys
California Gurls - Katy Perry ft. Snoop Dogg
Call Me - Blondie
Can't Take My Eyes off of You - Lauryn Hill
Car Wash - Rose Royce
Chain of Fools - Aretha Franklin
Chasing Pavements - Adele
Come Together - The Beatles
Could You Be Loved - Bob Marley
Crash Into Me - Dave Matthews Band
Crazy - Gnarls Barkley
Crazy for You - Adele
Damn - The Matrix ft. Katy Perry
Damn Your Eyes - Etta James
Dancing Machine - Jackson 5
Darling Nikki - Prince
Daughters - John Mayer
Disturbia - Rihanna
DJ Got Us Fallin' In Love Again - Usher!
Don't Know Why - Norah Jones
Don't Stop Believing - Journey
Don't You Remember - Adele
Do Me Good - Amy Winehouse
Do Ya Think I'm Sexy - Rod Stewart
Drinkin' Again - Aretha Franklin
Drops of Jupiter - Train
Dude/No Letting Go/Get Busy/Hold Yuh -
medley!
Dynamite - Taio Cruz
Empire State of Mind - Jay-Z ft. Alicia Keys
E.T. - Katy Perry
Fallin' - Alicia Keys
Fire Burning - Sean Kingston
Firework - Katy Perry
Foolish - Ashanti
Fool for You - Cee Lo Green & Melanie Fiona
Foundations - Lilly Allen
Friends in Low Places - Garth Brooks
Fuck Me Pumps - Amy Winehouse
Fuck You - Cee Lo Green
Gimme One Reason - Tracy Chapman
Gipsy Kings medley - Belle Perez
Give Me Everything Tonight - Pit Bull ft. Neyo
Godspeed (Sweet Dreams) - The Dixie Chicks
Good Feeling/Club Can't Handle Me/Low - Flo
Rida medley
Got 2 Luv U - Sean Paul ft. Alexis Jordan
Hand That Feeds - NIN
Harvest Moon - Neil Young
Heads High/Murder She Wrote/Twice My Age/
Everyone Falls in Love - medley
Heart of Gold - Neil Young
Hella Good - No Doubt
Hey Hey, My My/My My, Hey Hey - Neil Young
Hey Ya - Outkast
Higher - Creed
Hips Don't Lie - Shakira ft. Wyclef Jean
Home for a Rest - Spirit of the West
Hot in Here - Nelly
Hot N' Cold - Katy Perry
Hotel California - The Eagles
How Come You Don't Call Me - Alicia Keys
Hypnotize - Notorious B.I.G.
I Can't Make You Love Me - Bonnie Raitt
I Don't Need No Doctor - John Mayer
I Feel Good - James Brown
I Gotta Feeling - Black Eyed Peas
I Heard Love Is Blind - Amy Winehouse
I Kissed a Girl - Katy Perry
I Like It - Brand New Heavies
I Love Rock N' Roll - Joan Jett
I Need to Know - Marc Anthony
I Turn to You - Christina Aguilera
I Wanna Be Your Lover - Prince
I Wanna Go - Britney Spears
I Will Follow You into the Dark - Death Cab for
Cutie
I Will Survive - Gloria Gaynor
I Wish - Skeelo
(listed alphabetically by song title)
Bridgette Anderson Repertoire
I Wish - Stevie Wonder
I'm Sexy and I Know It - LMFAO
I'm Yours - Jason Mraz
If I Ain't Got You - Alicia Keys
Immigrant Song - Led Zepplin
Is This Love - Bob Marley
Jar of Hearts - Christina Perry
Jerk It - Thunderheist
Jump Off - Lil' Kim
Just Dance - Lady GaGa
Just The Way U R - Bruno Mars
Karma - Alicia Keys
Kick Your Game - TLC
Killing Me Softly - The Fugees
Kiss - Prince
La Vida Es Un Carnaval - Celia Cruz
Lady - Modjo
Lambada/On the Floor medley - Jennifer Lopez
Last Friday Night (T.G.I.F.) - Katy Perry
Let It Rain - Amanda Marshall
Let Me Love You - Mario
Let's Get It On - Marvin Gaye
Let's Stay Together - Al Green
Life is Better - Q-Tip ft. Norah Jones
Like I Love You - Melanie Fiona
Little L - Jamiroquai
Livin' on a Prayer - Bon Jovi
Love Foolosophy - Jamiroquai
Love the Way You Lie - Eminem ft. Rihanna
Lumberjack - Jackyl
Man Down - Rihanna
Maria Maria - Santana ft. Wyclef Jean
Monkey Wrench - Foo Fighters
More Than Words - Extreme
Motivation - Kelly Rowland
Moves Like Jagger - Maroon 5 ft. Christina Aguilera
Mr. Saxobeat/Danza Kuduro - medley
My Hero - Foo Fighters
Naked as We Came - Iron & Wine
Natural Woman - Aretha Franklin
No Diggity - Blackstreet ft. Dr. Dre & Queen Penn
Norwegian Wood - The Beatles
Not Like the Movies - Katy Perry
Oh Darling - The Beatles
Old Man - Neil Young
Old Time Rock N' Roll - Bob Seger
OMG - Usher! !
Only Exception - Paramore
Only Girl in the World - Rihanna
Paparazzi - Lady GaGa
Party Rock Anthem - LMFAO
Play That Funky Music - Wild Cherry!
Please Don't Stop The Music - Rihanna
Poker Face - Lady GaGa
Proud Mary - Ike & Tina Turner
Pumped Up Kicks - Foster the People
Purple Rain - Prince
Rehab - Amy Winehouse
Respect - Aretha Franklin
Right as Rain - Adele
Rockstar - Rihanna
Rolling in the Deep - Adele
Round Midnight - Jazmine Sullivan
Roxanne - The Police
Rude Boy - Rihanna
Run to You - Bryan Adams
Runaway - Jamiroquai
Santeria - Sublime
Satisfaction - The Rolling Stones
Save A Horse - Big & Rich
Saved the Best for Last - Vanessa Williams
Scavenger Type - NOFX
September - Earth, Wind & Fire
Sex on Fire - Kings of Leon
Sexual Healing - Marvin Gaye!
SexyBack - Justin Timberlake
Sexy and I Know It - LMFAO
Sledgehammer - Peter Gabriel
Smile - Lilly Allen
Smooth - Santana ft. Rob Thomas
Solsbury Hill - Peter Gabriel
Someone Like You - Adele
Something to Talk About - Bonnie Raitt
Son of a Preacher Man - Dusty Springeld
Soul Sister - Train
Stuck in the Middle with You - Stealer's Wheel
Suavemente - Elvis Crespo
Summer of '69 - Bryan Adams
Sunday Morning - Maroon 5
Superbass - Nicki Minaj
Superstition - Stevie Wonder
Sweet Caroline - Neil Diamond
Sweet Child O' Mine - Guns N' Roses!
Sweet Dreams - Beyonce
Sweet Dreams - The Eurythmics
Sweet Home Alabama - Lynyrd Skynyrd
Sweetest Taboo - Sade
S&M - Rihanna
Take A Bow - Rihanna
Tainted Love/S.O.S. medley - Soft Cell/Rihanna
Te Amo - Rihanna
Teenage Dream - Katy Perry
Tell Him - Lauryn Hill
Tempted to Touch - Rupee
Thinking of You - Katy Perry
This Is How We Do It - Montell Jordan
(listed alphabetically by song title)
Bridgette Anderson Repertoire
Tik Tok - Ke$ha
Time After Time - Cyndi Lauper
The Time - Black Eyed Peas
Tonight I'm Lovin' You - Enrique Iglesias!
Turn Me On - Kevin Lyttle
Tyrone - Eryka Badu
and I - Lady GaGa
Un-Thinkable (I'm Ready) - Alicia Keys
Unbreak My Heart - Toni Braxton
Underneath It All - No Doubt
Unfaithful - Rihanna
Use Somebody - Kings Of Leon
Use Your Love - Katy Perry
Virginia Moon - Norah Jones ft. Dave Grohl
You Can Leave You Hat On - Tom Jones
You Got It Bad - Usher
You Got Me - The Roots ft. Eryka Badu
You Know I'm No Good - Amy Winehouse
You Make Me Feel Good - Cobra Starship ft. Sabi
You're Making Me High - Toni Braxton
Your Body is a Wonderland - John Mayer
Waking Up in Vegas - Katy Perry
Waterfalls - TLC
We Found Love - Rihanna ft. Calvin Harris
What I Got - Sublime
What You Won't Do for Love - Bobby Caldwell
What's Luv - Fat Joe ft. Ashanti
Wheat Kings - The Tragically Hip
When Doves Cry - Prince
Wild Wild West - Will Smith
With You - Chris Brown
500 Miles - The Proclaimers
1999 - Prince + standards, requests, originals & more!