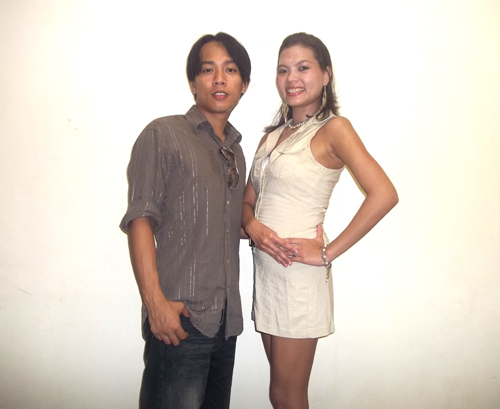 Female
Position - Vocalist, Percussion
Date of Birth - October 29, 1987
Age - 23
Height - 5'4
Weight - 47 Kilos

She is a sweet lady withmuchmusical experience behind her.
the vocalist who handles ballads and uptempo numbers with
ease . She has an excellent voice with a good range and likes to sing the occasional jazzy tunes with her partner. She has been
performing for quite some time now and her experience and
maturity as a singer is seen in all her performances. She has
cultivated her other talents in her spontaneous witty remarks
and coupled together with her gestures to capture her
audience's attention with lots of laughter and hand clapping that
keeps themcoming back formore. Her repertoire is wide enough
to cover her audiences' musical demand. Her cool personality
onstage jives well with the keyboardist.

Male
Position - Keyboardist and Vocalist
Birth Date - August 02, 1983
Age - 27
Height - 5'5
Weight - 58 Kilos

The funny guy behind the keys, who is very experienced and adapt in playing the keyboards.
And he is a wizard with the synthesizer and sequencer which
makes hismusic totally unique and entertaining. Due to his years
of traveling. his ability to play a wide range of songs and his
expressive vocals has stood him in good stead. his repertoire includes R&B, Pop, Rock. Jazz and lounge Standards.