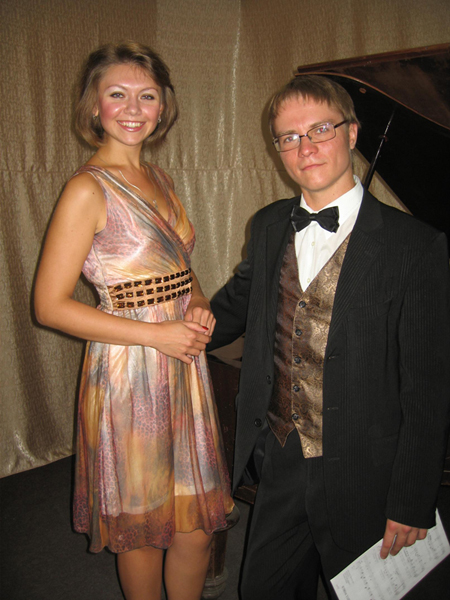 Female
EDUCATION:

Dnepropetrovsk Conservatory of a name of M. Glinka (artist of choir, concert Performance,Teacher of conducting and vocal) 2007-2010
Musical Academy of a name of S.Prokofiev, Donetsk(artist of choir, concert Performance ) 2002-2004
Musical college, Krivoy Rog city (artist of choir, concert Performance,Teacher of conducting and vocal) 1998-2002

PROFESSIONAL EXPERIENCES

Night club "Casablanca",Toyota, Japan, March 2004 - September 2004
Singer and pianist of jazz, popular music

Night club "Moscow",Kokura-city, Japan, August 2005 - January 2006
Singer of jazz,popular music

Night club "Moscow",Kokura-city, Japan, July 2006 - October 2006
Singer of jazz,popular music

Artist of the chamber choir of the Dnepropetrovsk Philharmonic. February 2007- June 2009

Teacher( vocal and conducting) of Dnepropetrovsk Conservatory .February 2010- September 2010.

Male
Piano is main mastered instrument; Guitar are also available;

Expirience:
2005-2010 Piano player in Crimean musical theatre. Ukraine.
2006-2007 Piano/keyboard in the 5* Hotel, "Four Seasons" Egypt.
2004-2005 Piano player in 5* Hotel "Donbass Palace Hotel". Donetsk Ukraine.
2003-2004 Pianist - college of education, Donetsk.Ukraine



Song List

Jazz, Lounge music, Strong emphasis on 50's & 60's and Oldies
(performing by the Piano & Vocal duet)
A BLOSSOM FELL
A FOGGY DAY
ABRAZAME
ALL OF ME
ALL THE THINGS YOU ARE
AQUA DE BEBER
AUTUMN LEAVES
BEAUTIFUL LOVE
BESAME MUCHO
BEWITCHED (BOTHERED AND BEWILDERED - AM I)
BLUE MOON
BUT NOT FOR ME
CAN YOU FEEL THE LOVE TONIGHT...
CARAVAN
CASABLANCA
CAUSE MY HEART BELONGS TO DADDY
CHEEK TO CHEEK
CLOSE TO YOU
COME AWAY WITH ME
CORCOVADO (QUIET NIGHTS...)
CRAZY (I'M CRAZY FOR FEELING SO LONELY...)
CRY ME A RIVER
DESAFINADO
DEVIL MAY CARE
DINDI
DON'T GET AROUND MUCH ANYMORE
DON'T KNOW, WHY
END OF THE WORLD
EVERY BREATH YOU TAKE
EVERY TIME WE SAY "GOOD BYE"
FLY ME TO THE MOON
FOR ONCE IN MY LIFE
FRAGILE
GEORGIA ON MY MIND
GET HERE
GIRL FROM IPANEMA
HE LOVES AND SHE LOVES
HISTORIA DEL AMORE
HOW COULD AN ANGEL BREAKS MY HEART
HOW INSENSITIVE
I CAN'T TAKE MY EYES OFF OF YOU
I DON'T KNOW HOW TO LOVE HIM
I DON'T KNOW ENOUGH ABOUT YOU
I GET A KICK
I WALKING ON SUNSHINE
I WANNA BE LOVED BY YOU
I WISH I KNEW HOW IT WOULD FEEL TO BE FREE...
I'VE GOT YOU UNDER MY SKIN
ISN'T SHE LOVELLY?
IT'S ALRIGHT WITH ME!
JUST IN TIME
JUST THE WAY YOU ARE
JUST THE WAY YOU LOOK TONIGHT
KILLING ME SOFTLY (WITH HIS SONG)
L.O.V.E.
LADY IS A TRAMP
LATELY (I HAVE HAD THE STRANGEST FEELING)
LET THERE BE LOVE
LET'S FALL IN LOVE
LETS DO IT!
LITTLE FLY
LONG DAY IS OVER
LOVE LETTERS
LOVE ME TENDER
LULLABY OF BIRDLAND
MACK "THE KNIFE"
MISTY (LOOK AT ME...)
MOON RIVER
MY FAVORITE THINGS
MY FUNNY VALENTINE
MY ONE AND ONLY
NATURE BOY
NICE WORK IF YOU CAN GET IT
NIGHT & DAY
NOBODY'S FAULT, BUT MINE...
ONCE UPON IN DECEMBER
ONE NOTE SAMBA
OVER THE RAINBOW
PAPER MOON
QUANDO QUANDO QUANDO
S'WONDERFUL
SAVING ALL MY LOVE FOR YOU
SMILE
SMOKE GETS IN YOUR EYES
SMOOTH OPERATOR
SO NICE (SUMMER SAMBA)
SORRY SEEMS TO BE THE HARDEST WORD
SUMMERTIME
SUNNY
THE LOOK OF LOVE
THE MAN I LOVE
THE SHADOW OF YOUR SMILE
THEY CAN'T TAKE THAT AWAY FROM ME
THIS MASQUERADE
UNCHAINED MELODY
UNTIL
WALTZ FOR ME
WAVE
WHAT A WONDERFUL WORLD
WHEN I NEED YOU (I JUST CLOSE MY EYES...)
WHEN JOANNA LOVED ME
YESTERDAY

Emphasis on Country hits, Funk and Soul, Contemporary, Disco
(Performing by the Four-or-Five-persons-Band)
AICHA
ANOTHER STAR
BILLIE JEAN
BUT I DO LOVE YOU
CALLING
CHAIN OF FOOLS
COME ON OVER
COUNTRY ROADS
GUANT ANAMERA
HASTA MANANA
HOLD ON!
I CAN'T TAKE MY EYES OFF YOU
I WILL ALWAYS LOVE YOU
I WILL SURVIVE
JAMBALAYA
JOLENE
LA BELLE
LA IS LA BONITA
LA TORTURA
MAMA MARIA
MATERIAL GIRL
OJOS ASI
ONE WAY OR ANOTHER
PARADISE
SING IT BACK
SIMPLY THE BEST
SIR DUKE
SOMETIMES
STAND BY ME
SUPERSTITION
TENNESSEE RIVER
THANK YOU FOR THE MUSIC
THE WINNER TAKES IT ALL
THOSE WERE THE DAYS
UNCHAIN MY HEART
VENUS
WHY
YES SIR I CAN BOOGIE
Christmas songs
I'LL BE HOME FOR CHRISTMAS
JINGLE BELLS
LET IT SNOW
SANTA CLAUS IS COMING TO TOWN
SILVER BELLS
THE CHRISTMAS SONG
WHITE CHRISTMAS
AND MOORE...