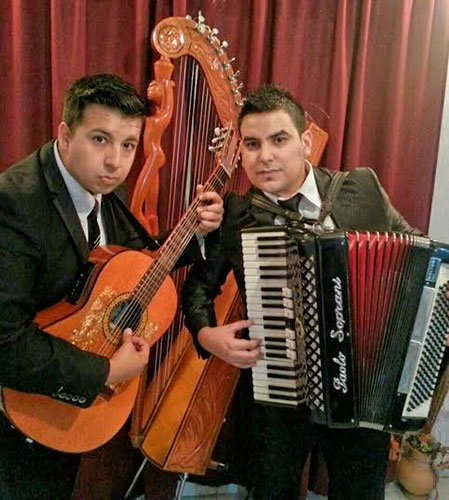 Male 1 - Singer and musician
Date of birth : 09/12/1987
- He has studied piano and singing technique at IMA (Instituto Municipal de
Arte) in Asuncion, Paraguay.
He plays Piano, Guitar, Harp and Accordion.
Experience
- 1994 - Singer of the baby band
- 1997 - First place at "Festival de la Bahia" as harpist.
- 2002/2007 - Singer/musician band.
- 2007/2008 - MSC Opera Singer/musician band.
- 2009/2011 - Singer/musician Pop and Latin band.
- 2011/2012 - MSC Musica and MSC Orchestra Singer/musician
- 2013/2015 - Singer/musician, Pop and Latin band.
- In 2012, as singer, participates and get the 4th place in the reality show "Rojo
el valor del talento", on air in the Paraguayan National Television.
- He has performed at many music festivals, contests, radio and TV programs,
and has sung in the better theaters in Paraguay.
- He has participated at several records with Paraguayan labels among them
Discos Cerro Cora, Cantares Records and BlueCaps.

Male 2 - Singer and musician
Date of birth : 21/02/1989
Experience:
- He has studied singing technique and guitar at Teatro Colon and Polyphonic
Choir in Buenos Aires, Argentina.
- 2008 - First place at Festival Takuarere'i as singer, in Buenos Aires.
- 2011/2012 - MSC Orchestra Singer/musician band.
- 2013/2015 - Singer/musician, Pop and Latin band.
- He has performed at many theaters in Argentina among them Teatro Maipu,
Teatro Alvear, Teatro Metropolitano, Teatro Colon and in the Boca Juniors
Football team Stadium.
- In Paraguay he has sung in several TV programs, festivals and in the Teatro
Municipal Ignacio Pane.
- He recorded two CD, in 2010 and 2012, as soloist singer.






REPERTOIR LIST.

ENGLISH:

NEW YORK, NEW YORK.
NIGHT AND DAY.
MY WAY.
FLY ME TO THE MOON.
STRANGERS IN THE NIGHT.
L.O.V.E.
CLOSE TO YOU.
THAT'S AMORE.
I WILL ALWAYS LOVE YOU.
FEVER.
WHEN I FALL IN LOVE.
SMILE.
ONLY YOU.
WONDERFUL TO THE NIGTH.
WHEN A MAN LOVES A WOMAN.
MOONDANCE.
FEELING GOOD.
ME AND MRS. JONES.
CRAZY LITTLE THING CALLED.
SAVE THE LAST DANCE FOR ME.
BUONASERA SIGNORINA.
MAMBO NUMBER FIVE.
SWAY.
MAMBO ITALIANO.
HOTEL CALIFORNIA.
OH! CAROL.
HEY JUDE.
YESTERDAY.
OB-LA-DI OB-LA-DA.
LET IT BE.
HELP.
IMAGINE.
SACRIFICE.
HERO.
ANGEL.
LIVING LA VIDA LOCA.
SHE BANGS.
LA ISLA BONITA.
GLORIA.
DISCO INFERNO.
Y.M.C.A.
CELEBRATION.
RIVERS OF BABYLON.
DANCING QUEEN.
MAMMA MIA.
YOU RAISE ME UP.

ITALIAN:

QUANDO M'INNAMORO.
LA PRIMA COSA BELLA.
ZINGARA.
QUANDO, QUANDO.
VOLARE.
MARINA.
IL MONDO.
UN AMORE COSI GRANDE.
CARUSO.
'O SOLE MIO.
FUNICULI FUNICULA.
TU VUO' FA' L'AMERICANO.
TORNA A SURRIENTO.
'O SURDATO 'NNAMMURATO.
'O SARRACINO.
L'ITALIANO
PERDERE L'AMORE.
IO CHE NON VIVO.
NON DIMENTICAR.
SE (CINEMA PARADISO).
NOTTE DI LUCE.
NESSUNO.
PIU BELLA COSA NON C'E.
FUOCO NEL FUOCO.
LA MIA STORIA TRA LE DITA.
SE ADESSO TE NE VAI.
IRIS.
IL MIO CANTO LIBERO.
GUARDA CHE LUNA.
ARRIVEDERCI ROMA.
LA PRIMAVERA.
MAMMA MARIA.
24 MILA BACI.
BAILA MORENA.
CHA CHA CHA DELLA SEGRETARIA.
DI SOLE E D'AZZURRO.
MALEDETTA PRIMAVERA.
QUANDO.
CHE SARA.
I WATUSSI.
RAFFAELLA CARRA MEDLEY.

BRAZILIAN:

MAIS QUE NADA.
GAROTA DE IPANEMA.
CHUVA DE PRATA.
VOLTA PRA MIN
VAI DAR NAMORO.
TUDO QUE VOCE QUIZER.
QUE SERA DE VOCE.
FUGIDINHA.
AI SE EU TI PEGO.
CHORA ME LIGA.
CHE CHERERECHE.
AMOR DE CARNAVAL.
MEU AMIGO CHARLIE BROWM.
CAMA E MEZA.
VOCE A LUZ.
LINDA.
NO DIA EM QUE EU SAI DE CASA.
VERMELHO.
CONVITE DE CASAMENTO.
SUADADE NO MEU PEITO.
DEPOIS DO PRAZER.
FOGO E PAIXAO.
DORMI NA PRAZA.
TRISTEZA.
TRISTEZA DO JECA.
TARDE DEMAIS.
DESAFINADO.
SAUDADES.
ROBERTO CARLOS ( Un millon de amigos, el gato que esta triste y azul, come e grande meu amor por voce).

SPANISH:

GRANADA.
LA MALAGUENA.
CUCURRU CUCU.
CIELITO LINDO.
CUANDO CALIENTA EL SOL.
SOLAMENTE UNA VEZ.
SABOR A MI.
PERFIDIA.
QUIZAS, QUIZAS
OYE COMO VA.
GUANTANAMERA.
EL HUMAHUAQUENO.
EL CONDOR PASA.
LA CUMPARSITA.
NOSTALGIA.
CAMBALACHE.
CAMINITO.
CUANDO SALI DE CUBA.
MOLIENDO CAFE .
LA POLLERA COLORADA.
COLEGIALA.
LA BIKINA.
Y.
LA BAMBA.
EL REY.
SE ME OLVIDO OTRA VEZ.
CORAZON ESPINADO.
LA VIDA ES UN CARNAVAL.
YA LO SE QUE TU TE VAS.
RICKI MARTIN MEDLEY.
MARC ANTHONY MEDLEY.
CHAYANNE MEDLEY.
ENRIQUE IGLESIAS MEDLEY.
JUANES MEDLEY.
AVENTURA MEDLEY.
GIPSY KING MEDLEY.
CUMBIA MEDLEY.
CHA CHA CHA MEDLEY.
BACHATA MEDLEY.
MERENGUE MEDLEY.
REGUETON MEDLEY.
MACARENA.
LA BOMBA.
MOVIENDO LA CADERA.
MUEVE LA COLITA MAMITA RICA.

GERMAN.
LA PAISANA.
BARRILITO DE CERVEZA.
DOMINIQUE.

FRENCH.
LE VIE EN ROSE.
BAJO EL PUENTE DE PARIS.
CUANDO ME ENAMORO.

GREEK.
ZORBA EL GRIEGO.
NUNCA EN DOMINGO.
LOS NINOS DE PIREO.