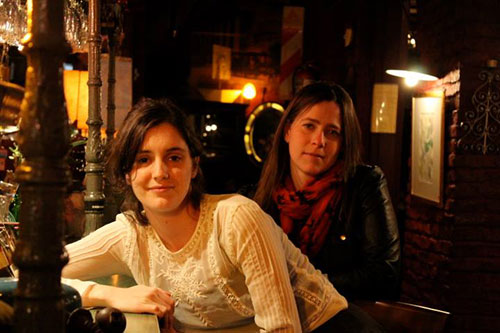 Female V:
She is a 29 year old guitarist, singer and choir director from the National University of
Arts (U.N.A.)

Female M:
She is a 30 year old pianist and singer with a composition major in the U.C.A. Music
University.

Both have been working together for 5 years now, in music writing and recording for musical plays and commercials, and performing in various ways.

Separately:

- Female M performs as a pianist in Mala Giunta tango orchestra, and has recently recorded and performed in various comercial music bands such as Santa

- Female V currently performs as an independent professional singer and guitar player, and conducts two amateur private choirs, (Coro La Huella and Coro 1036)

Together:

- Conduction of VASAIO: a vocal/instrumental sextet for religious ceremonies, weddings and similar type of events singing and playing as well.

- Conduction of a professional instrumental band + professional choir ensamble to put on Music Cycles such as Ariel Ramirez's famous work La Misa Criolla.

Duo is the result of this strong professional relationship. We are both responsible and very active
musicians, constantly seeking out for new opportunities and challenges. After a long time playing - both individually and together- dealing with very different audiences and varied music situations (large to small groups, party music, lounge type music, classical music, formal and informal events), it is natural for us to play and share openly our music and luckily we ?ve always had excellent feedback from our public and clients.