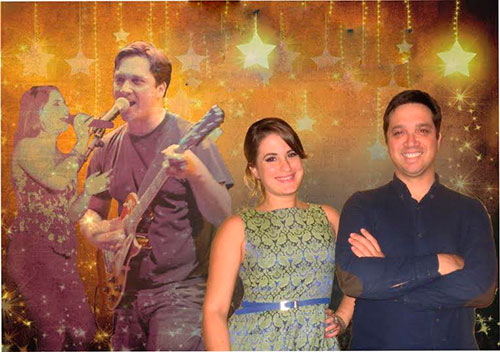 Is a Hi-tech duo, formed by a female singer and a male guitarist who also sings.
The duo performs a variety of styles including Jazz, Rock, Pop, Montown, Soul, Island, Latin, 50's, 60's and 70's.
They started to work together, in Events, Hotels and Pubs of Madrid and Guadalajara (Spain), playing many styles, mainly pop and latin music, but also some ballads and disco.


Male:
He is a 36 years old guitar player from Spain.
He started his classical guitar studies at Miami. Continued his preparation at the " Escuela de Musica creativa" in Madrid, Spain.
Then moved on to study in L'Aula de Musica in Barcelona to pursue jazz studies.
Later he decided to complete his studies in Usa, where he spent three years at Berklee College of music, Boston, M.A, studying jazz, rock and pop music along with composition and harmony.
He has written and played with several bands in USA and Europe, such as The Raintree, Attache, SOS, etc. He has also written music for tv, radio, cinema and documentary.
Throughout his career He has won many awards and mentions, such as best performer, and best spanish circus award on the "Mimus tour" (musician of the " Circo del arte"), worked as a musician for the Latin Grammy winner LP "A mis ninos de treinta anos" (Miliki), has composed and produced many short movies' soundtrack, winning the national Caja Madrid award for best short movie of the year (Spain).

Female:
She is an argentinian singer, actress and dancer from Buenos Aires. Since she was 5 years old, she started to show a talent for music.
At 12 years old, she began her formal vocal training to compete in Buenos Aires' Junior tournaments of Popular Singing, which saw herself as a finalist among all contestants in the region. Since then, she has taken lessons with many renowned vocal teachers in her country.
From 2004 to 2007 she studied at the prestigious Academy, forming in vocal technique, repertoire and style, audioperception, body expression, interpretation, development of creativity, and teaching practice. After finishing her studies in that institution, she began taking Tango lessons.
From 2009 to 2010 she studied Musical Theatre at "Proscenio Academies", taking Tap, Jazz, Ballet, Elongation, Theatre, Choir, Audioperception, Education of the spoken voice, musical theater history, general theater history, dance history and Integration lessons.
She works professionally as a singer since 2008, integrating musical casts such as "Karma, rebirth of the soul" (2006), "I had a dream" (2007), "Tinny Town" (2010), "With eyes of Tango" (2012), she also has performed as a singer in casinos, restaurants and hotels, among which include: Four Seasons Hotel, Sabor a Tango, Espacio Pilar, Chivilcoy Casino, Temperley Casino, Dorsia, among others, as well as social and business events. She has completed her second contract as part of Rapsodia Duo in Ibero Cruises.
Currently she teaches singing, and performs in different formats such as solo, duo or full size band with dancers as well as tributes. Throughout her career she has been recognized for participating in charity events, has received especial mentions for her participation in festivals, and awards in various competitions.