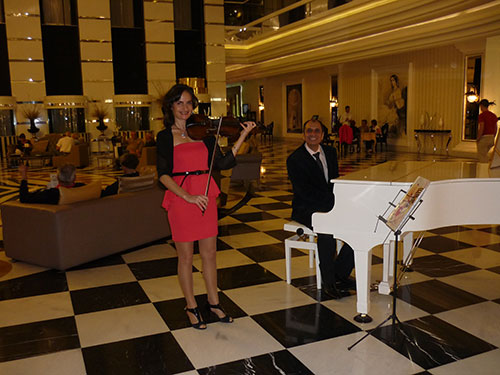 Female-violin & singer lead and back vocal
Male-keyboard,accoustic guitar,piano & singer lead and back vocal.

Female
Year of birth: 1969
Specialty: vocalist, violin

1979 studied at the Ruse' Musical school.
1988 student at the Musical Academy in Plovdiv.
1991-1998 s high school music teacher in Gotze Delchev.

Male
Year of birth: 1965
Specialty: vocalist, keyboard, piano and acoustic guitar

1979-1984 studied at the musical school "Shiroka Lyka".
1987-1991 student at the Musical Academy in city of Plovdiv.
1991-1998 music teacher and performed in night clubs.

The duo performed in Morocco for six years. Beginning in 1998, They performed at hotels, such as; the Sheraton, Sofitel, Beach Club, Argana, Amadil Beach, Palais des Congres, and others.

From 2004 to 2006 The Duo performed their program in Norway in hotels like, "Rondane SPA", "Bolkeshjo", and "Skjerdingen". In the summer of 2006 Ralitsa and Todor began performing on the ship "Superfast" in the Northern sea between Belgium and Scotland.

Programs:
Evergreen-rock, pop music, the Best of world music from the '50s, '60s, '70s to today.

Acoustic repertoire, acoustic piano, guitar-violin: classic music, evergreen, waltzes, tango, and standard jazz.