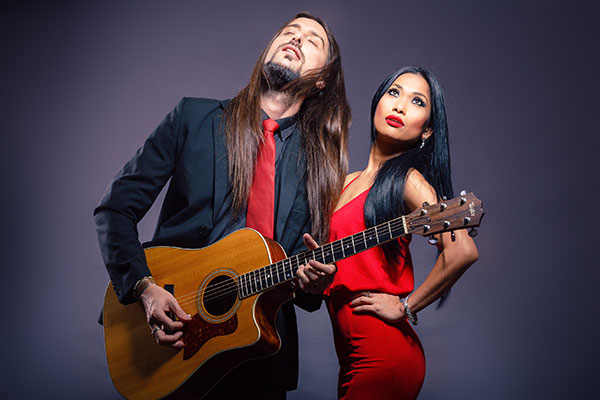 Kimberly
She is a versatile vocalist, entertaining audiences from Australia to Japan, Europe to the USA and everywhere in between.
From humble beginnings in Tokyo, Japan Kimberly now calls Brisbane, Australia home.
This singing diva takes audiences on an amazing journey through music history, delivering the best-known hits of our time.

In the first half of 2017 she will be on a performance and songwriting/recording tour of South America and Australia performing duo from Argentina.

Experience:
- Worked with P&O Australia as guest entertainer for 2 years with her band from 2015-2017.
- Performed in one the biggest stadium in Australia The Gabba for the NRL Grand Finals September 2016
- Regular performer at the Treasury Casino in Brisbane
- Performed with Sonic Empire Band in Brisbane, Sydney, Melbourne and Queenland RSL Club. Casino,
Hotels and corporate Gigs.
Performed in Tokyo Japan from 1999 -2006
- Currently performing in Argentina with Santiago




Santiago
Santiago Periotti is a singer, guitarist and songwriter from Santa Fe, Argentina. He has performed his music throughout the world for more than 15 years, touring Mexico, Ecuador, and Australia, among others.
He is characterized by a Blues/Rock sound, but he ventures into other styles like Soul &
Pop music through a vast repertoire of cover songs. In this capacity he has entertained audiences on cruise ship and in hotels, casinos and bars, as well as at international festivals and large venues throughout Latin America.

Experience:
- Contract with P&O Australia, from December 2015 to April 2016
- Contract with P&O Australia, from November 2015 to March 2017
- 20 days Venues in Mexico - 2014
- 3 months venues in Ecuador - 2015
- Venues every week in Argentina, performing on hotels, casinos, corporate events, pubs, etc.