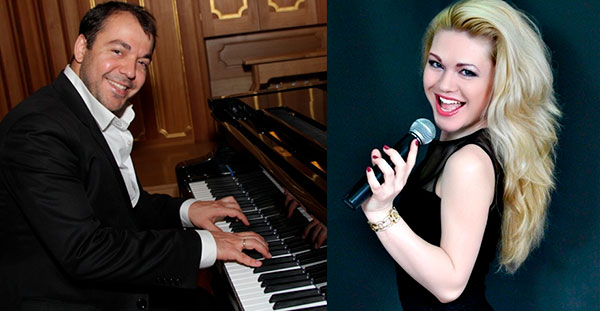 Janibek and Viktoria

Janibek
Date of birth: 1985

Education: 2002-2008 State Conservatory of Uzbekistan, Honors Diploma of Master's Degree, Composer Faculty

Work Experience:
"Rixos" Hotel Borovoe: Lobby Bar, "Cash will" Casino (Kazakhstan).
"Hilton" Hotel (Azerbaydjan).
Hotels of Intercontinental, "Sheraton", "Dedeman", "Grand Mir Hotel" (Tashkent).
Performed with the band at diplomatic meetings, different brands' presentations (Nissan, Chevrolet, Carlsberg, Dunhill, L'Officiel Magazine, Hennessy, Mary Kay, Beeline, Ucell) thematic parties, restaurants, clubs. Since recent time the band works at the German restaurant "Bavaria plaza" (Tashkent), at "Monaco" restaurant (Tashkent), Cinzano-bar (Tashkent).

Viktoria

Work Experience:
2008-2010 - Artist,vocal solo singer, Military Orchestra,Ministry of
Defence,Minsk,Belarus.
2009 - Performing concert tour with classical choir "Bielorussia",
Vienna,Austria.
2011. Sands Hotel, Abu Dhabi, UAE
2013. Justiniano Park Conti , Antalya, Turkey
2013-2016 Jazz club in Minsk from Evgenii Vladimirov.

Education:
1998-2001 Music college of Minsk,Republic of Belarus.
Choir conductor,vocalteacher,artist,singer.
2001-2006 State Culture and Arts university of Belarus
Artist, Jazz vocalist ,music teacher.
2008. Ramada Continental, Dubai, UAE
2009 - Performing concert tour with classical choir Bielorussia,
Vienna,Austria.