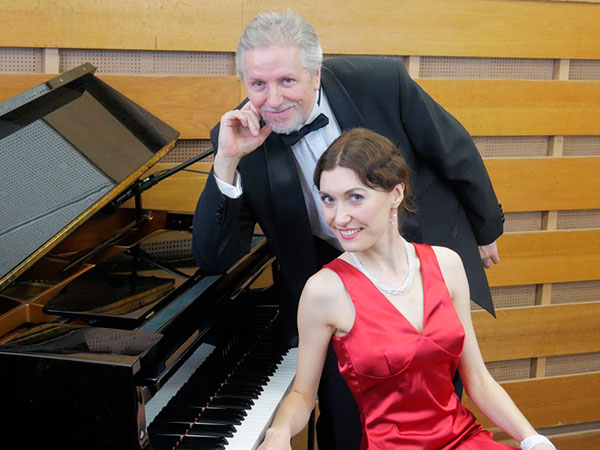 Tatjana
Date of Birth: 1983

Education:
-2002-2007-Diploma of specialist (methodist, teacher of piano playing), National Tchaikovsky Music Academy of Ukraine.
-1998-2002 Certificate of distinction, piano faculty of R.M.Glier Kyiv State Higher Music College.
-2014-Diploma of the Rapid Expert Assistance and Co-operation for Conflict Prevention
Operations, Crisis Management and Post-Conflict Rehabilitation (REACT) Spain, Madrid
-2005-2008 Advanced Level Diploma of English, The London School of English in Kyiv

Work Experience:
-December 1, 2015 - May 30, 2016-singer-pianist at XIV Hakone Rikyu hotel,
Hakone-Miyanoshita, Kanagawa, Japan
-2014 - 2015-self-employeed, an artist - singer-pianist, a member of the band Kolodiya. Had performances in Ukraine, Poland, Spain.
-2009-2013 Reasearch Lead Specialist at phono department at H. Pshenychnyi State Cinema/ Photo/Phonography Archives of Ukraine (civil servant), a vocal member of the folk-group Kolodija
-2007-2008 Accompanist, private ballet school "Releve" (Kyiv, Ukraine)
-2005-2007 Artiste of choir in Opera studio P.Tchaikovsky NMAU (Kyiv, Ukraine)
Awards:
-2000-Silver medal, Kyiv Secondary School No165 with the profound study of English
-2009-Audience award for a song "Ukraine-heart" in a social competition Strong Ukraine -2009-2013-the winner of 3 award of competition of pianists-the Kashtanovy grand piano (Kyiv, UKraine)



Pavel:
DOB-1960
The last 5 years Pavel Shepeta has been working on the Ukrainian national songs arrangement and creating of music for the cinema; cooperates with the poetess Svetlana Kozachenko. Today he has plans to create music and release new albums in the fusion, folk and mainstream styles.

2016-worked with different singers, participant of jazz concerts tribute to Henry Mancini,Ella Fitzgerald,Jazz lyric etc. Working with Tetiana Franchenko as a "Kyiv Duo" from december of 2016.

2011-release of the album "Moment" of "Kiev Acoustic Trio" together with A. Beregovskiy and S. Makarov.

2008-2011-participant of the concerts in the Master-class of "Jazz in Kiev" by Aleksey Kogan.

2008-2010-a participant of the projects "Jazz Kolo".

2008-member of the orchestra of Taisia Povaliy.

2008-release of the album "Picasso Jazz Trio" with M. Gladeckiy and V. Volkov.

2007-member of the Olga Voichenko's group at the jazz festival "Jazz Jamboree" (Poland).

2005-composer and arranger of the album "Oy vesna, vesna" with Marina Yurasova Mlada.

2005-arranger of the album "Paradush"-remixes of the "Mashina vremeni" songs.

2003-2012-cocktail pianist and a member of the show bands in the ship companies "Princess Cruises", "Regent Cruises", "Crystal" (USA),"Cunard"

In 2002 he moved to Kiev. As a solo-pianist he performed in the duo with the merited artist of Ukraine Viacheslav Poliansky. He participated in different musical projects. He was working as an accompanist in the pop department of the Kiev University of National Culture and Art.

1999-2000 - orchestra member, composer and arranger in the Gasser Olympia circus (Switzerland). 2000-2002 - orchestra member, composer and arranger in the Arlette Gruss circus (France).

1995-1997 - the head of the music part of the Moscow circus conducted by Y. Kuklachev.

He took part in Ukrainian jazz festivals as a group member-in Kiev (1988), in Nikopol (1998),
Krivoy Rog (1995), Ternopil (1996), as a solo-pianist-in Vinnica (1997, 1998), in Vitebsk (Belarus) in the International Festival of Arts "Slavianski Bazaar in Vitebsk" in 1998.

In the 80s he was keen on arrangements and records. He was a head of the arrangement and
composition studio and the studio of playing electronic instruments under the Palace of Culture "Zaria" (Vinnica city), he also cooperated with Vinnica singer poets A. Sekretariov, Y. Yasevich and G. Beliavskiy (arrangement and orchestration of their songs), with the puppet theater in Vinnica city; composed music for the play by the novels of Dostoyevsky for the youth theatre.