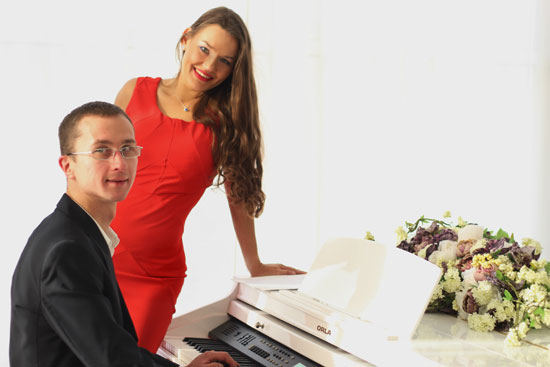 Female
Year of birth: 1985

Work experience:
September 2015 - present Student at Jazz performance program at Rimon School of Music (Berklee College of Music in Israel)
Nov 2014 - Feb 2015 Duo musician on cruise ship Aegean Odyssey.
2011 - present Jazz for Kids project - organizing and performing jazz music concerts for babies aged form 4 months to 5 years old
2009 - 2010 Six months contract at Radisson Blu Plaza, Delhi, India. Vocalist with lounge trio
2006 - 2007 Four months employment with Andaz Amsterdam Prinsengracht (Hyatt family), The Netherlands, vocalist and pianist with jazz trio
2005 - present Band leader and vocalist at french chanson band, jazz band, cover-band, latin-jazz band project.
With this band took part in such festivals as Kiev Spring Salsa Festival (April 2011), "Salsa po-susedsku", Minsk, Belarus (November 2011).
Currently I perform at clubs and venues in Kiev, Kharkov (Ukraine) and Moscow (Russia). To name a few: Art exhibition with Forbes Ukraine (June 2013), lounge zone performances at Hyatt Regency Kiev (2012, 2013) with jazz band, resident at Babuin Club, Kiev, Ukraine.

Education:
1992 - 2002 - undergraduate music school, piano class, Kharkov, Ukraine
1995-2002 - choir "Vesennie Golosa", solist, Kharkiv, Ukraine
2002 - 2007 - MA in performance, voice department, Kharkov College of Music n/a Lyatoshinskiy, Kharkov, Ukraine
2002-2007 - Masters Degree in Economics, Kharkov University of Humanities "People's Ukrainian Academy"
2004-2005 - Michigan State University, cultural exchange program, MI, USA

Male
Year of Birth: 1987

Work experience:
2014 - 2015. Four months employment as a duo musician on the ship Aegean Odyssey.
2010 - 2011. Six months employment as a piano player at lobby bar in Sheraton Palace Hotel (Moscow, Russia)

Kiev, Ukraine): Pianist/Keyboardist in jazz/cover bands; Solo pianist; Accompanist at Kiev Glier Institute of Music

Education:
2002 - 2006. Kiev Glier College of Music.
2006 - 2010. Kiev Glier Institute of Music.