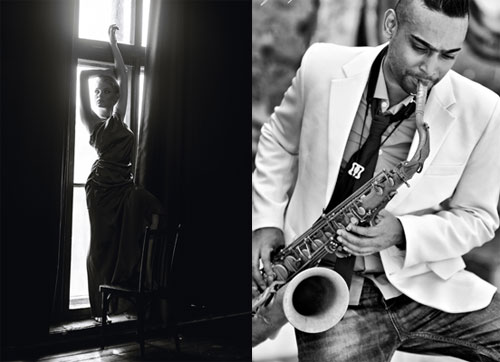 Shaun
He is a leading Saxophonist and EWI Player with international experience and appeal. From Toronto and Thailand to Switzerland and Shanghai, his influences and life experiences are manifested in his unique multi-faceted style, which blends soul and groove. He uses the power of music to positively connect with communities the world over. As a trained Recording Artist and Performer, with qualifications from Humber College, He has learned from the best to become one of the best. He has received several accolades including gold place in Musicfest and a Jazz performance scholarship. He has performed at diverse events including the opening of the MGM Grand in Macau and at The
Venetian Hotel & Casino.

Ksenia
Her career started in 2010 at show hall "Sirena" in a far eastern city-port Vladivostok. She performed there with such artists as Haddaway, "Ace of base", Michael Jackson's guitarist, Orianthi Panagaris and worked at "Arena" and "America" club with "Bourlesque" show.
In august 2011, she moved to Saint Petersburg to study at Saint Petersburg
state university of culture and arts where she worked as a lead singer at
"Amarena" and show-hall "Atmosphere".
While still studying She was influenced by different genres of music such as EDM, jazz, rock and r'n'b. This brought her to join "The mash up" band, which took part in the "V-rox" music festival.
After performing in festivals She went on to perform in major events
such as gala-dinner for film festival "Pacific Meridian" with Vladivostok
Philharmonic Orchestra, "Woman of the year" awards by P.R. Respectable
company, APEC Summit, gala dinner.
Moved to Beijing, China in March 2014. Has been working at 5-star hotels
such as Kerry hotel, Park Hyatt, W hotels, Intercontinental etc..

Formed in 2014, the DUO is made up of vocalist and saxophonist performers who have performed in Europe, Africa and China at 5-star hotels such as "Intercontinental" (Beijing, China), "Royal Mansour" (Marrakech, Morocco) etc.
Also worked for various labels: BMW, Lenovo, Audi, W hotels, Chang'an etc.
Their rich, warm tones are guaranteed to be a talking point for any event requiring a
mixture of mellow background music or upbeat party songs.