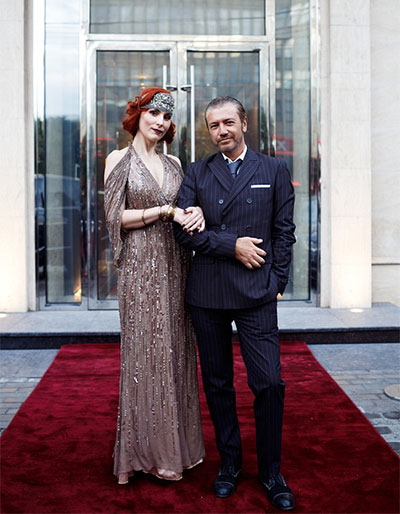 Elegant and luxury Duo was created in the beginning of 2015 at one of the luxury venues of Moscow when Massimo and Natalya first time performed a great Jazz night. Then successful Duo of elegant, skillful and professional pianist/singer Massimo and unique, talented and beautiful vocalist Natalya got many offers to perform in Russia and Europe with Jazz and Pop/Jazz concerts.

Music experience of Male:
Started music carrier playing with various Rock, Fusion, Pop bands. I have had plenty experience in various fields of music; from a session musician to FOH engineer with famous Italian artists such as: New Trolls, Donatella Rettore, Scialpi, Dik Dik, Marisa Sacchetto; DJ song writer, arranger and player too.

Collaborated with: Pooh, Gianni Morandi, Rita Forte, Martufello, Giorgio Faletti, Raoul Cremona, Pamela Prati.

RAI UNO "A voice for Europe" a singers competition in which, with my 4 musicians band we reached the final

In an ENDEMOL TV production which was broadcast on SKY Massimo was featured as a pianist playing in the TV show "I CHOOSE YOU"

Singing Experience of Female:
Vocal ability: Lead singer
Vocal range: Mezzo-Soprano
singing professionally since 1998. Singing solo, leading own cover-band, having different techniques. Favorite genres are Latino, jazz, pop-rock, rock, retro, lounge.
2016-currently Duo with Massimo Verri and tour around Italy and Russia.
2015 American Protege vocal competition winner.
2015 Retro Jazz and Lounge Singer with Italian pianist Massimo Verri at luxury venues of Moscow.
2015 Latino program at luxury venues of Moscow. Singer.
2015 Astor Piazzolla Tango concert with orchestra. Singer
2015 French music concert with the orchestra. Singer.
2014 Mireu Vidal collection. Singer.
2014 Platja D'aro city concert. Singer.
2014 Work in Spain. Cosmopolita Hotel Boutique. Singer.
1998-2014 a lot of projets all over Russia.