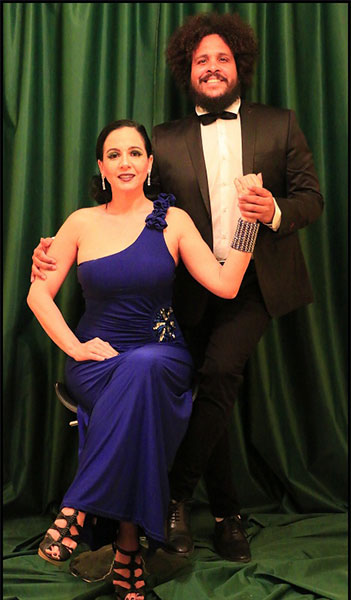 The female singer- percussionist, has worked on several shows of Musical Theatre for Children in Cuba, forging a smooth and tender style in her musical interpretation as a singer.
In addition, as a percussionist and backing vocals, she has worked with various female bands of her city, providing an innovator sound, with the creation of her own style as percussionist, using Cuban percussion instruments, in function of styles such as: R&B, Soul, Disco, Funk, Rock, Pop, Ballads, Merengue, etc.

The male singer and guitarist, has won important awards with some soundtracks in various Theater Festivals in Cuba, due to his work as a songwriter and arranger of Music Concert, composing for string quartet, chamber orchestra and symphony orchestra.
He is considered by many specialists and public, as a Show Man (only in live
performances), able to entertain the most diverse public. The attractive and
captivating timbre of his black voice, combined with his magnetic energy on stage, are two very important elements in the style of Duo.

The Duo cover many musical styles like: Oldies, Jazz, Ballads, Country, Rock, Pop, R&B, Disco, Reggae, Bachata, Merengue, Bossa Nova, Mambo, Cha Cha Cha, Reggaeton and more.

We have been working many years in the business of musical entertainment in
many hotels in Varadero y Cayo Santa Maria-Cuba. The singer-guitarist, worked 4 months at the Intercontinental Jordan Hotel, and offered a Concert in the Maria Pita Folk Festival (La Coruna-Spain) as folk singer.