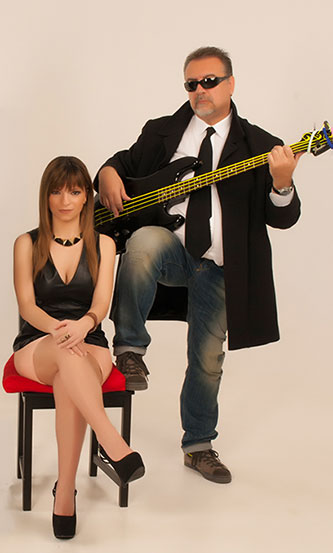 Female:
Year of birth: 1985

Music Experience: 7 years of experience as lead vocalist in various formations funky, soul, jazz and international music, performing in duo, trio or band for events in Switzerland and the most famous Italianclubs.She has also experience in studio, recording three albums of Smooth Jazz and Lounge music for the label.

Studies:
music courses, vocal technique and interpretation at "C.E.T."music academy (Italy), master classes and private studies.


Male:
Year of birth: 1960

Music Experience:35 years of experience in national and international orchestras, as electric bass player with famous Italian and international artists (Gloria Gaynor, Riccardo Cocciante, Katia Ricciarelli and many others); he played in nightclubs in Tokio, in Switzerland and other countries. He worked with "Costa Cruises" in the 80's for two years in show orchestra like electric bass, double bass player and choir.
He worked in studio recording for composing music for documentaries by "National Geographic" and
others original music projects.Now play also keyboard and guitar in duo formation with aid of computer for embellishments rhythmic/harmonic and choir too.

Studies:
double bass, piano, harmony and composition at the "Vivaldi" Conservatory in Alexandria (Italy) and the "Niccolo Paganini" Conservatory in Genoa (Italy).