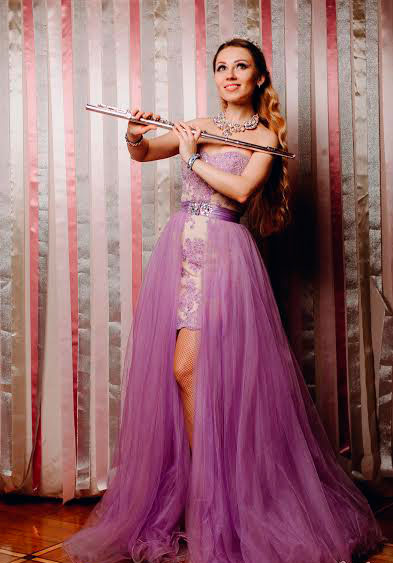 Varvara
Date of birth: 1980.
Height: 160.
Weight: 51.

Work experience in show-business:from 2005.

Playing Flute in show programs and solo concerts.

More than 4 hours of different popular music.

Places of employment:

-12.2012-10.2014 cruise ships of St.Peterline "Princess Maria" and "Princess Anastasia", the tourist company "Vodochody" ship "Vissarion Belinsky".

- 2015-2016 Star Cruises





Nadejda
Date of birth: 1982

Education:
2003-2008 Moscow State University of Culture and Arts. Separation
JAZZ-EASTERN orchestras and ensembles in the violin class. Specialty: concert performer, ensemble artist, orchestra artist, teacher.
May 2009 - the tariff-qualification rank was established for the first qualification category by profession

Awards:
May 2009 Grand Prix winner
At the 19 th International Festival "Talents and Admirers", St. Petersburg, Russia.

Experience:
From 2013 to the present time, the production, organization, concert activity as part of the duet.
2011 (September) -2012 (May) Artist of the Orchestra of the Opera Studio at the Institute of the Russian Academy of Music. The Gnessins.
2011-concert in the Smolensk Philharmonic. As part of the duet and the quartet of power tools.
2010 (April) - 2011 (January) - artist on the ferry "Princess Maria", cruising the route St. Petersburg - Helsinki.
2010. (January-March) - a tour around America in the Moscow State Radio and Television Orchestra.
2008-2009. - Producing center "Orion". The soloist is an instrumentalist. Work in the violin duet "Dolce Vita" at various concert venues, in clubs, cultural and entertainment centers and corporate events in Moscow and the Moscow region, tours around Russia, CIS and Baltic countries.)
From October 2008 to September 2009 work in the ensemble of songs and dances of MVO in the position of the artist of the orchestra
2009 - work in the All-Russian studio orchestra, Moscow.
2009 work as an instrumentalist in the hotel chain "El Mouradi", as well as at the disco open air "Bora-Bora", Tunisia, as part of the duet (summer).
2008 (October) Solo concert on the program "Russian Music" in the Russian House (Serbia)
2008 (summer) work as an instrumentalist in the hotel chain "El Mouradi" Tunisia.
2007-2008 worked at the Moscow State Academic Children's Musical Theater. N. Sats, as an artist of the orchestra.
2005-2006 he was an artist and head of the pop trio "Music coctail"
2004-2009 Artist and head of the string quartet "Adaman't".