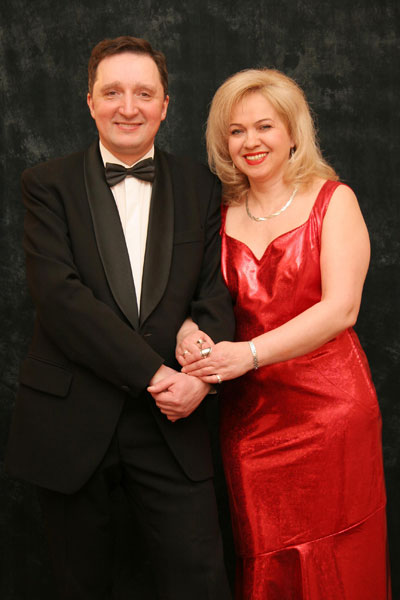 The romantic duet uses female vocals in English, Italian, Spanish, Russian and French with piano accompaniment. Their musical repertoire consists of jazz, bossa, samba, pop and saloon music. They also offer classical programs including Chopin, Mozart, Tchaikovsky, Bach and Beethoven. Since the Duo was established in 1995 they have been contracted by "Festival Cruise", "Epriotic Line" and "PARK HOTEL RIDZENE". They has also toured nightclubs in Germany, Sweden, Denmark, Latvia, Greece, Spain and Italy.

Covering various directions of music, they have amassed an impressive range of styles. The Duo performs Classical, Waltz, Jazz, Latin Samba, Bossa, pop and international hits. Seventy Seven songs from their repertoire are available below.


Male
Education:
1969 - 1976 Piano and accordion class at Music School;
1980 - 1984 Piano class at Musical College;
1984 - 1985 Piano master classes at Musorgsky Conservatoire.

Experience:
1976 - piano player for a dance orchestra.
1976 - 1979 dance pavilions, participated in various competitions and Youth Festivals.
1979 - 1982 quintet leader.
1982 - 1985 music school teacher (piano class), and accompanist at the Drama theatre.
1985 - 1987 Military service.
1987 - 1995 Contracted as a piano player for the Concert Association.
1995 - 1996 Contracts with "Festival Cruise" company. Mediterranean cruise, Canary Islands, Madeira Island, English charter. Worked as synthesizer player in a dance orchestra, vocalist.
1997 - 1998 Contracts with "Epriotic Line". Cruises about Greece Islands, Turkey, Egypt. Worked in Piano - Bar. Repertoire: jazz, classical music, pop, soul.
1998 - 2000 Contracts with night clubs in Germany, Spain, Denmark, Sweden, Italia. Dance music, jazz, pop (synthesizer, vocal, piano).
2001 Currently contracted as piano player at the five star PARK HOTEL RIDZENE.

Female
Education:
1963 - 1971 Music School, piano class, vocal;
1964 - 1964 Secondary School;
1972 - 1976 Piano class at the Musical College.

Experience:
1975 - 1976 Singer in variety orchestra.
1976 - 1978 Worked as an accompanist and singer in the variety orchestra.
1978 - 1986 Contracted as a singer for the Concert Association, worked as a singer in their variety show for festivals, concerts and foreign tours.
1987 - 1992 Taught vocals and piano at a private musical school.
1992 - 1995 Worked as a singer in the show program "Troyka".
1995 - 1996 Contracted as a variety soloist and a dance orchestra singer by Mediterranean cruises.
1997 - 1998 Contracted as a variety show and dance orchestra singer by "Ferry Service" company.
1998 - 2000 Contracts with several night clubs in Germany, Spain, Denmark, Sweden and Italy.
2001 - 2003 Currently contracted as piano player at the five star PARK HOTEL RIDZENE.




Chopin
Mozart
Bach
Chaikovsky
Beethoven
Waltz
"Moon river"
"A child is born"
"Laura"
"Are you lonesome tonight"
"Domino"
"Ramona"
"La Mazurka"
"La Waltz"
"Cesara".
Jazz
"Just friends"
"Stars Fell On Alabama"
"Misty"
"I can't give You Anything but love"
"Blue Moon"
"It's only a Paper Moon"
"Bye, bye
"Blackbird"
"Bird suite"
"Take the "A" Train"
"Caravan"
"Over the Rainbow"
Jazz Latin/Samba




"Guantanamera"
"Besame Mucho"
"La Cucaracha"
"Perhaps, perhaps, perhaps"
"Samba Once Nota"
"Perfidia"
"Patricia"
"Buone Sera"
"Portugal Samba"
"Brazil"
"Quanto"
Bossa
"Desafinado"
"The shadow of Your Smile"
"Fly me to the Moon"
"Meditation"
"Once and lowed"
"Blue Bossa"
"Softley"
"Flamingo"
"Corkovada quite night"
"How insensitive"
"Lovers".
Pop
"Feelings"
"Nothing gonna change"
"Nature boy"
"Eternal flame"




"How deep"
"Casablanca"
"Love me tender"
"I'm seling"
"I wish you love"
"It's impossible".
Other Songs
"New York New York"
"Georgia on my mind"
"What a wonderful world"
"Unforgetable"
"Love story"
"My way"
"Close to you"
"Yesterday"
"Nataly"
"Moonlight serenada"
"C'est, si Bon"
"My funny Valentine"
"Killing me softly"
"Stranger in the night"
"Sunny"
"You are the sunshine of my life"
"Ben"
"Amapola"
"La Chansonnete"
"Volare"
"Viva Spain"